Wednesday, 3 March 2021
What we're tracking on 3 March 2021
Good morning, friends, and happy Wednesday — or as we like to call it here at Enterprise, almost-Thursday.
THE BIG NEWS HERE AT HOME is divided into two themes: Diplomacy and legislation. A renewed push from Egypt and Sudan to bring in mediators to help resolve the impasse over the Grand Ethiopian Renaissance Dam is driving the news cycle in the press and on the airwaves. Sudanese Foreign Minister Mariam Al-Mahdi sat down with President Abdel Fattah El Sisi and Foreign Minister Sameh Shoukry in Cairo yesterday to discuss the dam. We have chapter and verse in Last Night's Talk Shows, below.
Sudanese Prime Minister Abdalla Hamdok is also coming to town within the next few days, Al-Mahdi said yesterday, and El Sisi is expected to pay Khartoum a visit on Saturday. Separately, Egypt's army Chief of Staff Mohamed Farid held talks with his Sudanese counterpart Mohamed Othman Al Hussein in Khartoum, according to the Sudanese News Agency.
You can also expect some chatter today about the situation in Palestine, as Shoukry is scheduled to meet with his Palestinian and Jordanian counterparts to discuss ways to revive peace talks with Israel.
Meanwhile, on the legislation front: The House of Representatives is soldiering through a stacked pipeline of laws — the details on which we have in Legislation Watch, below. The House general assembly is now in recess until Sunday, 14 March. Committee-level meetings will continue during the recess.
THE BIG STORY INTERNATIONALLY: The US will have enough vaccines in stock to cover its entire adult population by the end of May, President Joe Biden said at a presser yesterday in another acceleration of his timeline for the vaccination program. The emergency approval of Johnson & Johnson's jab was key in bringing forward the administration's goal to have enough doses for 300 mn Americans, which was previously expected by August, Biden said. Having the stock doesn't necessarily mean having administered all the vaccines by then, the president noted.
*** CATCH UP QUICK — The top stories from yesterday's EnterprisePM:
How would a post-covid commodities boom impact Egypt? Expect higher inflation, for one.
Foreign holdings of EGP debt are officially above the pre-covid mark.
Prime Speed Medical is reducing its target stake in New Al Safwa Specialized Hospital to 4.4% from 10%.
WHAT'S HAPPENING TODAY-
It's PMI day: February's purchasing managers' index figures for Egypt are out this morning at 6:15am CLT — just a few minutes after we hit "send" on your morning briefing. Business activity in the non-oil private sector contracted in December and January as fears of the covid second wave weighed on sentiment and hit demand.
PSA- Grab an umbrella as you head out the door this morning: It looks like we may be in for some light to medium rainfall. Our favorite weather app suggests there's a 30% chance of rain in the capital, and a 70% chance along the Mediterranean coast.
Planning to buy a Volvo around the end of the decade? Expect an EV to be your only option: Volvo is planning (pdf) to go all-in on electric vehicles, with plans to phase out the production of all cars with internal combustion engines — including hybrids — from its global offering before 2031. The automaker sees non-EVs having "no long-term future," Henrik Green, Volvo's chief technology officer, said in a separate statement (pdf). The move makes Volvo the latest to hop on the all-electric bandwagon, with Ford, Jaguar, and Bentley all recently rolling out plans for an all-electric future in the next 10-15 years.
CIRCLE YOUR CALENDAR-
It's the third day of the EFG Hermes Virtual Investor Conference: The conference is headlined as "Frontier Emerging Markets Regaining Momentum" and brings together executives from 197 companies and more than 700 investors from 253 global institutions to exchange insights on the current state of frontier and emerging markets. The event runs until next Tuesday, 9 March.
It's also Day 3 of the Aswan Forum for Peace and Development, which runs until Friday.
Key data points in the coming days and weeks:
Foreign reserves figures should be out at the end of the week.
Inflation data will drop on Wednesday, 10 March.
The Central Bank of Egypt will discuss interest rates on Thursday, 18 March.
Check out our full calendar on the web for a comprehensive listing of upcoming news events, national holidays and news triggers.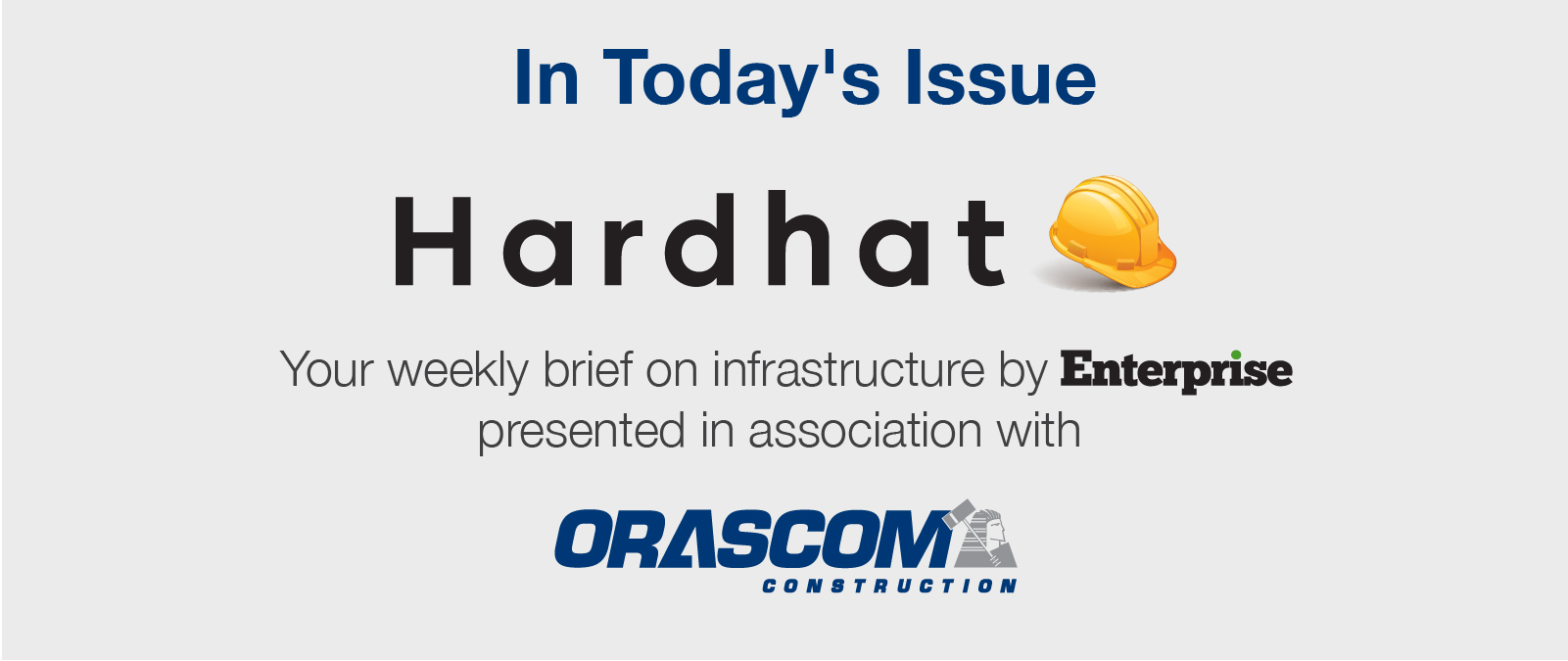 *** It's Hardhat day — your weekly briefing of all things infrastructure in Egypt: Enterprise's industry vertical focuses each Wednesday on infrastructure, covering everything from energy, water, transportation, urban development and as well as social infrastructure such as health and education.
In today's issue: Egypt's construction growth slowed in 2020, but last year's expectations for a sector rebound are proving solid. Data — including a 1Q2021 Fitch report — indicates sector growth of 10% y-o-y in 2021, with Egypt having the strongest outlook for the MENA region and well outperforming regional peers.