Monday, 1 March 2021
What we're tracking on 1 March 2021
Welcome to March, ladies and gentlemen. It's the start of a new month, and we are cautiously optimistic that good things are coming as the country's vaccination program begins to open up to non-medical personnel.
Speaking of which: The Health Ministry wants you to know that you're not considered "elderly" if you're above the age of 40, and therefore not yet allowed to register for the vaccine. We have the full story in this morning's Covid Watch, below.
THE BIG STORY AT HOME besides the vaccination program is the Real Estate Registry Act, which — after stirring up a public opinion storm over the past couple of weeks — will not come into effect before December, and will likely undergo some surgery first. The details are in the news well and Last Night's Talk Shows, below.
THE BIG STORY INTERNATIONALLY- Stand by for another announcement on US-Saudi ties: The Biden administration will make a new announcement elaborating on its relationship with Saudi Arabia later today, a few days after it imposed sanctions on members of Crown Prince Mohamed bin Salman's inner circle for their involvement in the 2018 murder of journalist and critic Jamal Khashoggi, Reuters reports. The White House stopped short of sanctioning MbS — the kingdom's de facto ruler who US intelligence accused of being directly implicated in the killing in a report declassified last week — drawing the ire of observers including the Washington Post editorial board, which insists MbS "should not get a pass."
But let's not jump to conclusions: A White House insider suggested that there may not be any new measures, and the announcement could just be an elaboration on Friday's statement.
Sanctioning a foreign leader is not customary foreign policy, but that "there are a range of diplomatic conversations" behind the scenes to "recalibrate" Washington's relationship with Riyadh, White House Press Secretary Jen Psaki said on Fox News Sunday and CNN's State of the Union
Biden isn't getting good coverage in the Saudi press right now: Saudi media figures have spoken out in support of MbS, with local journalists saying the US does not have the right to "bully" Saudi, while UK-based Saudi-owned Asharq al-Awsat newspaper wrote that the kingdom "was not a banana republic" and would not kowtow to US threats. The hashtag "We are all Mohammed bin Salman" has been trending on Saudi Twitter.
Saudi may not be under sanctions, but its market is feeling the pinch: The Tadawul All Share Index closed down 0.5% on Sunday, its sharpest single-day decline since 18 February, Reuters reported. The downturn is arguably not alarming, and even flows shouldn't be badly hit at this point, "unless sanctions hit particular asset classes," Alia Moubayed, Jeffries International's chief MENA economist, told Bloomberg TV (watch, runtime: 6:56).
*** CATCH UP QUICK on the top stories from yesterday's edition of Enterprise PM:
Speed Medial could partner up with Tawasol Holding and others in an acquisition bid for Alexandria Medical;
The House of Representatives is finally discussing the Sovereign Sukuks Act.
WHAT'S HAPPENING TODAY-
Happening this morning: Chairman and managing director of Misr Ins. Holding Co. Basel El Hini will deliver a speech at a breakfast hosted by the French Chamber of Commerce in Egypt, which will take place at the French ambassador's residence this morning at 8:30am.
Today is the official launch of the Eastern Mediterranean Gas Forum, with the foreign ministers of Greece, and Cyprus expected to attend the opening of the forum's regional office which will be based in Cairo. The meeting is expected to see the organization's charter, signed in September, activated next month and officially establish it as a regional organization.
The Aswan Forum for Peace and Development gets underway today and will run until Friday, 5 March under the title "Shaping Africa's new normal: Recovering stronger, rebuilding better."
MARKET WATCH-
Warren Buffett's annual letter (pdf) to the shareholders of his Berkshire Hathaway hedge fund is getting a mixed response from the business press: MarketWatch leads with the Oracle of Omaha's optimistic message about the resilience of the US economy, describing the letter as "reassuring." Bloomberg's Katherine Chiglinsky, on the other hand, highlights Buffett's refusal to mention the covid-19 pandemic and US racial politics, which one analyst called "tone deaf" and "disappointing." Several outlets — including CNBC and the Wall Street Journal — drew attention to Berkshire's share buybacks. The fund spent USD 25 bn buying back its own shares last year, a move Buffett said provided "intrinsic value" to shareholders. And the Financial Times leads with his comments on the state of the bond market. According to Buffett, bond investors face a "bleak future" as they try and find returns in a market dominated by rock-bottom — and even negative — yields.
CIRCLE YOUR CALENDAR-
Today is a brand new month:
PMI figures for February will land later this week, on Wednesday 4 March.
Foreign reserves figures should be out at the end of the week.
Inflation data will drop on Wednesday, 10 March.
The Central Bank of Egypt will discuss interest rates on Thursday, 18 March.
KEEP AN EYE OUT for a potential visit from Russian President Vladimir Putin sometime this month. French Finance Minister Bruno Le Maire was also scheduled to visit Egypt last month, but the trip did not come to fruition.
Check out our full calendar on the web for a comprehensive listing of upcoming news events, national holidays and news triggers.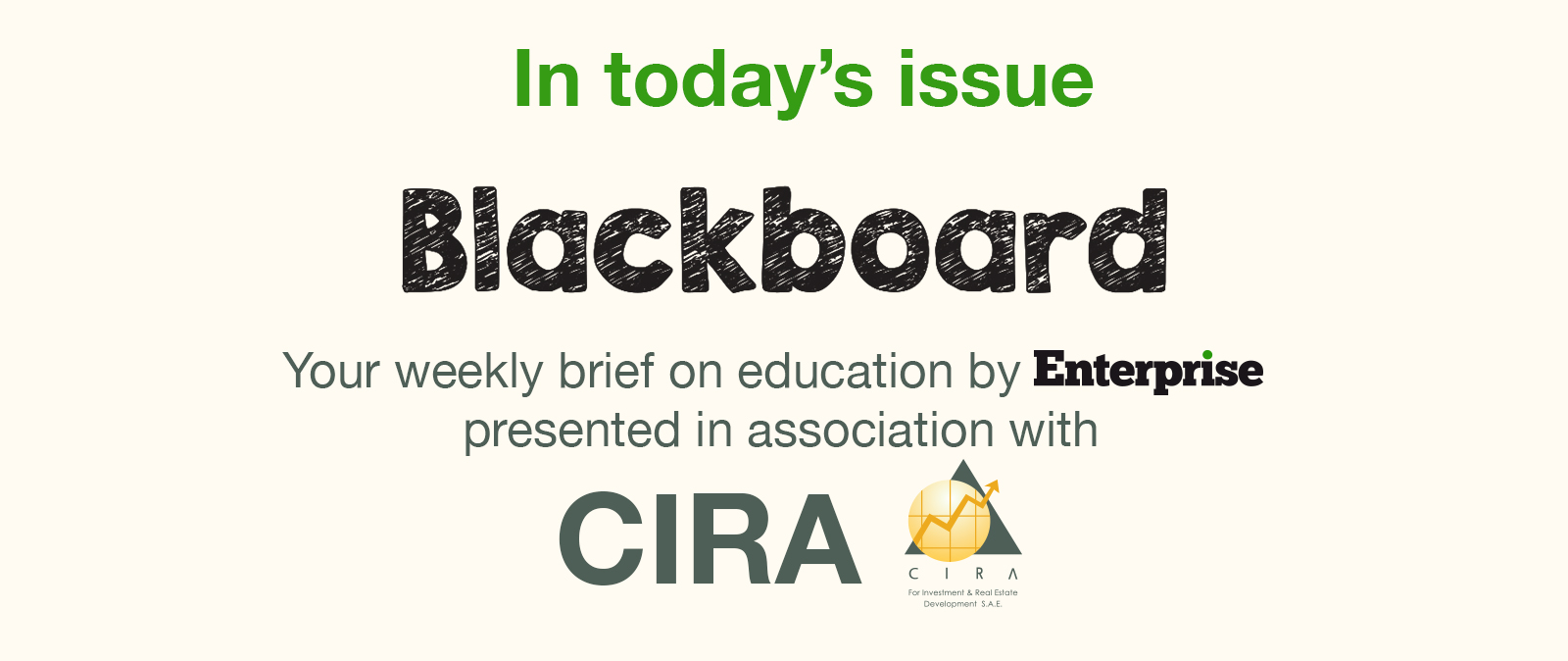 *** It's Blackboard day: We have our weekly look at the business of education in Egypt, from pre-K through the highest reaches of higher ed. Blackboard appears every Monday in Enterprise in the place of our traditional industry news roundups.
In today's issue: As demand for private K-12 education keeps growing, a host of new schools are being built to meet this need. Today, we profile six schools either recently established or getting ready to open their doors in 2021 or 2022: A new branch of the British Columbia Canadian International School (BCCIS), Kent College, Saxony International School (SIS), Haileybury, and new branches of Regent British School and Futures Language Schools. We ask whether covid has affected their OPEX investments and what the removal of foreign ownership limits means for the sector overall.