Wednesday, 17 February 2021
What we're tracking on 17 February 2021
Good morning, wonderful people, and welcome to a cold late-week morning.
THE BIG STORY AT HOME: Cabinet is preparing a three-year budget outlook to unveil in March as budget season kicks off, and we have a spate of investment and M&A news (healthcare is again in the lead) to keep market watchers busy. All of this and more in this morning's news well, below.
ALSO: We don't have the luxury of considering a lockdown even as new daily cases of covid-19 continue to tick up, Prime Minister Moustafa Madbouly said yesterday. (See this morning's Covid Watch, below.)
Watch this space: The Biden administration is recalibrating its approach to key regional allies. We have more in Egypt in the News.
THE BIG STORY ABROAD this morning: Once again, no single story has captured the imagination of the global business press. The Financial Times says that the "Republican schism" is deepening after Agent Orange launched a broadside against Mitch McConnell, the senior GOP member of the Senate. The WSJ notes that Marriott's CEO has died at age 62 after a battle with cancer and Reuters is leading with the fact that mns are still without power in Texas after an "historic" winter storm that killed 21 people.
Sound smart- Rolling blackouts are affecting mns in Texas and beyond, and it's a sign of what's to come across the globe as climate change boosts demand for power from infrastructure that has suffered decades of underinvestment (or that simply isn't up to the challenge ahead), leaving it unprepared to handle surges in demand and the interruption of supply lines. "Wild and unpredictable weather linked to global warming will very likely push grids beyond their limits," the New York Times writes.
*** CATCH UP QUICK– The top stories from yesterday's edition of EnterprisePM:
The central bank will wind down its EGP 3 bn tourism support program at the end of June, two weeks earlier than planned, and has issued new guidelines for bank lending to real estate developers.
Deep tech startup Si-Ware Systems has raised a funding round worth nearly USD 9 mn from Sawari Ventures and Egypt Ventures, bringing their total funding to USD 19 mn.
Some good news: The drop in unemployment at the end of last year was driven by job creation, not reduced labor force, EFG Hermes' Mohamed Abu Basha said in a note.
MARKET WATCH- Bitcoin kept shooting for the moon yesterday, smashing through the USD 50k barrier for the first time, CoinDesk reports. The cryptocurrency is up more than 65% YTD.
HAPPENING TODAY-
The House of Representatives is on recess for a week and a half as of today, with MPs expected to reconvene on Sunday, 28 February.
The cold spell continues into today, with a 50% chance of showers at various intervals in Cairo and a high likelihood of rain along the coast, according to the national weather service. Winds will be high all day long nationwide, according to our favourite weather app, and we can expect a daytime high of just 13°C in both Cairo and Alexandria. The wind will start to die down (and temperatures are set to rise a bit) starting tomorrow.
A MENA x CEO panel on venture capital and entrepreneurism in our neck of the woods hosted by the Columbia Entrepreneurs Organization runs today at 7:30pm CLT with a great lineup of speakers. Tap or click here to register.
Expect more gold exploration contracts to be signed in the next week and a half: All remaining contracts for gold exploration concessions awarded in the Oil Ministry's tender last year will be signed by the end of February, Minister Tarek El Molla said yesterday.
Who has taken home a contract? Canadian miners Barrick Gold, Lotus Gold and B2Gold, British firms Red Sea Resources, AKH Gold and SRK, and Australian gold miner and Sukkari operator Centamin. Four local firms also snagged exploration rights: Mining and Manufacturing Company (MEDAF), North Africa Mining and Petroleum Company (NAMC), Al-Abadi and Ebdaa for Gold Mining.
Everyone's favorite foul-mouthed puppet is coming to Netflix (finally): Abla Fahita's new show, aptly titled "Drama Queen," is set to be released on Netflix "soon" after its planned 2020 release ran a little over schedule. Abla Fahita is no newcomer to drama, having run into trouble with her show on CBC, and a Vodafone ad she starred in a few years ago.
CIRCLE YOUR CALENDAR-
PSA- Madbouly's chat with the business community is now happening next week. AmCham Egypt and the Egypt-US Business Council will host a webinar headlined "Egypt: 2021 and Beyond" next Thursday, 25 February. The original date was tomorrow. Guest speaker Prime Minister Moustafa Madbouly will talk about Egypt's strategy to mitigate the effects of the global downturn as well as the country's future plans to maintain economic growth.
The second edition of the Egypt International Art Fair will be held from 26-28 February, and will showcase the work of 120 regional artists at Dusit Thani Lakeview.
Check out our full calendar on the web for a comprehensive listing of upcoming news events, national holidays and news triggers.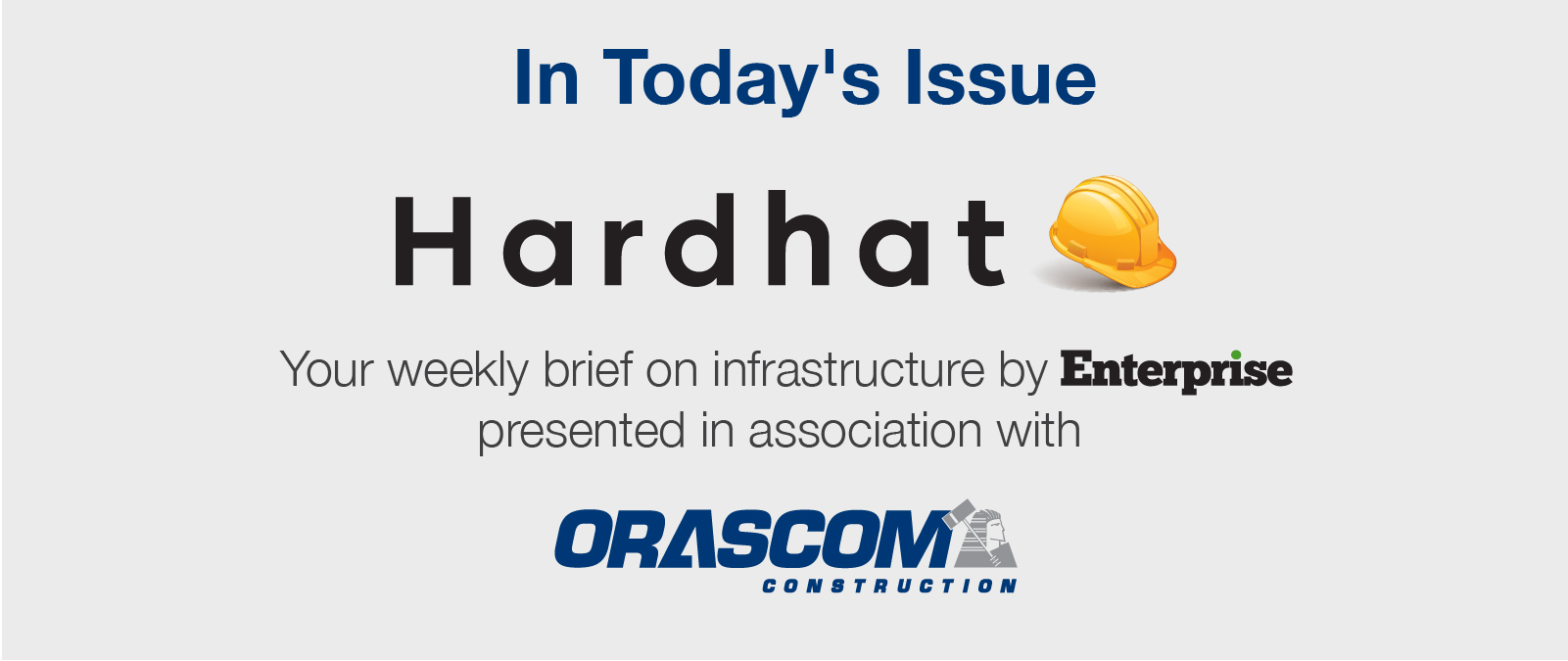 *** It's Hardhat day — your weekly briefing of all things infrastructure in Egypt: Enterprise's industry vertical focuses each Wednesday on infrastructure, covering everything from energy, water, transportation, urban development and as well as social infrastructure such as health and education.
In today's issue: With the Sisi administration prioritizing road infrastructure development as a key component of its policy agenda, Egypt is doubling down on constructing thousands of km of new roads and bridges. We take a look at one aspect of the planning process for this infrastructure — choosing between concrete and asphalt for paving the roads — and ask which material is best suited for Egypt's priorities and conditions.