Monday, 15 February 2021
What we're tracking on 15 February 2021
Good morning, wonderful people, and welcome to the slowest domestic news morning of 2021 so far.
THE BIG STORY HERE AT HOME is the Sisi administration's plan to allow international, private and public schools to move back to in-person classes with flexibility for parents who want to keep their kids at home. We have chapter and verse in this morning's Blackboard as well as in Last Night's Talk Shows, including coverage of Education Minister Tarek Shawki's press conference yesterday and a statement by President Abdel Fattah El Sisi.
THE BIG STORY globally this morning: Bupkis. It's crickets this AM. Everyone in the US of A has a Trump acquittal hangover and markets are closed today — 15 February is a federal holiday in observance of Presidents' Day in the US, so the NYSE and the Nasdaq are closed. Much of Canada is boarded up today in observance of Family Day.
CATCH UP QUICK– Missed yesterday's EnterprisePM? These were the big stories:
The guys who brought you Prime Medical and Prime Speed are getting into finance: Aton Holding acquired Pharos Asset Management and its Pharos Fund I back in mid-January for an undisclosed amount, Mostafa Attia, managing director of Pharos Asset Management and a founder at Aton, told us.
Payments firm Ebtikar has started its march toward an IPO, transferring the shares of Tamweel Holding to a new parent company as part of a plan to spin off activities not related to e-payments, Ebtikar owners B Investments and MM Group said.
Egypt has weathered the worst of the pandemic, but authorities must now push on with "deep" structural reforms to empower the private sector, the Institute of International Finance said in a report.
FOLLOWUP on the Aton / Pharos story: Pharos' Elwy Taymour confirms that the asset management business, including the company itself and the funds it controlled, were both on the auction block. "This furthers what we were doing in exiting the investment banking business overall and pivoting toward fintech," he said. "This was the final part of the puzzle, and with the asset management sale, we're now out of the investment banking business overall. Kashat is the flagship of our expansion into fintech and there's more to come." Our friend Karim Nour joined Kashat as co-founder last fall; the outfit launched its first national nano-credit campaign last month.
WHAT'S HAPPENING TODAY-
The House of Representatives is catching up today and tomorrow on bills and reports that were originally on its agenda for yesterday. These include the Senate's bylaws and a bill that would grant an income tax break to investors on interest earned from bonds issued abroad. A committee report on Information Minister Osama Heikal's policy statement was also scheduled for yesterday but appears to have been postponed as the minister asked for time to prepare his defense.
Justice Minister Omar Marwan is also set to deliver his address to parliament tomorrow.
Shiny gauge to watch this morning #1: Oil rose overnight to hit its highest level in more than a year on "fears of fresh Middle East tensions," Reuters suggests. Or maybe because … traders like a rally? And are buying into the climate-destroying commodity after it broke the somehow psychologically important USD 60 / bbl barrier last week?
Shiny gauge to watch this morning #2: You know things are getting frothy with BTC when Bloomberg starts discussing how a unit of Morgan Stanley is debating whether to take a position. The price of BTC is on the verge of hitting USD 50k for the first time and Canada has just become the host of the world's first BTC exchange-traded fund ETF provider Purpose Investments said in a statement. "The ETF will be the first in the world to invest directly in physically settled Bitcoin, not derivatives," and will trade on the Toronto stock exchange under the ticker BTCC, the company said. What could go wrong?
PSA- A cold front is set to move in tonight, blanketing Cairo and Alexandria with cold temperatures and likely some rain for the next several days. Our favourite weather app warns us to expect a low of 14°C tomorrow and 12°C on Wednesday in the capital city. Cairo could see showers both days, but Alex is facing the prospect of nearly 30 mm of rain on Tuesday and as much as 15 mm on Wednesday.
CIRCLE YOUR CALENDAR-
Madbouly to chat with business community: AmCham Egypt and the Egypt-US Business Council will host a webinar headlined "Egypt: 2021 and Beyond" on 18 February. Guest speaker Prime Minister Moustafa Madbouly will talk about Egypt's strategy to mitigate the effects of the global downturn as well as the country's future plans to maintain economic growth.
The Columbia Entrepreneurs Organization will be hosting a MENA x CEO panel on venture capital and entrepreneurism in our neck of the woods. The gathering headlined "Investor Perspectives from New York to North Africa" takes place this Wednesday, 17 February. Lots of friends are among the panelists, including Global Ventures Managing Director Amal Enan, HOF Capital Managing Partner Onsi Sawiris, AAF Management General Partner and CFO Omar Darwazah and AUC Entrepreneurship Professor Ayman Ismail. Tap or click here to register.
Check out our full calendar on the web for a comprehensive listing of upcoming news events, national holidays and news triggers.
CORRECTION #1- We slipped up in a story on financial services company Ebtikar's IPO plans, incorrectly stating that the EGX listing is planned for 1H2021, in yesterday's EnterprisePM issue. Ebtikar is looking to make its debut in 2H2021. The story has since been corrected on our website. We regret the error.
CORRECTION #2- We incorrectly wrote yesterday that Donald Trump had avoided impeachment for the second time. The former president avoided conviction at his second impeachment trial. We have updated the story on our website and sent the offending (sleep-deprived) writer to their room without desert in punishment.
(Speaking of The Donald: He may have been acquitted in his second trial, but the guy's legal troubles [potentially both civil and criminal] are just beginning. The Financial Times has a hard time keeping a straight face with its report.)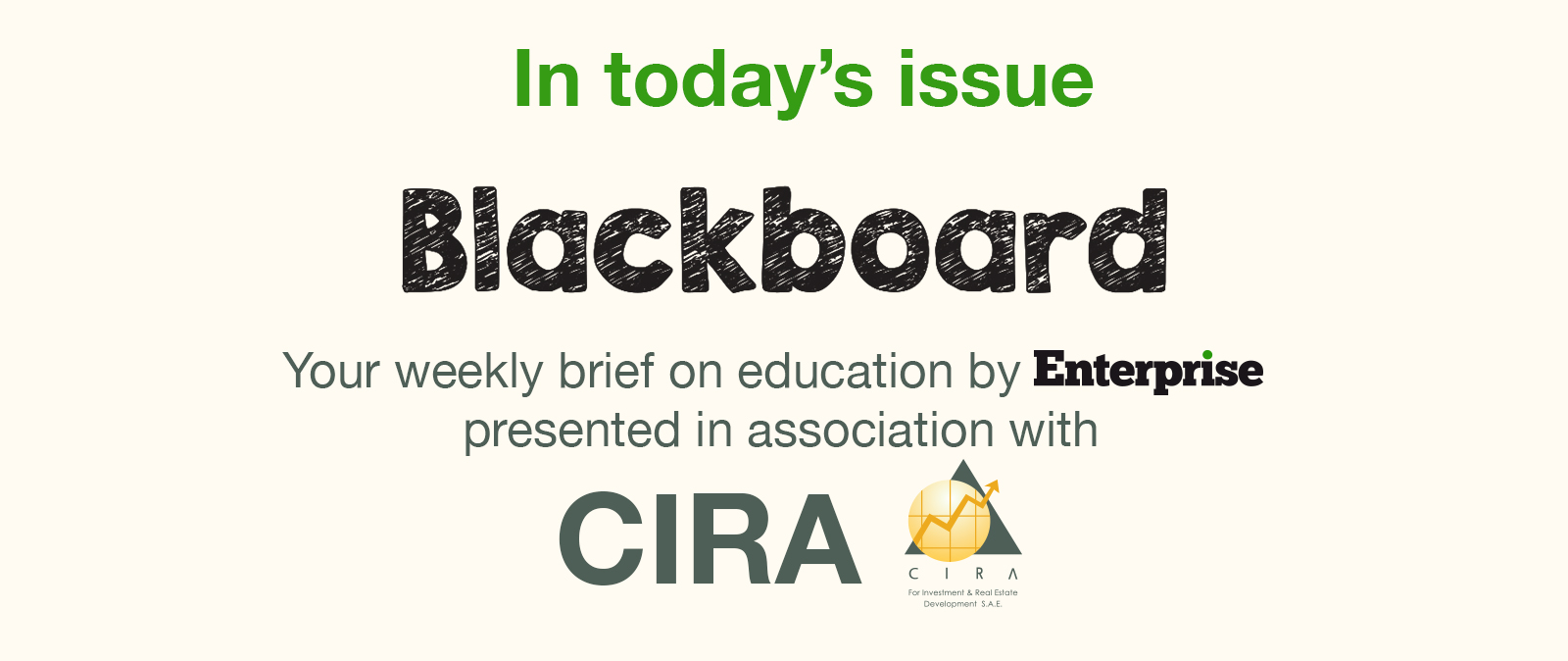 *** It's Blackboard day: We have our weekly look at the business of education in Egypt, from pre-K through the highest reaches of higher ed. Blackboard appears every Monday in Enterprise in the place of our traditional industry news roundups.
In today's issue: After being ordered to go online, public, private, and international schools and universities have been waiting for instructions on how to proceed with term two of the academic year. Parents, students, and administrators finally got some more clarity on when (and how) teaching will resume, as well as how standardized exams and assessments on the national curriculum will be administered.