Monday, 8 February 2021
What we're tracking on 8 February 2021
Good morning, friends, and welcome to a pleasantly brisk news morning to kick off what's shaping up to be a gorgeous, sunny day.
THE BIG NEWS here at home? No single story from the world of business, public policy or foreign affairs is dominating the headlines, though you can expect the Israeli-Palestinian peace process to take over the news agenda later in the day as an Arab League summit gets underway. We have more below.
THE BIG NEWS AROUND THE WORLD is the growing acceptance that covid-19 is here to stay — that we are, after all, going to have to learn to "coexist" with it. That's going to mean vaccinations for everyone; annual boosters; ongoing measures in the workplace, in restaurants and on planes; and a host of new ways of doing business. We have chapter and verse in the news well, below.
The case for (global market, and maybe economic) optimism this morning: "Asian shares hovered near record highs [this morning] while oil edged closer to USD 60 a barrel on hopes a USD 1.9 tn covid-19 aid package will be passed by US lawmakers as soon as this month just as coronavirus vaccines are being rolled out globally." (Reuters)
*** We published the very first edition of EnterprisePM yesterday. It's our quick catchup at 3:30pm CLT on the day's news — and your guide to where to spend your time and money tonight. Yesterday's headlines saw Speed Medical announce plans to acquire Six of October's New Al Safwa Specialized Hospital in a EGP 185 mn transaction, and Tamweel Holdings unveil a EGP 500 mn securitized bond issuance planned for 2Q2021.
The 55th Super Bowl Sunday wrapped up on the other side of the Atlantic just a few minutes before we hit "send" on your morning read. The Tampa Bay Buccaneers bested defending champions the Kansas City Chiefs 31-9. If you're a fan, you know where to get the post-game analysis. If you're not a fan (but are a … gentleman of a certain age) you'll still enjoy reading the epic Through genetics, luck or 'prehab,' Tom Brady endures at 43.
And for our readers in AgencyLand: CNBC and the WSJ's CMO Today each have Youtube links to the ads that have played out on the air so far in what remains Madison Avenue's biggest day of the year.
It's the end of an era: Reagan administration secretary of state George Shultz, "a pillar of the Republican foreign-policy establishment whose diplomacy helped seal the end of the Cold War," has died at age 100. The best obits so far: New York Times | Wall Street Journal | Financial Times.
Insead is back at the top of the Financial Times' 2021 Global MBA ranking, dethroning Stanford, which — along with Harvard and Wharton — suspended its participation in data gathering due to the pandemic. London Business School, the University of Chicago: Booth, Iese Business School, and Yale School of Management round out the top five.
WHAT'S HAPPENING TODAY-
Egypt is heading up an emergency Arab League ministerial-level meeting today to discuss the Israel-Palestine peace process. The gathering comes after Foreign Minister Sameh Shoukry held high-level talks with French, German, EU and Jordanian officials in recent weeks, suggesting that there may be renewed political will to push the two sides back to the negotiating table. The International Criminal Court also ruled a few days ago that it can take legal action against Israel on Palestine's behalf for war crimes committed against Palestinians since Israel's establishment.
AUC is hosting a webinar headlined the Rise of Citizen Capitalism with guest speakers Michael O'Leary (Linkedin), MD at Engine No. 1, and Two Sigma partner Warren Valdmanis. It airs tonight at 7pm CLT and you can register for it here.
Former US president Donald Trump's second impeachment trial begins in the Senate tomorrow, after House impeachment managers delivered last month the charges to the Senate. Trump is the first president in US history to be impeached twice.
CIRCLE YOUR CALENDAR-
PSA- Tomorrow is the last day for students in Egypt looking to get into private universities to upload their educational certificates on the Higher Education Ministry's electronic university admissions site as part of the ministry's new system.
Public schools began their mid-year break on Saturday and will be on holiday until Saturday, 20 February. Enjoy the slightly smoother commute for the next several days, folks.
The International Conference on Global Business, Economics, Finance and Social Sciences gets underway tomorrow at Ramses Hilton Cairo.
Egypt is hosting an arm of the World Conference on Science Engineering and Technology, which runs from Wednesday-Thursday at Luxor's Hotel Pavillon Winter.
Inflation figures for January will be released on Wednesday, 10 February.
---
CORRECTION- We incorrectly stated yesterday that Sarwa Life Ins. and Misr Capital had launched a fixed income fund. The companies have set up a money market fund. The story has since been amended on our website.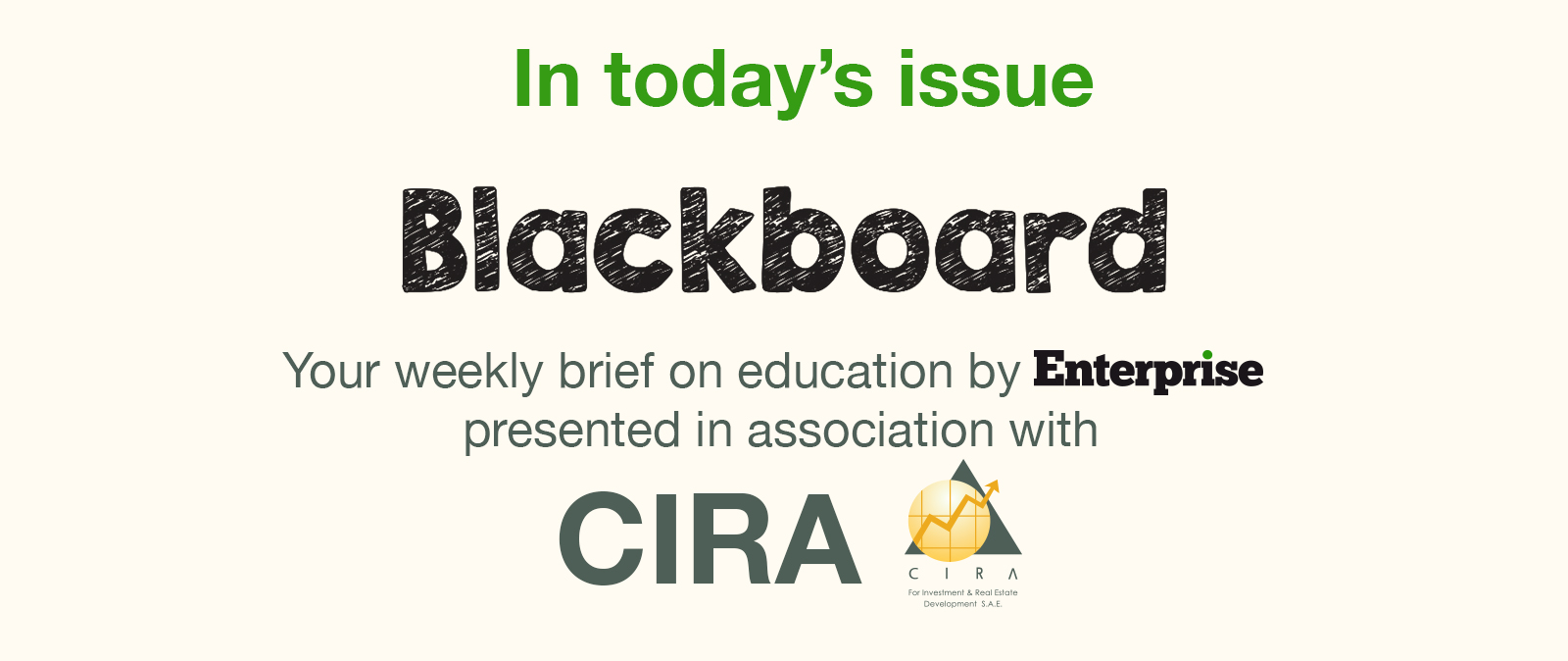 *** It's Blackboard day: We have our weekly look at the business of education in Egypt, from pre-K through the highest reaches of higher ed. Blackboard appears every Monday in Enterprise in the place of our traditional industry news roundups.
In today's issue: Demand for private education is soaring in Egypt, with an estimated 2.1 mn new seats likely to be needed in K-12 private sector schools in Egypt by 2030 — almost 1 mn of which will be in Cairo, a Colliers International report tells us. We look at the tremendous horizons this opens for investors, and what's needed to capitalize on it.