Wednesday, 3 February 2021
What we're tracking on 3 February 2021
Good morning, friends, and welcome to a very busy newsday as we spin into the home-stretch of the week.
THE BIG STORY AT HOME- Travelers from Egypt and 19 other destinations will be barred from entering Saudi Arabia as of today as the kingdom tries to curb the spread of covid-19, according to the Saudi Press Agency. The ban does not apply to diplomats, Saudi citizens, or doctors and their families.
How long the ban is in effect will depend on how the situation with covid unfolds, Saudi ambassador to Egypt Osama Al Naqli told Kelma Akhira's Lamees El Hadidi last night (watch, runtime: 5:25).
EgyptAir's last flight to Saudi Arabia takes off at 3 pm today, but might be able to squeeze in another flight in the evening (watch, runtime: 0:48). If you have a previously-booked flight to the kingdom with the national flag carrier, you can get a refund or postpone the trip to after the entry ban is lifted, EgyptAir Holding Company Roshdi Zakaria told Masaa DMC's Ramy Radwan (watch, runtime: 4:48).
THE BIG STORY INTERNATIONALLY- Jeff Bezos is stepping down as Amazon CEO, tapping the company's cloud computing head Andy Jassy — who created cloud platform Amazon Web Services — to take the reins as CEO. Bezos will become Amazon's executive chairman in the third quarter of the year. The changing of the guard at the e-commerce behemoth comes as Amazon reported a record USD 125.6 bn in 4Q2020 sales and net income jumped to USD 7.2 bn in the final quarter of last year.
The story is front-page news pretty much everywhere this morning: Reuters | The Financial Times | The New York Times | Bloomberg.
But the Wall Street Journal owns the story: Start with How Jeff Bezos has run Amazon, from meetings to managing and take a deep dive into who Jassy really is. Then read Bezos' email to employees (pdf).
Also making international headlines: GameStop shares dropped 60% yesterday as the bubble caused by a horde of day Reddit and Redbull-fuelled day traders popped. AMC shares slumped nearly 40%. US Treasury boss Janet Yellen is calling a meeting of industry regulators to talk about volatility in the market driven by the horde. Meanwhile, Agent Orange's defense at his impeachment trial is in the news. In a nutshell: "I really won the election, I didn't incite nuthin' — and the Senate doesn't have the constitutional authority to try me." The New York Times has the full rundown.
WHAT'S HAPPENING TODAY-
It's PMI day: Figures measuring business activity in Egypt's non-oil private sector in January will land here at 6:15 CLT. The recovery stalled in December following two months of promising growth, as mounting covid-19 cases hit consumer demand and business sentiment. Gauges for the UAE and Saudi are also due out this morning.
Lebanese Prime Minister-designate Saad El Hariri is due in Cairo today for a meeting with President Abdel Fattah El Sisi, according to the Lebanese press.
And it's interest rate week: The Central Bank of Egypt will meet on Thursday to review interest rates. Eleven of the 12 analysts and economists polled by Enterprise expect rates to be left unchanged. Meanwhile, 10 of the 14 people surveyed by Reuters said the CBE will leave rates on hold, while a few suggested that the National Investment Bank's move to slash rates on its investment certificates earlier this week could signal a rate cut, a notion with which EFG Hermes' Mohamed Abu Basha took exception in a note earlier this week.
Also coming up this month:
Foreign reserves figures for January should be out toward the end of this week;
Inflation figures for January will be released on 10 February;
The deadline for businesses to file wage tax returns is 28 February.
PSA- Expect "turbulent" weather from today through Friday, the national weather office says, calling for showers along the Mediterranean coast starting today. Rain — potentially heavy — will hit Cairo tomorrow and Friday. Our favourite weather app is calling for a high today of 27°C in the capital city before the mercury plunges to 20°C tomorrow. Look for as much as 10 mm of rain tomorrow. Some Red Sea governorates are expected to see heavy rainfall and the possibility of floods.
PSA #2- Spring will be here in no time. That's according to Shubenacadie Sam and other, uhm, weather-predicting groundhogs in Canada, who are calling for a short winter this year. That caps our annual celebration of GroundHog Day. And if you still haven't watched the Bill Murray classic…
CIRCLE YOUR CALENDAR-
Egypt is mounting a full-court press on GERD ahead of the African Union's annual summit scheduled for Saturday and Sunday (6 and 7 February). We have chapter and verse in Current Affairs, below. The summit, which will be held virtually, will mark the official end of South Africa's chairmanship of the AU. The Democratic Republic of the Congo will take over the position for one year.
---
CORRECTION- A local press report that we picked up incorrectly stated that Sarwa Capital will manage a EGP 4 bn sukuk issuance for construction outfit Hassan Allam Holding. We have since been informed that real estate developer Hassan Allam Properties will be taking the offering to market and have updated the story on our website.
AND AN APOLOGY- Plenty of readers had issues opening URLs in yesterday's edition. The glitch was the result of a change in how our back-end editor handles links. We're sorry — we've fixed the glitch and the links are all functional now on our website.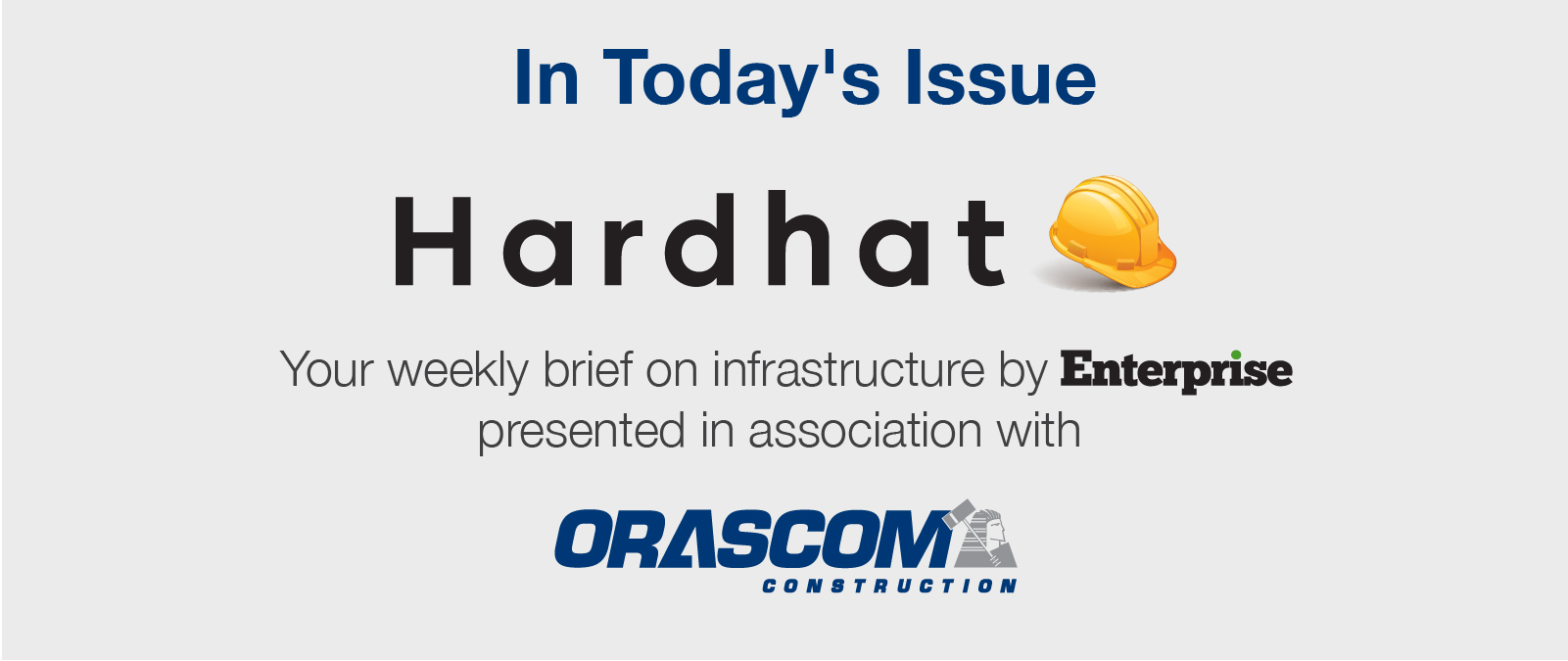 *** It's Hardhat day — your weekly briefing of all things infrastructure in Egypt: Enterprise's industry vertical focuses each Wednesday on infrastructure, covering everything from energy, water, transportation, urban development and as well as social infrastructure such as health and education.
In today's issue: As Egypt's journey towards becoming a data center hub is gathering steam — pushed along by the government's digitization strategy — there remain key issues that are weighing on the process.