Monday, 1 February 2021
What we're tracking on 1 February 2021
Good morning, friends, and welcome to February, where the big news here at home as we start a new month is that the Oxford / AstraZeneca vaccine against covid-19 has received regulatory approval just as the first doses arrived in Egypt. We have miles to go before we sleep on this whole pandemic thing, but if you want the world (not just Omm El Donia) to "go back to normal," you'll want to follow this story — and roll up your sleeve at the earliest chance.
TWO BIG STORIES ABROAD are duelling for your attention this morning:
Myanmar's military TV broadcaster has confirmed that the armed forces have taken over the country "for one year" after security forces arrested Aung San Suu Kyi and other senior members of the country's ruling party early this morning. The news is everywhere on front pages globally, from the New York Times and Financial Times to Reuters and CNBC.
The "Reddit horde" is moving on to silver, Bloomberg reports, with futures "topping USD 29 an ounce within minutes as the Reddit-inspired frenzy that roiled stock markets last week spills over into commodities." The world's largest silver-backed exchange-traded fund "recorded almost USD 1 bn in inflows on Friday," the Financial Times reports, saying "the jolt of investments came after a user in Reddit's r/WallStreetBets forum urged people to buy shares and options to put a squeeze on banks."
ON A MORE PROSAIC NOTE, here are some domestic news triggers for the coming weeks:
Purchasing managers' index: January PMI data for Egypt, Saudi Arabia and the UAE will land on Wednesday, 3 February.
Foreign reserves figures for January should be out toward the end of this week.
Inflation figures for January will be released on 10 February.
It's interest rate week, and there could be conflicting signals on a rate cut: The CBE will meet on Thursday to review rates, and our poll of economists forecasts a hold, with Pharos being the only house out of the 12 surveyed to call a cut. But Reuters suggests that the National Investment Bank's move to slash yields on investment certificates over the weekend suggests it is bracing for a rate cut. Look for an announcement late on Thursday afternoon.
Keep your eyes on:
French visit: France's finance minister, Bruno Le Maire, is set to visit Egypt some time this month to finalize more than EUR 715 mn in financing from development arm AFD to support water, transport, education and health in Egypt. The funding is part of a EUR 1 bn strategic partnership between the two countries this year, the International Cooperation Ministry said in a statement.
Putin visit in March? Russian President Vladimir Putin is reportedly due to visit Egypt sometime around March, with an end to his government's ban on direct flights to the Red Sea being at the top of our wish list.
Egycomex delayed again: Trading on the long-awaited commodities exchange (Egycomex) won't happen before the end of 2021 or early 2022, EGX boss Mohamed Farid said yesterday.
PSA #1- You just got a tax filing extension. Businesses, sole traders, and anyone who generate income outside of their day job will now have till the end of February to file wage tax returns through the electronic filing system, Finance Minister Mohamed Maait said in a statement, extending the deadline that was meant to fall yesterday.
PSA #2- It's not just you — your mobile internet really is getting slower. Mobile internet speeds at all four of Egypt's mobile networks slowed considerably during the final quarter of last year, according to results of a quarterly quality of service (QoS) survey by the National Telecommunications Regulatory Authority (NTRA). Orange Egypt and Vodafone boasted the fastest average speeds yet both operators saw declines, with Orange falling to 23 mbps by the end of December from 34 mbps in October, and Vodafone falling to 23 mbps from 25 mbps. Data speeds offered by Etisalat and We were also considerably slower.
There are three days left in CI Capital's 5th Annual MENA Investor Conference, which kicked off on 26 January and runs until Wednesday, 3 February. The virtual event gathers 320 investors representing 100 global institutional investment firms who together have over USD 10 tn assets under management, according to a press release (pdf).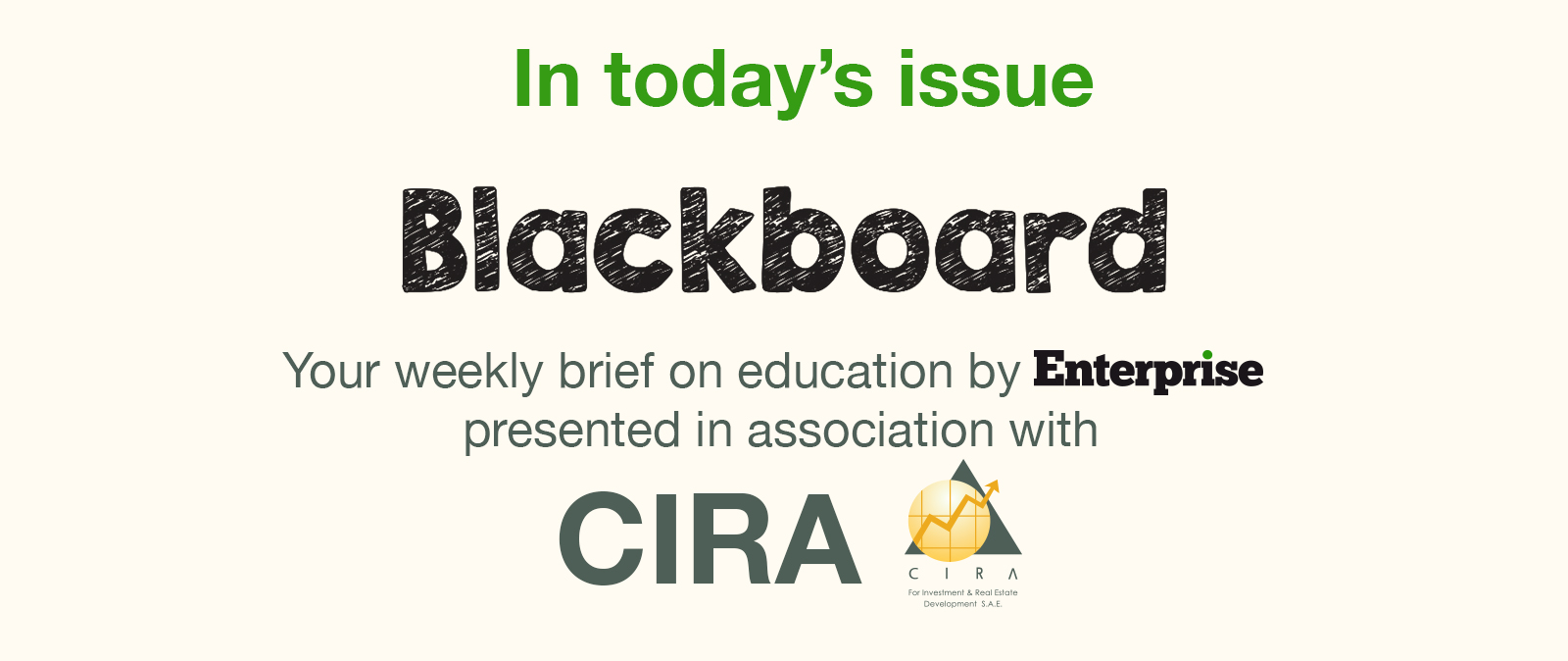 *** It's Blackboard day: We have our weekly look at the business of education in Egypt, from pre-K through the highest reaches of higher ed. Blackboard appears every Monday in Enterprise in the place of our traditional industry news roundups.
In today's issue: In December, we followed up our June poll on online learning — widely seen as needing to be more interactive and less dependent on parental involvement — with one asking whether blended learning is any better. The verdict? 67% of respondents preferred blended learning to fully online, mainly because of its in-person component. But hybrid learning models still need to give students more chances to interact online, and more robust physical safety measures should be in place to allow more time in the classroom, many say. Today, private school leaders respond to this feedback.