Monday, 18 January 2021
What we're tracking on 18 January 2021
Good morning, friends — we've now done this together for 1,500 mornings. Thank you, each and every one of you, for coming along for the ride. And if you enjoy reading us each weekday morning, please join us in thanking our friends at CIB, Pharos, Sodic, Somabay, Orascom Construction and CIRA. Your morning read is available without charge thanks to their generous support.
THE BIG NEWS at home this morning: Foreign holdings of EGP-denominated debt are creeping back up to their pre-pandemic high, Finance Minister Mohamed Maait said yesterday. We have chapter and verse in the news well, below.
TODAY IN COVID- The Finance Ministry has set aside USD 1.5-1.6 bn to purchase vaccines against covid-19, minister Mohamed Maait said yesterday. Meanwhile: Seasonal and day labourers started getting the second EGP 1 bn installment of the new round of stimulus payouts yesterday as the Madbouly government looks to keep people afloat amid the second wave of covid-19. The program comes as part of a EGP 100 bn stimulus package introduced in March to protect the economy. We have more in this morning's Covid Watch, below.
THE BIG NEWS ABROAD: It's Fortress Washington as the District of Columbia joins state capitals in preparing for possible armed violence by white racists ahead of the 20 January inauguration of Joe Biden. "Washington is fortified amid fears of more violence," reads the lead story in the FT. State capitals were braced for pro-Trump violence yesterday, but it largely failed to materialized. Still, "troops, blockades and an eerie quiet pervade a locked-down Washington" and state capitals are on alert ahead of the 7pm CLT inauguration on Wednesday.
Inside Trump's final days: Aides struggle to contain an angry, isolated president.
PSA- It's going to be chilly today with a daytime high of 18°C and an overnight low of 8°C, setting the tone for the coming 14 days, according to our favourite weather app.
---
IN THE HOUSE TODAY-
Prime Minister Moustafa Madbouly and his cabinet will appear before the new parliament today after being invited to the chamber by House Speaker Hanafi El Gibali. Madbouly will deliver a speech laying out the state of play with the government program and ministers will be invited to give statements briefing MPs on how their ministries have performed since 2018. Look for this to lead the news cycle this afternoon and tomorrow.
The day's proceedings were all over the airwaves last night: Kelma Akhira (watch, runtime: 6:48), Al Hayah Al Youm (watch, run time: 6:27), Masaa DMC (watch, runtime: 2:18), Ala Mas'ouleety (watch, runtime: 3:00).
What's on the House of Representatives' agenda this week?
The draft sovereign sukuk law is up for discussion today at the House Economic Committee, according to Al Shorouk, paving the way for the government to take its maiden issuance to market.
The Planning and Budgeting Committee will consider amendments to the 2010 Public-Private Partnership Act that would streamline PPP contracts.
The Housing Committee will tomorrow discuss amendments to the unified building code that would ease the process of building licensing and registration, Youm7 says.
ALSO MEETING THIS WEEK to sort out their agendas for the coming months are the energy and environment, education, and transport and communications committees. We have your rundown on everything that matters to business here. Or you can tap here to see who's running key committees in the House.
WHAT ELSE IS HAPPENING TODAY?
President Abdel Fattah El Sisi is due in Jordan today to visit King Abdullah II, the Jordanian news agency reported. Restarting the Palestinian-Israeli peace process is expected to be at the top of the agenda, Saudi's Asharq News reports, quoting unnamaed official sources. The trip comes a week after El Sisi met Jordan's foreign minister on the sidelines of recent talks about the peace process in Cairo.
Palestinian elections + reconcilation ahead? This comes a day after Egypt and Jordan's intelligence chiefs travelled to Ramallah for talks with Palestinian Authority head Mahmoud Abbas, and discuss the PA's election plans announced this week, Masrawy reports. Planned to be held in May and July, the elections will be the first since Hamas triumphed in the 2006 parliamentary elections, leading to the 15-year schism with Fatah and the PA. Hamas has (so far) welcomed the election call, raising speculation that the two sides may be about to kiss and make up.
The push for a breakthrough in Palestinian politics got a lot of attention on the airwaves last night: Kelma Akhira's Lamees El Hadidi (watch, runtime: 7:50), Masaa DMC's Eman El Hosary (watch, runtime: 0:54), and Ala Mas'ouleety's Ahmed Moussa (watch, runtime: 2:10).
El Nasr Automotive will sign today the final contracts with China's Dongfeng to assemble electric vehicles in Egypt, Public Enterprises Minister Hisham Tawfik told Masrawy. The two companies plan to install the assembly line in 2Q2021 and begin production in 4Q2021, which will eventually see them produce 25k vehicles each year.
EgyptAir resumes its flights between Cairo and Doha today after Egypt reopened its airspace to flights into and out of Qatar last week.
Egypt is set to play against Sweden tonight at 7pm CLT for our last Group G game in the 2021 Men's Handball World Championship, having qualified for the main round of the competition after beating North Macedonia 38-19 on Saturday. The Swedish team holds four Handball World Championship titles — tied with Romania who also holds four, second-best only to France who snagged six titles out of the 26 tournaments held.
There are also seven other matches in the lineup for today. You can check out the full schedule here. Yesterday's match that was set to be played between Germany and Cape Verde was canceled after two Cape Verde players tested positive for covid-19, making it unclear whether the team will attend the match against Uruguay tomorrow.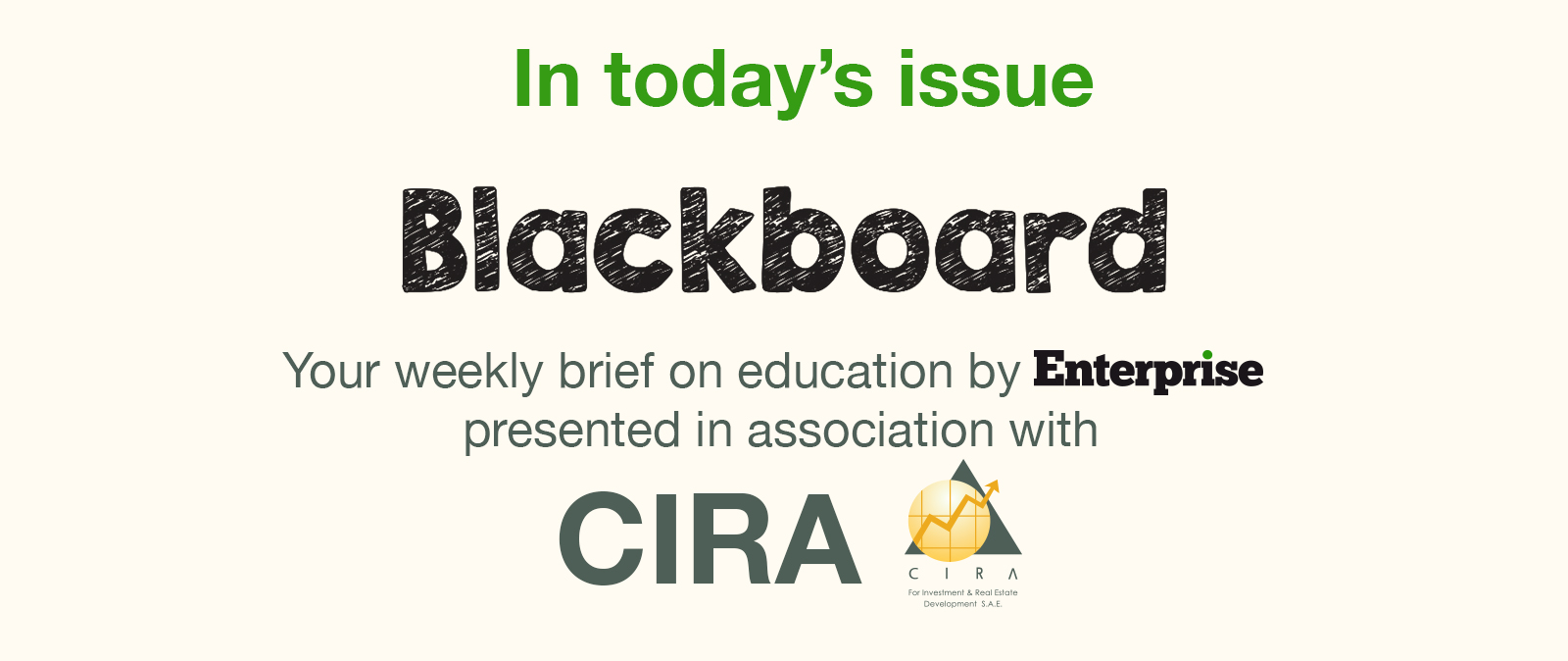 *** It's Blackboard day: We have our weekly look at the business of education in Egypt, from pre-K through the highest reaches of higher ed. Blackboard appears every Monday in Enterprise in the place of our traditional industry news roundups.
In today's issue: A new unified platform for private university admissions is coming, and last week we broke down what to expect from it. Today, we look at all the reasons why a new admissions system is necessary.