Monday, 11 January 2021
What we're tracking on 11 January 2021
Welcome to another workaday Monday, nice people. It's a reasonably quiet news morning, but don't be deceived by the calm: It's going to get busier this afternoon and we'll have a torrent of news from the House of Representatives once a new class of MPs is seated tomorrow.
Want to know what their agenda looks like? We've got you covered.
What are the chances of an upcoming cabinet shuffle? Fairly high, if you trust MP Mostafa Bakry, who told El Hekaya's Amr Adib on Saturday night that he had "reliable information" that a shuffle is in the cards after the first session of the new parliament (watch, runtime: 1:57).
House Speaker Ali Abdel Aal said last month there is no requirement for the government to resign when a new House is seated, but a) added that the government serves at the pleasure of President Abdel Fattah El Sisi and b) that he expects the government to present an overview of its legislative agenda at a plenary session of the House soon after the new MPs are worn in.
The big story globally: The US House of Representatives could vote on a second attempt to impeach Agent Orange as soon as tomorrow after Democratic House Speaker Nancy Pelosi issued an ultimatum to VP Mike Pence: Invoke the 25th Amendment or we move to impeachment.
The 25th Amendment: A constitutional amendment allowing the VP to assume the presidency if the president dies, becomes incapacitated, or is removed from office.
Pence has 24 hours to respond to Pelosi's demand, and if Trump is not removed from office the Democrat-run House will move immediately to vote for an impeachment trial in the Senate.
The trial probably isn't going to happen while Trump is still in the White House: Democratic Majority Whip James Clyburn told CNN that the party could delay sending the article to the Senate until after Biden's first 100 days in office.
WHAT'S HAPPENING TODAY-
Cairo plays host to talks on Israel-Palestine peace today: The foreign ministers of Egypt, France, Germany, and Jordan will meet in Cairo today to discuss the Palestine-Israel peace process, the German embassy in Cairo said.
Emirates Airlines is rolling out lower rates for flights out of Egypt booked between today and 25 January for travel until 15 June 2021 as part of its Fly Better program, according to a press release (pdf).
PSA #1- A cold wave is still in the forecast to arrive on Thursday, when the mercury is set to plunge into the teens, according to our favourite weather app. In the meantime, you can expect an unseasonably warm daytime high of 26-27°C today through Wednesday.
CIRCLE YOUR CALENDAR-
The men's Handball World Championship kicks off on Wednesday — but this year it will be played behind closed doors. This is from the Sports Ministry, which yesterday announced that matches would not be open to the public due to covid-19. The tournament will conclude on 31 January.
Samsung will unveil its latest Galaxy flagship, the S21 on Thursday, coinciding with the virtual-only Consumer Electronics Show, which kicks off today. Not interested 'cause you're an iSheep? Try this: Apple's next-gen iPad Mini is likely coming in March and has an 8.4-inch display and slimmer bezels.
We'll be getting the first batch of new shiny EGP 10 polymer banknotes in June, when the print shop in the new administrative capital becomes operational, CBE sub-Governor Khaled Farouk tells Masrawy. New EGP 20 polymer banknotes are expected to follow later in the year.
Are you already planning your summer vacation? CNN has a great rundown of the obstacles that the travel industry (and governments) need to sort out before you can book a flight (or a hotel or a car rental) with anything approaching confidence.
HOW FAR WILL YOUR PASSPORT GET YOU? Egypt is one notch behind Jordan and Algeria at #93 on the 2021 Henley Passport Index, which ranks passports by the number of countries to which you get visa-free or visa-on-arrival admission. At the top of the list: Japan, Singapore and South Korea. Bringing up the rear: Syria, Iraq and (in last place) Afghanistan.
PSA #2- Both the NYT and the WSJ (as we've recently noted) are tipping Egypt as a top destination for 2021, so maybe you wanna consider how to travel at home?
MARKET WATCH-
"The lunatics are taking over the asylum" in the equity bull run that has seen the S&P, Dow Jones, and Nasdaq hit new records, say "investing legends" Carl Icahn and Jeremy Grantham. While the veteran investors typically rely on different metrics to map out their forecasts, they both see trouble in the current atmosphere, rather than the cold, hard numbers, Shawn Tully writes for Fortune. Icahn had rung the alarm on an impending "painful" correction as early as April of last year, signaling that he could see the same warning signs that presage most other stock market rallies.
And continuing this theme, Bloomberg describes the rally as "a full-blown mania" that could continue for weeks or even months before we see a correction. Some thought last week's trouble at Washington would slow things down, but the market (which rallied a striking 70% since March) is only continuing to gain momentum, says chief market strategist at Miller Tabak + Co. Matt Maley, who adds that "a 10%-15% correction would be normal and healthy."
Did you miss our 2020 in Review, which includes pointers on what to expect this year?
Check out our full calendar on the web for a comprehensive listing of upcoming news events, national holidays and news triggers.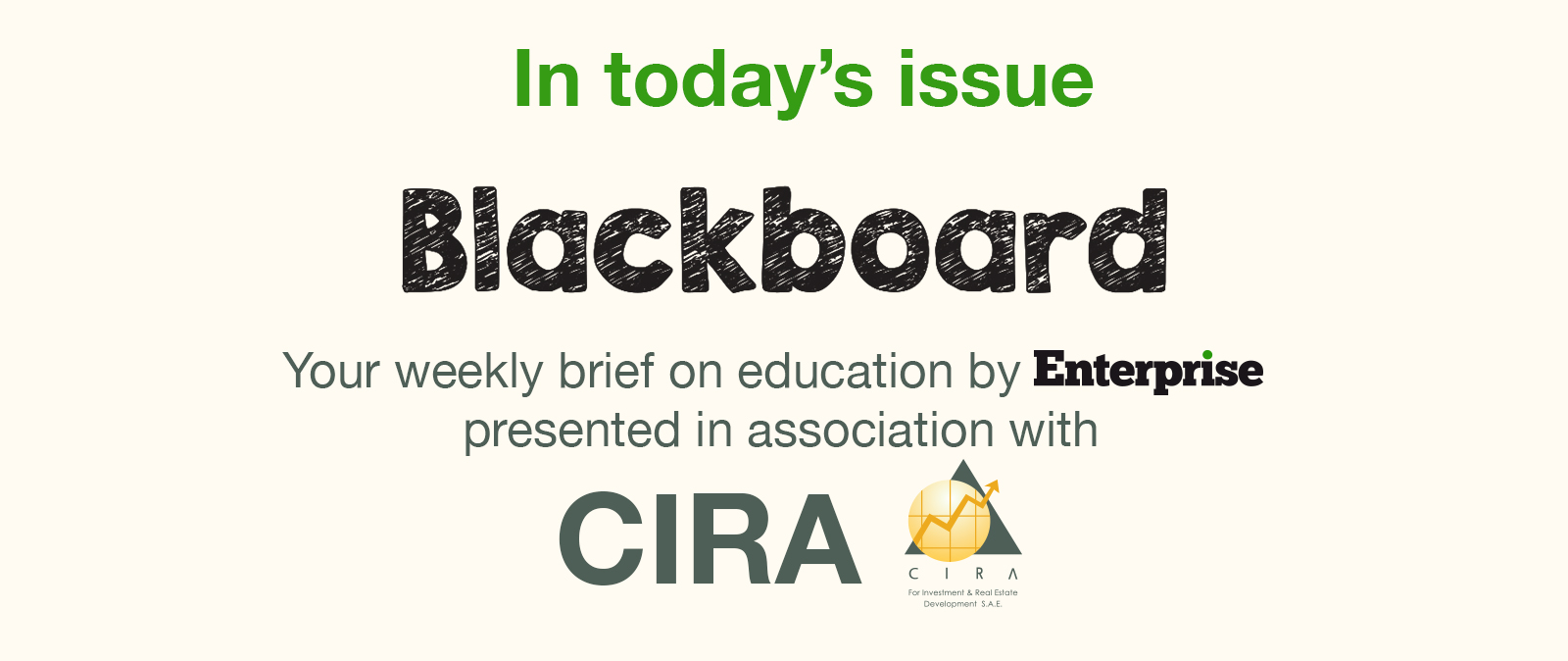 *** It's Blackboard day: We have our weekly look at the business of education in Egypt, from pre-K through the highest reaches of higher ed. Blackboard appears every Monday in Enterprise in the place of our traditional industry news roundups.
In today's issue: The Higher Education Ministry has long been mulling over the launch of a centralized platform for private university applications — and now it's going ahead. We delved into universities' concerns about autonomy in student selection in a previous Blackboard issue. Despite the platform launch coming in two weeks, many operators, students and parents — for whom it's a major development — are in the dark about how it will work. In this week's Blackboard, we break down what to expect from the new system.