Monday, 9 November 2020
What we're tracking on 9 November 2020
Good morning, friends. Two stories are vying for your attention this morning: The prospect that we're in the early days of the second wave of covid and Egypt adjusting to the Biden administration.
But first: October inflation figures are due out tomorrow from the Central Bank of Egypt and Capmas and will feed straight into the Thursday meeting of the CBE's monetary policy committee. Annual urban inflation ticked up to 3.7% in September, but remained near a record low as seasonal factors such as the reopening of schools had a smaller-than-expected effect on monthly prices. Expect interest rates to be left on hold according to six of eight analysts and economists in our poll.
The results of the second stage of the parliamentary elections will be announced on 15 November, head of the National Elections Authority Lashin Ibrahim said yesterday on the final day of voting. The two-day vote took place in 13 of Egypt's 27 provinces with more than 31 mn people eligible to vote. The Associated Press has coverage.
The Techne Summit 2020 wraps up today in Alexandria.
Beware of misleading Black Friday discounts, says consumer watchdog: Retailers who peddle fake or misleading discounts for Black Friday later this month could face fines ranging between EGP 50k and EGP 2 mn, the Consumer Protection Agency said in a statement. Black Friday — sometimes called "White Friday" in Egypt by the more bland among us — is a straight import of the American consumer extravaganza and takes place this year on 27 November.
Egypt will announce the Saqqara area's "largest" archaeological discovery in the next few days, Tourism Minister Khaled El Enany said during a press conference at the site yesterday. The find includes new wells and colored coffins, whose numbers exceed those discovered in the area in October.
The October 2021 IMF-World Bank Annual Meetings, which were scheduled to be held in Morocco, will be postponed until 2022 because of the pandemic, according to an IMF statement. The statement does not make clear whether plans for the Spring meetings have also changed, or whether they will be held virtually or in person. The meetings typically take place in Washington, DC, for two years in a row before rotating every third year to another member state.
---
Daily covid tally reaches highest level in more than three months: The Health Ministry reported 239 new covid-19 infections yesterday, the most daily cases reported since 31 July. Egypt has now disclosed a total of 109,201 confirmed cases of covid-19. The ministry also reported 13 new deaths, bringing the country's total death toll to 6,368. We now have a total of 100,342 confirmed cases that have fully recovered.
The infection rate could double and the death toll triple in December and January if the public continues to ignore the government's call to wear facemasks, Health Minister Hala Zayed warned in a press conference yesterday (watch, runtime: 33:16), noting that deaths related to respiratory illnesses increase during those months worldwide. Cairo and Alexandria have the most covid-19 cases in Egypt, while Upper Egypt governorates have reported the least, Zayed said. Housewives and retirees accounted for the biggest share of cases, followed by workers in the health sector.
Public should take precautionary measures to avoid a new lockdown, Zayed warned in a call-in last night to Kelma Akhira's Lamees El Hadidi. Zayed warned that the number of covid-19 infections had begun to increase and urged the public to wear masks and maintain social distancing to avoid any restrictions that could disrupt the economy.
Zayed wants companies to play ball: While schools and universities will remain open, she called on companies to split workers into shifts and lower the number of staff in the workplace (watch, runtime: 23:52). Masaa DMC's Eman El Hosar (watch, runtime: 5:14) and Ala Mas'ouleety's Ahmed Moussa covered Zayed's press conference (watch, runtime: 6:01), while Salet Al-Tahrir's Azza Moustafa spoke to Hossam Hosni, head of the Health Ministry's covid-19 committee, who echoed the minister's statements about the need for precautionary measures (watch, runtime: 15:13).
We have now seen 50 mn covid-19 cases globally, according to the Johns Hopkins University tally. Making up almost 10 mn of the global total is the US, which once again set a new record for daily infections on Saturday, reporting more 126k new cases. More than 1.25 mn people globally have now died from the virus.
Heads are rolling around the region-
Turkey's finance minister — who also happens to be the Nutter in Ankara's son-in-law — has resigned citing health reasons one day after the abrupt sacking and replacement of the central bank governor, Bloomberg reports, citing a statement on his Instagram account on Sunday. Berat Albayrak's resignation throws the economy into further turmoil as the value of the lira continues to plunge and inflation climbs.
Ethiopia's foreign minister, head of intelligence, and army chief were all sacked yesterday by Prime Minister Abiy Ahmed as a military offensive Ahmed started in the Tigray region rolled into its fifth day, Reuters reports. Ahmed is attempting to put down an uprising by the Tigray People's Liberation Front, who have opposed Ahmed's nationalist policies and his attempts to reduce their decades-long grip on Ethiopian politics.
SIGN OF THE TIMES- Emirates NBD's net profit plunged 55% y-o-y in 9M2020 as it more than doubled its loan loss provisions, according to the bank's earnings release (pdf). The credit impairment provisions "more than offset" its income from Turkey's DenizBank, which Emirates NBD acquired last year. Loan loss provisions also hit Egyptian banks in 1H2020, with profits shrinking 20% during the first six months of the year as banks set aside money on their income statements to hedge against the possibility of an uptick in loan defaults because of the pandemic.
The Egyptian power couple behind global tech that transformed our lives: Our guests on Making It this week worked on the earliest web browsers, mobile phone operating systems, graphics and video editing software, and even peer-to-peer payment. We speak to MagicCube cofounders Nancy Zayed and Hisham Shawki on how they plan to take on a USD 48 bn industry and improve access to financial services, all with a simple piece of software.
You already have a podcast player on your iPhone and you can listen to Making It on our Website | Apple Podcasts | Google Podcasts | Anghami | Omny. We're also available on Spotify, but only for non-MENA accounts. Subscribe to Making It on your podcatcher of choice here.
---
POST-US ELECTION WATCH- President-elect Joe Biden is set to begin rolling back some of The Donald's policies: Rejoining the Paris climate agreement, stopping Trump's attempts to leave the World Health Organization, and reinstating a path citizen for undocumented immigrants who came to the US as children are all on Biden's to-do list when he enters office next year. His first priority though will be to assemble a task force to end the rampant spread of covid-19 and is scheduled to lay out his strategy on Monday. The Financial Times and Bloomberg have more, as does the New York Times, which zeroes in on the use of executive orders that will allow Biden to deliver results on his first day.
It's beginning to dawn on Trump loyalists that attempts to fight the election result in court will likely come to nothing. While some in his administration, including son-in-law Jared Kushner, are advising Trump to persevere with his legal challenges, others are increasingly accepting the reality of a Biden administration, Bloomberg reports, citing three people familiar with the matter.
Investors are piling into EM assets as the prospect of a (sane) Biden administration combined with a divided Congress stokes appetite for risk, Bloomberg reports. After a month of pre-election volatility, EM equity and currency indexes hit two-year highs on Friday while local currency bonds clocked their best weekly gains since April as Biden edged closer to victory.
"A Biden presidency with a Republican Senate is likely the best possible scenario for emerging-market assets and if this outcome holds it should provide a very strong backdrop for the asset class," said Eric Stein, chief investment officer for fixed income at Eaton Vance, adding that the prospect of a less confrontational president also signals optimism for the asset class. Meanwhile, heavyweight asset manager Blackrock says developing-nation assets could benefit from a more moderate leader in the White House, and UBS Global Wealth Management adds that Biden administration's policy approach will probably reduce uncertainty.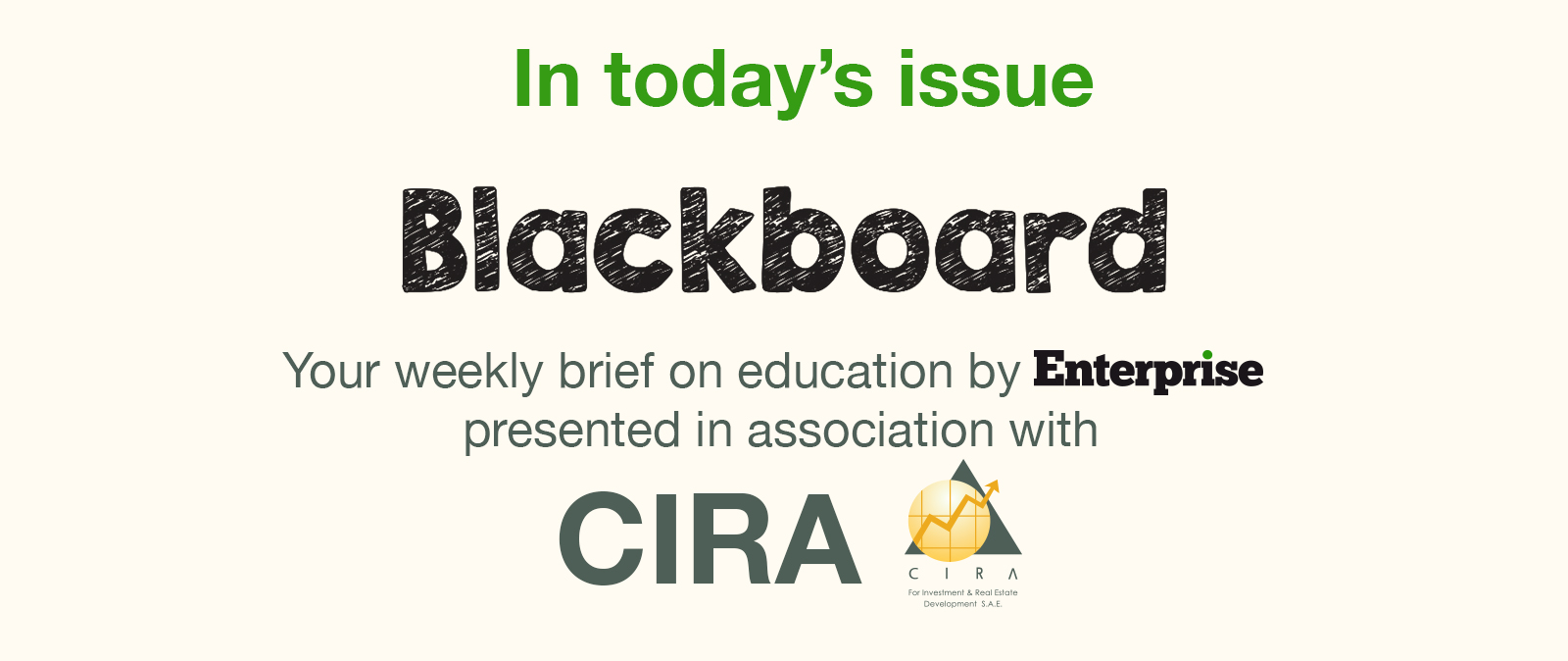 *** It's Blackboard day: We have our weekly look at the business of education in Egypt, from pre-K through the highest reaches of higher ed. Blackboard appears every Monday in Enterprise in the place of our traditional industry news roundups.
In today's issue: As universities in the US move away from using standardized tests as mandatory university entrance criteria, we ask if Egyptian universities should follow suit. The resounding answer from our sources is no — because they are an essential filter for universities hoping to select the best students.