Wednesday, 4 November 2020
What we're tracking on 4 November 2020
It is still early hours for US election results as we hit "send" on your morning read at 6am CLT, but here's what we know after a peaceful day of voting to cap an election that seems set to see the highest turnout level in a century:
US ELECTION WATCH- The "blue wave" that so many had hoped for hasn't yet materialized. Results at dispatch time paint a picture of an election that looks to be much a closer-run contest then many of the final polls indicated.
RACE FOR THE PRESIDENCY- Traditionally, the US public looks to CNN and the AP to call individual races. With polls in the West Coast still open:
CNN is calling 94 electoral college votes for Biden and 72 for Trump.
The AP, which takes a more aggressive approach to its predictions, has it at 131 for Biden and 108 for The Donald.
A candidate needs at least 270 electoral college votes to claim the win. Need a refresher on the electoral college system? CNN has a detailed explainer here.
SENATE- Democrats could still be on course to take the Senate, having so far won or being predicted to win 43 seats to the Republican's 38. Republican senator of Kentucky and Speaker Mitch McConnell will sit for a seventh term after defeating Democratic challenger Amy McGrath. Democrat and former presidential candidate Corey Booker handily won re-election.
HOUSE OF REPRESENTATIVES- There's a long way to go in the contest for the House but in the early stages Republicans have taken 76 seats to the Democrats' 51. Republican Jeff Fortenberry, who has been a fairly steady supporter of Egypt, was trailing Democratic candidate Kate Bolz in Nebraska. The vote counts hadn't started on the west coast, where outspoken Democratic senators Ro Khanna and Darrell Issa — both of whom have been vocal about Egypt — and House Speaker Nancy Pelosi are standing for reelection.
AND REMEMBER, FOLKS: It could still be days before we know the final outcome as mail-in ballots are counted and the results finally certified.
Here's what we know from the battleground states at the time of dispatch:
Trump is looking good in Florida, up 3 points with 93% of votes counted.
Things are extremely close in Ohio: Although leaning Biden early on, Trump took the lead with 75% of votes counted.
North Carolina is another toss-up: Both candidates were neck and neck with almost 90% of the votes counted.
Trump was up 15 points in Georgia. We may not know the results for a day or two after a burst water pipe halted the count in Atlanta.
Biden has a 9-point lead in Arizona.
Pennsylvania — the state many politicos suggested could decide the election — was leaning Trump, though with only 25% of the votes counted.
Wisconsin and Michigan — two Rust Belt states expected to go to Biden — were leaning Trump in the early vote count.
With the ballot counting underway, the Fed begins its two-day meeting today: The US Federal Reserve is primed to address any post-election market volatility that might arise during a two-day policy meeting that kicks off today and wraps up tomorrow, says the Financial Times. US policymakers could ramp up asset and debt purchases to contain any potential disruptions to Treasury and mortgage-backed security markets, two economists at advisory firm Evercore ISI said. The Fed would draw a line between commitment to a loose monetary policy, adopted in its latest meeting and keeping financial markets afloat through emergency response.
It was a sea of green in global stock markets yesterday as investors anticipated a Joe Biden win and fresh fiscal stimulus. US equities rallied for the second day running, with the S&P 500 jumping 1.8% and the Dow rising 2.1% in its biggest single-day gain since July. US treasuries and the USD Spot Index both fell as investors left safe haven assets, while oil prices rose on reports that OPEC+ will shelve plans to ease supply cuts. Bloomberg has the full market wrap.
But investors were more nervy this morning as the prospect of a so-called blue wave faded. Stock markets in Europe and the US were projected to fall in early trading.
The talking heads here at home are not praying for a Biden presidency: Cairo and Washington have in many respects become closer under the Trump administration after some post-2011 drift, and the talking heads last night were not looking forward to a Biden White House. Ala Mas'ouleety's Ahmed Moussa claimed that House Speaker Nancy Pelosi and the Democratic Party are plotting a "constitutional coup" against Trump in the event he wins (watch, runtime: 5:08). Kelma Akhira's Lamees El Hadidi, meanwhile, cast doubt on the recent polls showing Biden in the lead (watch, runtime: 2:34) and said that the Egyptian government would not change its approach to the Muslim Brotherhood if the Democrats won the White House, in reference to what many in Cairo see as the Obama administration's softness on the Ikhwan in 2012 (watch, runtime: 1:42).
El Hadidi reviewed Trump and Biden's most memorable statements from the campaign trail (watch, runtime: 2:11), while Al Hayah Al Youm's Mohamed Sherdy talked through potential election outcomes (watch, runtime: 35:15). Masaa DMC's Ramy Radwan interviewed Adel Al Adawi, an international relations professor at the American University in Cairo, who explained America's electoral college system (watch, runtime: 16:23), while Yahduth Fi Misr's Sherif Amer talked to Heba Al Qudsi, the Washington correspondent for Al Sharq Al Awsat newspaper, who discussed swing states and their role in determining the final results (watch: runtime: 9:59).
Beijing is also following the results closely: Trump-era barriers to Chinese investments in the US are likely to remain even if the president loses to Biden, pundits quoted by Reuters said. Anti-China sentiment, prompted by fears that China could abuse its tech "prowess" to misguide investors, seems to be shared by both Democrat and Republican lawmakers, suggests the newswire.
And because Egyptians have to put their touch on everything: Singer Wissam Magdy repurposed 1999 Egyptian operetta "Ekhtarnah" (We Chose Him), which was initially composed for late President Hosni Mubarak, into a pro-Donald Trump ballad that has garnered hundreds of thousands of views online, reports Al Monitor. Feel like cringing this morning? (watch, runtime: 04:42).
Netflix's Paranormal premieres tomorrow: Reuters is taking note of tomorrow's debut episode of Netflix's Paranormal, the first Egyptian TV series to be released by the streaming giant. Based on books by Egyptian novelist Ahmed Khalid Tawfik, the series follows the paranormal experiences of doctor Refaat Ismail.
Egyptians abroad go to the polls today for the second phase of House elections. Casting their ballots are folks registered in Cairo, Dakalia, Qalyubia, Menofia, Gharbia, Kafr El Sheikh, Sharqia, Damietta, Port Said, Ismailia, Suez, North Sinai and South Sinai. Expats have until Friday to vote. Polls open for voters here at home on 7-8 November.
GERD meetings between the irrigation ministers of Egypt, Sudan and Ethiopia will take place today, ahead of Thursday's ministerial committee meeting, the Egyptian Irrigation Ministry said in a statement. Legal and technical representatives of the three countries have been in discussions for several days on the framework for future negotiations on the dam project, as well as the role of external observers moving forward.
Defense Minister Mohamed Zaki is in Portugal to talk military cooperation with Portuguese officials over the course of several days, according to a ministry statement.
The government is preparing new incentives for consumers who want to convert their cars to run on natural gas instead of petrol, President Abdel Fattah El Sisi said during a meeting with the PM and oil minister. The incentives come as part of the government's multi-year plan to transform 1.8 mn cars into dual-fuel vehicles announced earlier this year. Talk of incentives has so far included the idea of giving owners of cars over 20 years' old access to subsidized loans to pay for new natural gas-powered vehicles, while those with younger cars could be made eligible for zero-interest finance to install dual-fuel engines.
Other news triggers to keep your eye on:
Inflation data for October will be released on 10 November;
The Central Bank of Egypt's Monetary Policy Committee will meet to review rates on 12 November.
---
The Health Ministry reported 197 new covid-19 infections yesterday, up from 189 the day before. Egypt has now disclosed a total of 108,122 confirmed cases of covid-19. The ministry also reported 14 new deaths, bringing the country's total death toll to 6,305. We now have a total of 99,765 confirmed cases that have fully recovered.
Europe is moving towards a "just test everyone" policy as new infections rise: Slovakia pushed through a massive nationwide testing campaign last week to test almost every person aged 10-65 in just two days fter a surge in covid-19 cases, the Wall Street Journal reports. The UK appears to be taking notes and is looking to test the entirety of Liverpool, but healthcare professionals maintain that testing without self-isolation is not enough to keep outbreaks at bay.
France could move to reimpose a nighttime curfew in the Greater Paris area as the surge in covid cases continues, Reuters reports.
UAE Prime Minister Sheikh Mohamed Bin Rashid Al Maktoum received a covid-19 vaccine on Tuesday. An Emirati company is working with China's Sinopharm on phase 3 trials of its covid vaccine, and plans to begin manufacturing it next year. The country authorized the vaccine to be given to frontline health workers in September.
Bahrain also began administering Sinopharm's vaccine to its frontline workers Tuesday, after the health ministry granted it emergency approval, Reuters reports. Bahrain is currently hosting phase 3 trials along with Egypt, the UAE, and Jordan.
China slammed the brakes on Ant Group's anticipated blockbuster USD 37 bn IPO two days before its stock market debut after financial regulators said the company may not meet listing qualifications or disclosure requirements in light of recent changes to the fintech regulatory environment. The Shanghai Stock Exchange said in a statement that it would suspend the listing citing "material matters" relating to "a change in the regulatory environment on financial technology," a day after regulators called in company founder Jack Ma for a "supervisory interview." New draft regulations issued by the central bank and regulators on Monday require online lenders to cap loans at one third of a borrower's annual pay, a condition that could affect Ant's profitability, the Financial Times says.
How will the economy escape the global liquidity trap? Not with further monetary easing, writes the IMF's chief economist Gita Gopinath for the Financial Times. Gopinath hammers home the necessity for governments to step up to the plate with large spending programs — a recurring message from the IMF that seems to have fallen on deaf ears in some parts of the developed world. This fiscal support is essential in fighting an economic downturn during a liquidity trap, where interest rates are either near zero or in negative territory, and monetary policy has a weakened effect on spending. "Fiscal stimulus is not just economically sound policy but also the fiscally responsible thing to do," writes Gopinath, who recommends cash transfers and large scale investments in job-generating projects as a potential antidote.
Some non-election headlines you may want to know about:
Introducing the new Mesca Beach: an exclusive slice of island paradise where you can slow down and sunbathe or simply live it up by engaging in exciting beachfront activities, offered in abundance above and below Somabay's mesmerizing sea. Powered by top-class utilities and exceptional service, Mesca Beach is a heaven on earth.
Covid-19 has pushed big companies to adopt tech at a blistering pace, a recent McKinsey & Company survey of executives (pdf) finds. Companies have sped up the digitization of internal operations and supplier and customer interactions by three to four years, while digital or "digitally enabled products" as a share of company portfolios has accelerated by "a shocking seven years" on average across regions. McKinsey said. Executives surveyed by the consultancy also expect those changes to be long-lasting and not just a passing fad.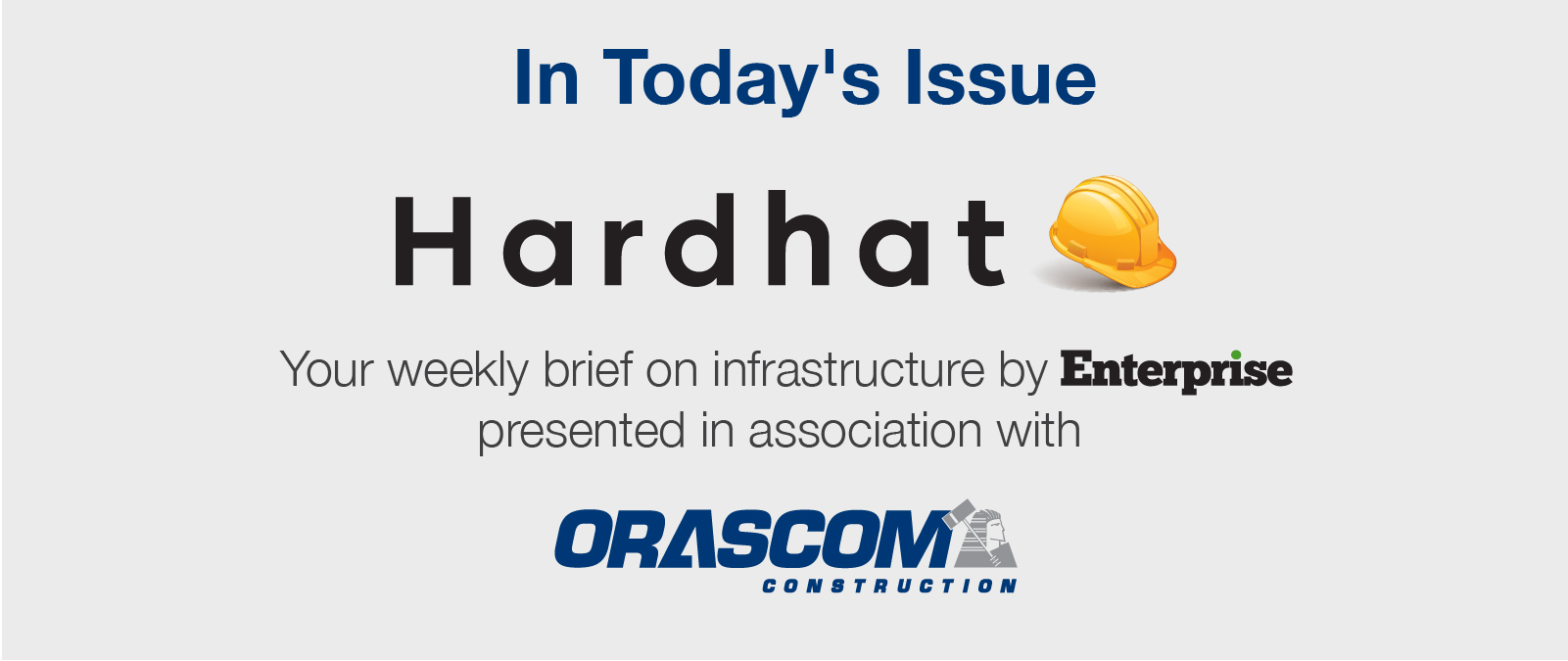 *** It's Hardhat day — your weekly briefing of all things infrastructure in Egypt: Enterprise's industry vertical focuses each Wednesday on infrastructure, covering everything from energy, water, transportation, urban development and as well as social infrastructure such as health and education.
In today's issue: We explore the Finance Ministry's Green Energy framework — the government's manual for projects that stand to benefit from Egypt (and the region's) first ever issuance of green bonds back in September.