Wednesday, 28 October 2020
What we're tracking on 28 October 2020
Good morning, friends. Are you looking forward to the long weekend as much as we are? We are always grateful to write to you every morning, but we sometimes wish a four-day workweek would become standard practice…
Banks and the EGX will close their doors tomorrow in observance of the Prophet's Birthday, and the rest of the business community is also taking the day off.
Enterprise is off tomorrow, too, but keep an eye on your inbox for a fresh episode from season three of Making It, our podcast on how to build a great business in Egypt. We'll send a special email with the new episode to keep you entertained as you kick off the three-day weekend, but you can get early access if you're subscribed to Making It: The episode will drop into the podcast player of your choice this afternoon.
---
After a short-lived drama over the weekend, the dust is already settled over at CIB, which is wasting no time in addressing concerns found in a regulatory probe. The leading private sector bank saw its share price inch up again on the EGX yesterday, helping the EGX30 end the day in the green after two days of losses. We have the full story in this morning's Speed Round, below.
Foreign Minister Sameh Shoukry is in Moscow today to talk about Libya, Syria, Lebanon, Yemen, and other regional issues with Russian officials, Al Shorouk reports. Shoukry is also set to meet with Russian Trade and Industry Minister Denis Manturov and Secretary of the Security Council of Russia Nikolai Patrushev.
---
The Health Ministry reported 170 new covid-19 infections yesterday, up from 167 the day before. Egypt has now disclosed a total of 106,877 confirmed cases of covid-19. The ministry also reported 11 new deaths, bringing the country's total death toll to 6,222. We now have a total of 99,084 confirmed cases that have fully recovered.
Travelers heading to the UK from Egypt could be exempt from a requirement to self-isolate upon arriving in the kingdom, the Sun reports. The UK is currently changing its criteria for its "travel corridor" list, which determines whether travelers are required to quarantine based on the risk level of the countries from which they are traveling. Previously, countries with more than 20 new cases per 100k people over a seven-day period would face quarantine restrictions. This has now been increased to 100 new cases, meaning Egypt falls in the "green zone."
The Middle East is seeing a "dangerous increase" in covid-19 cases, the World Health Organization's regional programme director Rana Hajjeh told Yahduth fi Misr's Sherif Amer yesterday. Hajjeh also poured cold water on the idea that the virus that causes covid-19 is getting weaker (watch, runtime: 3:53).
Don't expect a vaccine to be a cure-all that will automatically reset the global economy and return us to our normal lives, warn scientists. A return to pre-covid growth could still take over a year — even with a successful vaccine, Bloomberg reports. The efficacy and global distribution of any vaccine are still huge variables, which will have a major impact on consumer behavior and global economic recovery. And though the US and eurozone may have seen their downturns ease in 3Q, and while there's reason to hope vaccines may be available to protect the most vulnerable by spring 2021, uncertainty and adverse economic effects could persist until well into 2022, say experts.
Meanwhile, pressure to adopt any vaccine that shows even moderate results could reduce the chances of creating more effective versions, especially for vulnerable groups like the elderly, the Guardian reports. Some 198 covid-19 vaccines are currently under development, with four in final phase 3 trials, and results are expected within the coming weeks and months. But experimental vaccines that appear first may not be as effective as those developed using slower methods, scientists say.
Pfizer is not yet ready to release data from its late stage vaccine trials, after previously saying it could announce whether its vaccine works as early as this month, Reuters reports. Pfizer is developing its vaccine with German BioNTech and hopes to be the first US pharma company to announce successful results from the vaccine trial it began in July.
"Overwhelming" demand for Ant IPO sees book-building close early: The private placement for the Hong Kong portion of Ant Financial's upcoming blockbuster IPO has closed a day early due to strong demand from investors, Reuters reports, citing sources familiar with the matter. The USD 17.2 bn Hong Kong listing was oversubscribed after just an hour of launching on Monday, signaling a high level of investor appetite for China's largest fintech company. The USD 34.4 bn listing will comfortably set a new record for the world's largest ever IPO, eclipsing Saudi Aramco, and values the company at around USD 312 bn.
Is there any wonder why Wall Street bigwigs are wining and dining in Shanghai? Major US investors have been in China attending two summits, eager to hear Beijing's plans to open its financial markets as it prepares its next five-year plan. The China-US Financial Roundtable and the Bund Summit attracted big-name delegates from the world of Western finance, a signal that some of the most important people in the American business community have no intention of slowing investment in the face of rising political tensions.
Advanced Micro Devices is looking to acquire rival chipmaker Xilinx in a USD 35 bn all-stock transaction, the latest in a series of transactions in the semiconductor industry fueled by an increased demand for electronics during covid-19, the Wall Street Journal reports. The purchase follows Nvidia Corp's proposed USD 40 bn acquisition of Arm Holding, and the USD 20 bn purchase of Maxim Integrated Products by Analog Devices.
A handful of third quarter earnings released yesterday:
BP beat expectations, reporting a slender USD 100 mn profit after its heavy USD 6.7 bn loss in the previous quarter, according to the company's earnings release (pdf). Analysts had forecast the company to report a loss of USD 120 mn.
HSBC's net profit fell 46% to USD 2 bn, after lower interest income caused revenues to decline by 11% to USD 11.9 bn, according to the company's earnings release (pdf).
The pandemic-fueled demand for cloud computing and video gaming gave Microsoft a solid quarter. The company reported USD 13.9 bn in net profit in between 1 July and 30 September, up by 30% y-o-y.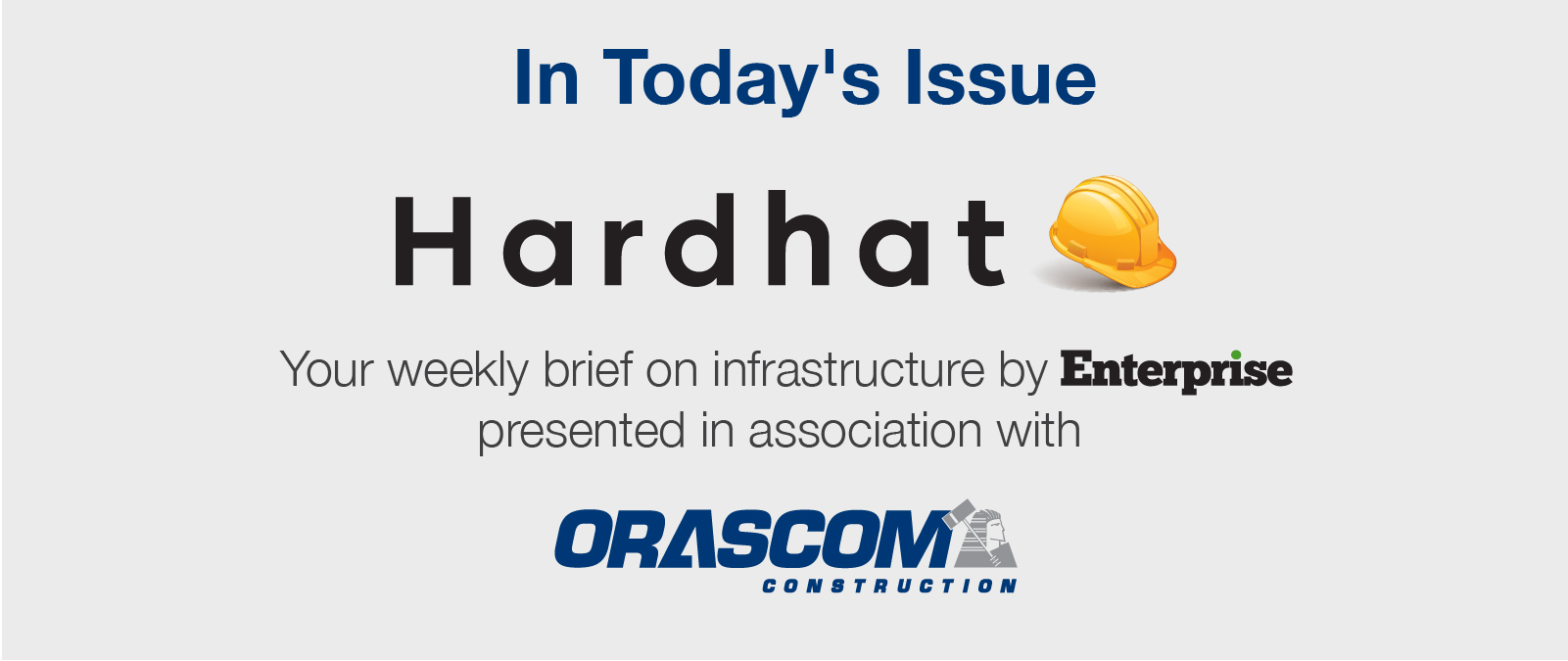 *** It's Hardhat day — your weekly briefing of all things infrastructure in Egypt: Enterprise's industry vertical focuses each Wednesday on infrastructure, covering everything from energy, water, transportation, urban development and as well as social infrastructure such as health and education.
In today's issue: We take a look at the Arab Petroleum Investment Corporation's (Apicorp) outlook for the MENA region's gas and petrochemicals industries, which the multilateral development bank says will see an uptick in investments over the next five years — but will face some headwinds because of the pandemic.