Monday, 26 October 2020
What we're tracking on 26 October 2020
After a very tense early morning yesterday, the business community let out a sigh of relief in the afternoon as first the EGX and then banking hours came to an end without incident.
The community was primed for drama after WhatsApp and social media were set on fire Thursday and over the weekend amid news that Hisham Ezz Al Arab was stepping down under pressure from the Central Bank of Egypt after a 21-year run as chairman and managing director of private-sector heavyweight CIB.
What we got instead was a show that underscored how satisfyingly boring a well-run, well-governed institution really is. Major research houses reaffirmed their ratings on CIB. Institutional shareholders, who for more than 15 years have had extensive access to the bank's CEO and award-winning investor relations team, held the line as retail investors sold. It was business as usual in CIB's branches as clients (us included, to be honest) submitted payroll transfers ahead of the long weekend and otherwise went about our business. CIB CEO Hussein Abaza started the morning with an email to staff and ended it with an afternoon all-staff call after the bank closed its doors. In both, his message was simple: It's business as usual, because Ezz Al Arab had helped build an institution that was bigger than any one individual. Non-Executive Chairman Sherif Samy fielded a handful of interviews.
We have chapter and verse on the rather anticlimactic denouement at CIB in this morning's Speed Round, below.
---
But don't worry, drama-lovers: We have a fraught week ahead of us between covid-19 and the US presidential election. In our neck of the woods, Saudi Arabia's Tadawul closed down 4.1% amid what analysts say are concerns the world may be bracing for a second spell of lockdowns. Shares in chemicals group Sabic and its parent company, oil giant Aramco, contributed most to the decline. Also down yesterday: Qatar (-1.5%), Kuwait (-1.2%), and Dubai's indices (-0.4%). Bloomberg has a market recap.
Expect an uptick in volatility in the European markets today after Spain yesterday declared a state of emergency to impose a nationwide nighttime curfew and Italy reimposed the harshest pandemic restrictions since May. Asian shares were mixed at dispatch time this morning, while futures point to a lower open on Wall Street.
The US has seen the biggest weekly rise in new cases since the spike in the summer, with 441,541 new infections reported over the past week, the Financial Times reports, citing the Atlantic's Covid Tracking Project.
The European Central Bank could increase its monetary stimulus program by another EUR 500 bn by December as countries revert to lockdowns in response to surging covid-19 cases, according to predictions by economists surveyed by Bloomberg. Less than half of the EUR 1.35 tn currently allocated to bond purchases has been spent but pressure will likely grow on the bank to up this as the risk of a double dip recession in the eurozone grows, they said.
US ELECTION WATCH- Across the pond, Facebook is preparing measures to help stem potential unrest after next week's US presidential election, the Wall Street Journal reports in an exclusive. The tools, which "include slowing the spread of certain posts and tweaking users' news feeds," were previously used amid unrest in Sri Lanka and Myanmar, the newspaper reports.
Election day in the US is next Tuesday, 3 November, but a high proportion of mail-in ballots has observers expecting it could be days or even weeks before the outcome of the poll is known.
---
PSA- You can now order your electronic vehicle sticker online through the traffic authority's website, the Interior Ministry said in a statement on Saturday. The ministry has set 21 November as the deadline to obtain the RFID-chip sticker now required for all vehicles.
PSA- We are heading into a three-day weekend as the nation observes the Prophet's Birthday on Thursday.
KUDOS- Orascom Construction announced three recipients of educational scholarships to pursue undergraduate and postgraduate degrees at Harvard University and the University of Chicago under its Onsi Sawiris Scholarship Program, according to a statement (pdf). The scholarship program, which has now been going strong for two decades, awards full scholarships to students pursuing degrees in engineering, construction, economics, political science, finance, and management, at top-tier US universities including Harvard, Stanford, MIT and the University of Pennsylvania. Some 88 Egyptian students have now been awarded the scholarship.
---
The Health Ministry reported 143 new covid-19 infections yesterday, down from 167 the day before. Egypt has now disclosed a total of 106,540 confirmed cases of covid-19. The ministry also reported 12 new deaths, bringing the country's total death toll to 6,199. We now have a total of 98,903 confirmed cases that have fully recovered.
Egypt and other developing countries that will order doses of China's covid-19 vaccine are in line for grants and other forms of support, Liao Liqiang, China's ambassador to Cairo, said at a presser yesterday, according to Al Mal. Vaccines developed by Chinese companies will be offered at "acceptable and fair" prices worldwide, he said. Egypt is first in line among African countries to receive a Chinese vaccine against covid-19, with a vaccine currently in phase three clinical trials here.
New Stars Aviation Services will operate three weekly tours from Ukraine to Marsa Alam beginning in November, Al Shorouk reports. Ukraine International Airlines currently operates 50 weekly flights to Sharm El Sheikh and Hurghada, which are expected to increase to 90 during the winter season, officials at the agency said.
---
Saudi chemicals giant Sabic has turned a corner after suffering heavy losses in the second quarter, reporting a SAR 1.09 bn net profit in 3Q, according to an earnings release (pdf). The company, which is majority owned by Saudi Aramco, said it had experienced a pick up in demand as economies recovered from lockdowns in the second quarter, but warned that supply will continue to outstrip demand "for the foreseeable future."
The world's richest aren't letting a good crisis go to waste. The message from Swiss banks and wealth advisors to their bn'aire clients during the market panic earlier this year: don't sell. The result: A huge increase in the fortunes of the world's super-rich and possibly the largest transfer of wealth of our lifetimes. Bankers tell the Financial Times that they advised their clients to hedge their positions rather than panic-sell, enabling them to capitalize on the flood of stimulus and surge in asset prices as the global economy saw its worst recession since the Great Depression. "It's been hard emotionally, but the key to performance this year was to remain invested," one advisor said.
China's richest man is taking shots at the Western-led financial system ahead of Ant Group IPO: Alibaba founder Jack Ma has described the Basel Accords — which require banks keep collateral sufficient to absorb potential losses — as "an old people's club" and called for the revamping of global financial regulations, days before the expected USD 30 bn record-breaking IPO of Alibaba's financial services arm Ant Group, the Financial Times reports.
Other international headlines worth knowing:
France-Turkey spat escalates after Erdogan playground insult: France has recalled its ambassador to Turkey after Recep Tayyip Erdogan said Emmanuel Macron needed "mental treatment" for launching a crackdown on radical Islamists, Bloomberg reports.
Libya is set to resume producing over 1 mn barrels of crude a day in the next four weeks, after the country's National Oil Corporation announced the lifting of force majeure and the resumption of production following the ceasefire agreement signed during UN-led talks on Friday.
---
Diverse investment teams tend to do better than so-called "male and pale" ones, analysts London-based advisory firm Willis Towers Watson found after looking at more than 2.4k groups, according to the Financial Times. Groups with more women and ethnic minorities outperformed by 20 basis points a year on average, the analysts said. Despite the better metrics, data indicate that progress on diversity at asset management funds still lags, with only 4% of UK funds being run entirely by women, compared to 85% run by men — and fewer than 1% of asset managers in the UK are Black.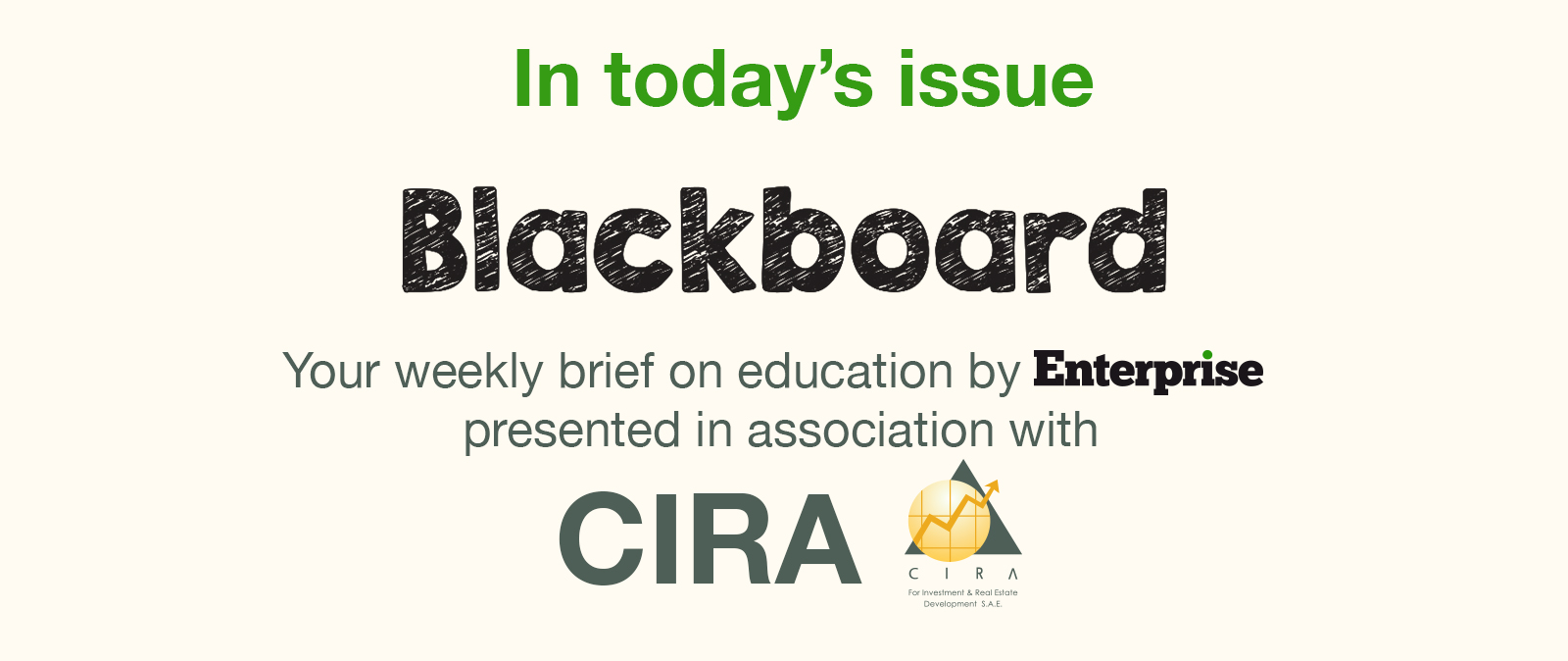 *** It's Blackboard day: We have our weekly look at the business of education in Egypt, from pre-K through the highest reaches of higher ed. Blackboard appears every Monday in Enterprise in the place of our traditional industry news roundups.
In today's issue: Will current SAT cancellations permanently change the outlook on the SATs in Egypt?