Wednesday, 21 October 2020
What we're tracking on 21 October 2020
All anyone is talking about this morning is … the weather. Heck, we know folks who have canceled vacation days because of it. (In fact, some of us may be those people…)
We've got a six-day stretch of bad weather ahead of us, with rainfall expected to peak on Friday, head of the Irrigation Ministry's planning department Iman Sayed told Masaa DMC's Ramy Radwan last night. The weather should end on Sunday, but floods are expected in Sinai's mountainous and desert areas, she said (watch, runtime: 11:21).
Don't panic, though: It's not expected to be as bad as March's "dragon storm," director of the Egyptian Meteorological Authority's forecast center Mahmoud Shahin told Al Hayah Al Youm's Mohamed Sherdy (watch, runtime: 4:08).
Oh, and our favorite weather app? It's calling for clear skies for the next 10 days. Still: Let's be careful out there.
But if there is a deluge? National and government schools could get a day off on Saturday if heavy rainfall calls for it Cabinet spokesperson Nader Saad told Ala Mas'ouleety's Ahmed Moussa (watch, runtime: 10:48).
Meanwhile, some very nice news courtesy of our friends at the central bank: Foreign holdings of Egyptian treasury bills ticked up for the third consecutive month in August, edging up to USD 13.3 bn from USD 10.8 bn in July, according to the CBE's latest monthly statistical bulletin (pdf — pp. 113, table 38). Net inflows increased in June for the first time since February, and continued on an upward trajectory in July, suggesting foreign investors have chilled out after having exited Egypt during a wider flight from emerging markets early during the pandemic.
---
Voters abroad begin casting their ballots today to elect a new House of Representatives, kicking off the multi-stage process that will see the first wave of voters at home going to polling stations this coming Saturday (24 October).
If you're voting here at home, you can find your polling station by putting your national ID number on the National Elections Authority's website.
Furniture expo Le Marché begins tomorrow and will run until Sunday, 25 October at the Egypt International Exhibition Center.
AmCham Egypt, AmCham Cyprus, and AmCham Greece are signing a trade, investment, and business promotion MoU today at 2pm CLT. US Ambassador to Egypt Jonathan Cohen and the US Chamber of Commerce's Executive Vice President Myron Brilliant are expected to speak at the event. You can watch the signing of the agreement via a live broadcast here.
The Gouna Film Festival kicks off on Friday and wraps at the end of the month. Variety suggests this year's iteration of the festival will mark a new beginning for Middle Eastern cinema post-covid.
Three things to keep on your radar:
#1- For bankers and PE types: ADQ. That's the Abu Dhabi investment firm that's been making a splash in the past month with investments real and rumored in Egypt and the wider region. It now wants to set up a digital bank and has acquired a license to do just that from First Abu Dhabi Bank.
#2- Could you fully audit your staff's interaction with a client? Probably not, given how much of it happens on channels like WhatsApp, where you have exactly zero visibility. We're half a decade behind the west on how to regulate stuff like this, as underscored by the recent firing of two top commodities traders at Morgan Stanley. The firing offense? Using WhatsApp to talk to clients — even though a probe found no evidence they did anything wrong on El Whats.
#3- For the iSheep among us, reviews of the new iPhones are trickling out. Well, half of the new iPhones: The iPhone 12 and iPhone 12 Pro are out now, but the iPhone 12 mini and the iPhone 12 Pro Max will only follow next month (thank you, covid). We suggest you start with TechCrunch boss Matt Panzarino's piece, then check out Joanna Stern's take at the WSJ.
Volkhard Windfuhr, the dean of foreign correspondents in Egypt, passed away on Monday aged 83 after a long illness, according to an emailed statement from the State Information Service. Volkhard was without question the longest-serving foreign correspondent in Egypt — and probably the wider Arab world — and was simply a dude. Volkhard moved to Cairo as a kid when his widowed mother took a teaching job here in the early 1950s, and he graduated high school with a working knowledge of Arabic that he perfected over the following years. He was with German magazine Spiegel since the 1970s, reporting on everything from Sadat's trip to Jerusalem to 9/11 by way of the civil war in Lebanon and the downfall of the shah in Iran. The head of the Foreign Press Association since 1994, Volkhard was awarded the First Class Order of Merit last year by President Abdel Fattah El Sisi and Germany's Federal Cross of Merit in 2002. His funeral is today at the German Cemetery in Old Cairo.
---
The Health Ministry reported 158 new covid-19 infections yesterday, up from 123 the day before. Egypt has now disclosed a total of 105,705 confirmed cases of covid-19. The ministry also reported 12 new deaths, bringing the country's total death toll to 6,142. We now have a total of 98,413 confirmed cases that have fully recovered.
The Sisi administration has lined up sufficient doses of potential covid-19 vaccines to ensure that it can rapidly vaccinae a fifth of the population, including healthcare workers and people with chronic illnesses, including heart disease and compromised immune systems, presidential health advisor Mohamed Awad Tag Eldin said yesterday, according to Al Mal. Russia's sovereign wealth fund said last month that it alone would provide its Sputnik V vaccine to around a quarter of the population.
Weekly charter flights from Spain to Luxor could be up and running by the end of the year. The group is also reportedly looking to set up flights that will take travelers from Aswan to Cairo as part of a week-long tour of Egypt.
Travelers from Canada, Tunisia and Georgia might soon be unable to travel to the EU as Brussels considers shrinking its travel whitelist to just nine countries, Bloomberg reports, citing EU officials.
The US filed an antitrust lawsuit against Google yesterday, targeting the tech giant's search advertising business in the most significant antitrust action in the US in at least two decades. While being a monopoly is not in itself illegal in the US, critics argue Google's search engines, and its Android mobile operating system, give it unfair advantages over rivals. The case is the first in what is shaping up to be a series of antitrust actions that also target Apple, Facebook, and Amazon: Japan is working on a new way to regulate the "GAFA" companies (Google, Amazon, Facebook and Apple) and the UK could investigate Google and Facebook next year.
The story leads headlines in much of the foreign press: Bloomberg | Financial Times | Washington Post | New York Times | Associated Press | Reuters.
Silicon Valley-based fintech company MagicCube — founded by Egyptian power couple Nancy Zayed and Sam Shawki — has unveiled their new product, i-Accept, which acts as a software-based replacement for traditional payment terminals. The product paves the way for increased financial inclusion and contactless payments by providing smaller merchants a cheaper alternative to buying and subsidizing the single-function card acceptance hardware devices. The application is currently functioning on Android and supports American Express, Discover, Mastercard and Visa. You can request a demo here.
You can learn more about MagicCube and the company's awesome founders in an upcoming episode of Making It, our podcast on how to build a great business in Egypt.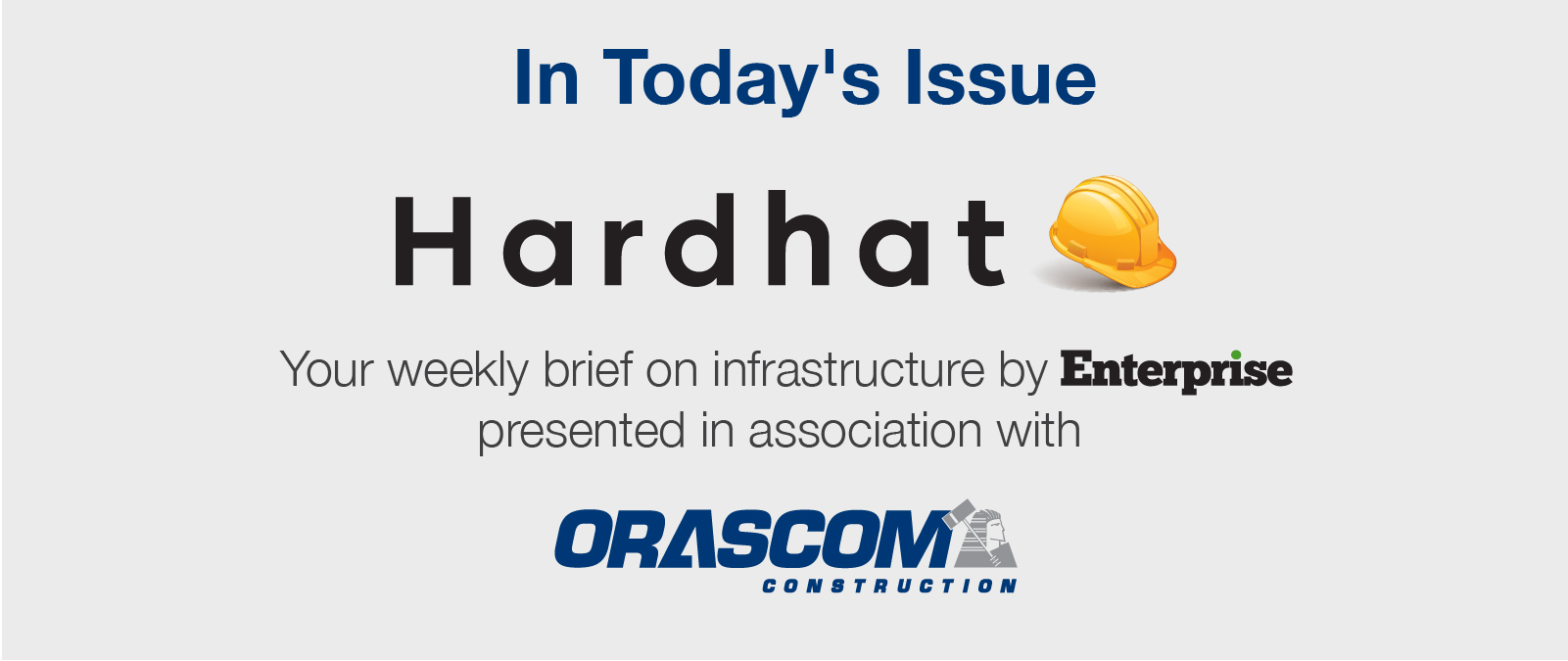 *** It's Hardhat day — your weekly briefing of all things infrastructure in Egypt: Enterprise's industry vertical focuses each Wednesday on infrastructure, covering everything from energy, water, transportation, urban development and as well as social infrastructure such as health and education.
In today's issue: Part two of our series on the Giza Pyramids Plateau's development looks at what it took to develop the infrastructure of the area.