Monday, 19 October 2020
What we're tracking on 19 October 2020
Good morning, friends, and welcome to a typically slow (but not dull) Monday, which oddly enough is usually the slowest news morning of the week.
Today is a good day to: Take stock. Not inventory, but metaphysical stock about how you're doing seven months into this WFH thing, whether you're fully at home, on some kind of home-office-home rotation, or back in the bullpen but dealing with the fact that half your counterparties are WFH. About 85% of people want flexibility on working from home when the pandemic ends, Pilita Clark reminds us. The Financial Times' office life columnist recently (and briefly) ventured back into the newsroom and found that she was ready to say "good riddance to a lot of what I thought was normal life" — starting with commutes.
The WSJ is also feeling the WFH angst, writing in What people really love (and hate) about remote work that "Seven months into the pandemic, many professionals say they like flexible schedules—'I actually eat real food now'—but miss colleagues and clients and cite frustrations such as Zoom fatigue." So. Much. Zoom. Fatigue.
A word to the wise: Even as companies like Microsoft allow workers to WFH permanently, don't expect your employer to pay for lots of expenses.
Meanwhile: 'Tis the season. College application season, that is. If you have a graduating senior in your household — particularly one bound for the US of A — you could do worse than to read Applying to college during covid: What parents and students should know, courtesy of the WSJ.
TODAY'S LEADING INDICATOR: Egypt is not the only economy set to do pretty well this year (the subject of our lead story in this morning's Speed Round). Data out just before dispatch time this morning shows that China's economy grew 4.9% in 3Q compared to the same quarter last year, underscoring the speed of its recovery from covid-19.
PSA- You can expect some light rainfall in Cairo on Wednesday that could turn into heavier showers over the weekend, the Egyptian Meteorological Authority said yesterday (pdf). Expect temperatures in the 30-32°C range from today until Wednesday, with temperatures set to fall to 25-28°C once the rainy days begin.
---
The Senate now has its first speaker after former chief justice of the Supreme Constitutional Court Abdel Wahab Abdel Razek — now the leader of the populist Mostaqbal Watan part — was elected by acclamation in yesterday's inaugural session, according to Al Shorouk. Abdel Razek presided over the court between 2016 and 2018, succeeding former interim president Adly Mansour. El Wafd Party chairman Bahaa Abu Shouka was voted in as first deputy speaker and the Republican People's Party's Phoebe Fawzi was tapped to serve as second deputy.
The Senate is now in recess until 29 November and plans to finalize a set of internal bylaws within one month, reports Masrawy.
Voters are heading to the polls to elect a new House of Representatives this week, with expats set to kick off the multi-stage process on Wednesday. The first wave of voters at home will go to polling stations this coming Saturday (24 October).
Not sure how to vote from abroad? Voters need to register on the National Elections Authority's website ahead of casting their ballots, El Siyassa magazine's deputy editor Aboul Fadl El Asnawy told El Hekaya's Amr Adib (watch, runtime: 7:59).
The semi-virtual Cairo Water Week kicked off yesterday and runs through Thursday, according to a cabinet statement. The annual event will be held under the slogan "Water Security for Peace and Development in Arid Regions." We have more on the first day of the event in Last Night's Talk Shows, below.
Furniture expo Le Marché begins this Thursday, 22 October and will run until Sunday, 25 October at the Egypt International Exhibition Center.
---
KUDOS- CIB has been named the Best Emerging Markets Bank in 2020 and Egypt's Best Bank by Global Finance for its role in helping lead the "digital banking transformation in Egypt, using technological innovation to drive financial inclusion … and acting as a bridge for trade between Egypt and Sub-Saharan Africa." The bank got a pat on the back for its acquisition of a majority stake in Kenya-based Mayfair Bank. It's the third time in four years that CIB has taken home an award as the top bank in emerging markets and its second such nod from Global Finance.
---
The Health Ministry reported 127 new covid-19 infections yesterday, down from 138 the day before. Egypt has now disclosed a total of 105,424 confirmed cases of covid-19. The ministry also reported 11 new deaths, bringing the country's total death toll to 6,120. We now have a total of 98,247 confirmed cases that have fully recovered.
The first EasyJet flight to Sharm El Sheikh in more than four years touched down yesterday, cabinet said in a statement. The UK budget carrier will operate weekly flights until the end of October before increasing them next month. Prior to the pandemic, EasyJet was scheduled to re-launch flights to Sharm in June for the first time since the UK placed a ban on direct flights to the Red Sea resort town following the downing of the Russian Metrojet in October 2015.
Europe may be looking at a double-dip recession as countries across the continent move to reinstate lockdown restrictions amid record infection rates, the Financial Times reports. Germany, France, the UK, Italy, Spain and the Netherlands have all placed various restrictions on movement in the past week, leading Allianz economist Katharina Utermöhl to predict a return to contraction in 4Q, possibly followed by a recession in the new year.
This morning on Planet ESG:
"ESG is coming for emerging markets": Or, at least the PR department at one of the world's top performing EM bond funds would have you think: Candriam's USD 1.5 bn fund is blacklisting Saudi Arabia, Russia and China for what it says is their poor environmental, social and governance record. The fund has beaten more than 90% of its competitors over the past three years — and excludes the bottom 25% of countries on its ESG ranking. (Bloomberg)
This comes as new EU rules and investor interest suggest that ESG funds could outnumber conventional funds by 2025. (Financial Times)
But Mark Cuban isn't so worried about ESG… The bn'aire Wall Street investor last week brushed off criticisms of China's treatment of the Uighurs, telling Fox that he's "OK with doing business with China." In past months the US financial sector has stepped up its operations in China as Beijing loosens regulations on foreign investment. (Fox News)
So is it really a surprise that gender diversity is also taking a backseat in investment decisions? Less than half of fund managers take gender diversity into account when screening companies, despite the industry's vocal support for increasing the number of women at the top of the corporate world. (Financial Times)
---
Tech stocks are taking over the S&P: Tech companies are on course to finish 2020 with their greatest ever share of the US stock market, surpassing the peak of the dot-com boom at the turn of the century, the Wall Street Journal reports. Tech now accounts for almost 40% of the S&P 500, topping the 37% achieved in 1999, while the big five (Apple, Alphabet, Microsoft, Facebook and Amazon) hold a 25% share of the index. With a market cap of more than USD 2 tn, Apple alone accounts for more than 7% of the index.
And some are beginning to get concerned about tech's dominance, with analysts recently recommending investors diversify out of tech on fears of overextension and new regulations, Reuters reports. Societe Generale analysts warned that the growing calls for antitrust action in the US could hit tech stocks while UBS suggested moving into sectors more sensitive to an economic recovery, as well as EM value stocks and UK-based equities.
---
US ELECTION WATCH- Joe Biden and Donald Trump are taking their campaigns to swing states in the final weeks leading up to the elections, with both candidates courting voters yesterday in Nevada and North Carolina, according to Reuters. Biden leaned largely on criticizing Trump's handling of the covid-19 outbreak as new cases are rising at record rates across the country.
The two candidates are also going head-to-head in the final presidential debate this Thursday in Florida.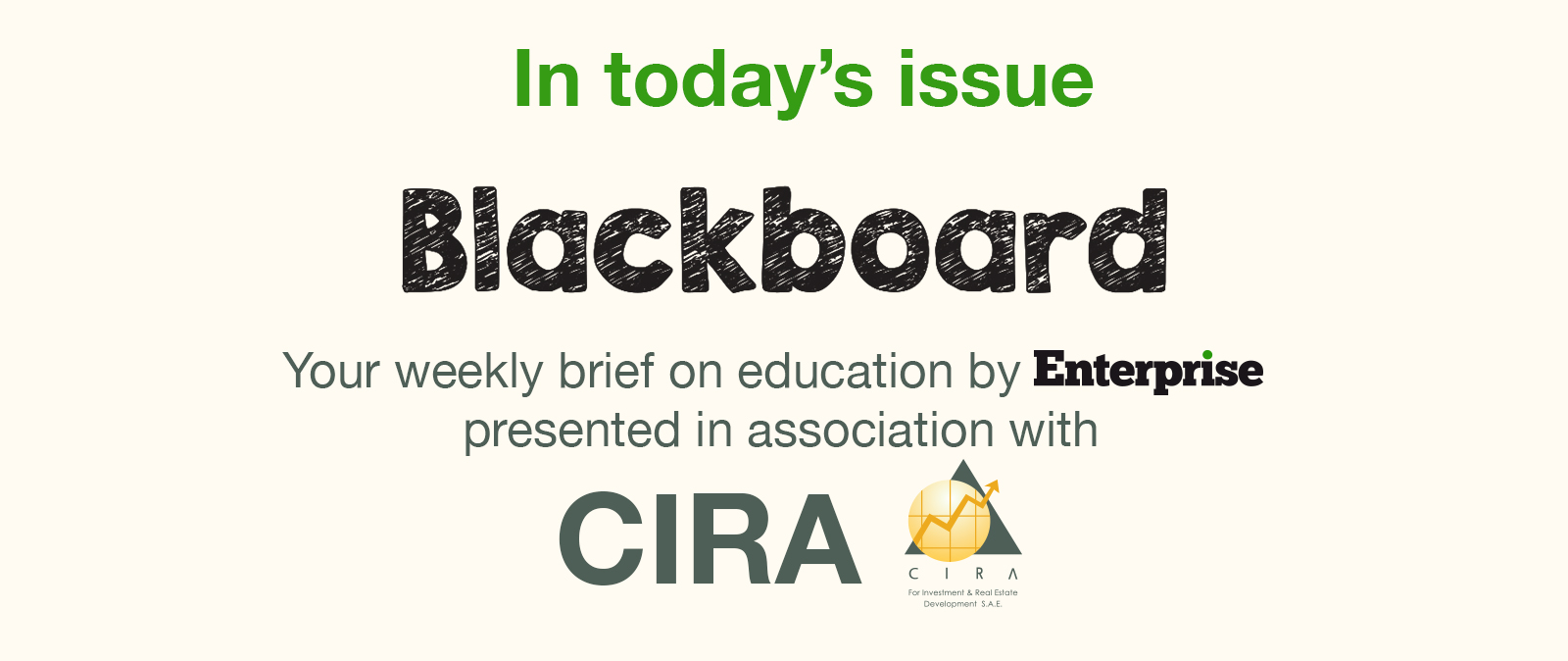 *** It's Blackboard day: We have our weekly look at the business of education in Egypt, from pre-K through the highest reaches of higher ed. Blackboard appears every Monday in Enterprise in the place of our traditional industry news roundups.
In today's issue: We look at how banks are looking to make their education loan offerings more attractive to parents struggling to keep up with K-12 tuition payments.