Wednesday, 7 October 2020
What we're tracking on 7 October 2020
Good morning, friends. We hope you're looking forward to the long weekend as much as we are. We're looking forward to a well-earned break, but will also take a moment to honor those who have served in our country's conflicts, particularly those who made the ultimate sacrifice.
We have 4,032 candidates vying for seats in the upcoming House of Representatives elections, according to the final list the National Elections Authority released yesterday, Youm7 reports. The list was finalized after the Administrative Court issued its final rulings on appeals from candidates whose bids were not accepted. Voters will go to the polls in a multi-stage process starting 21 October (voters abroad) and 24 October (in Egypt).
Season three of Making It, our podcast on how to build a great business in Egypt, debuts tomorrow — just in time for the long weekend — with new episodes available each Thursday thereafter. Making It is brought to you in association with our friends at CIB and USAID.
Tap or click here to listen to this season's trailer on our website | Apple Podcasts | Google Podcasts.
USAID's acting administrator, John Barsa, is in town until tomorrow for a three-day visit focused on economic development and religious freedom, according to a US Embassy statement. Joined by Minister of International Cooperation Rania Mashat, Barsa paid a visit yesterday to Flat6Labs — which is supported by USAID and the Egyptian-American Enterprise Fund — and to Coptic Orphans, which has helped girls in Upper Egypt to develop leadership skills with the organization's support. The embassy noted that Flat6 has helped more than 100 businesses create nearly 7.5k jobs. USAID has invested some USD 30 bn in Egypt since 1978.
Speaking of the US of A: Kamala Harris and Mike Pence are going head-to-head in the vice presidential debate tonight in Salt Lake City. The hometown angle for us (beyond enjoying the show across the pond): EM bonds are among the options on the menu now as investors look to hedge their portfolios against a potential post-election selloff, the FT reports.
We're getting new shiny new polymer banknotes in 2021: The central bank will begin printing plastic EGP 10 and EGP 20 notes, which have at least three times the lifespan of traditional paper money, once the new administrative capital printshop becomes operational, reports Youm7.
***
The last time we swatted a white spheroid with a weighted stick was as a requirement to graduate high school, but we are given to understand that many of you out there enjoy said pastime. In our dotage, we have moved on to swinging at fuzzy yellow balls, but for those of you who prefer golf:
It isn't too late to register for a three-day golf championship this long weekend on a Gary Player-designer course. Our friends at Somabay are hosting a three-day golf tournament running 8-10 October. The tournament, which will follow the rules of golf approved by the Royal & Ancient Golf Club of St Andrews, will be held under the auspices of the Egyptian Golf Federation. Register for the event by emailing ghada@somabay.com or calling +20 12 2393 4205, and find out more about special accommodation packages here.
***
The IMF and World Bank's fall meetings are next week (16-18 October), and already we're being warned that "the calamity is far from over." The global economy's path to recovery is far from certain, fund boss Kristalina Georgieva warned yesterday, urging governments to do "whatever it takes" to avoid stagnation. Speaking ahead of next week's annual meetings, Georgieva said the global economy faces a "long ascent" to pre-covid growth levels and warned policymakers that removing the emergency measures introduced to support the economy could result in "severe economic scarring." This comes a day after the IMF called on advanced economies to ramp up public investment in infrastructure (Financial Times | CNBC | The Guardian).
Next week will be awesome for gadget nerds:
Apple is set to unveil new iPhones next Tuesday at its virtual "Hi, Speed" event. Pundits expect to see a big reveal of new iPhones that support 5G, as well as new AirPods and possibly tags to find lost items seamlessly, Reuters and Bloomberg report.
Nikon will until its much-awaited Z6 II and Z7 II mirrorless cameras on Wednesday. Nikon Rumors has a rundown on what you can expect, including dual card slots, the promise of better AF thanks to twin processors, and a real vertical grip accessory. While you're there, check out NR's first rumored specs of the Z9, which looks like a beast.
Fujifilm will unveil its X-S10 midrange mirrorless camera on Thursday. FujiRumors has more.
Four Egyptian companies have made Forbes' list of the Middle East's 50 most-funded start-ups: Halan, Adzily, MoneyFellows, and Lucky are among the region's best funded startups, raising a collective USD 60.7 mn since their founding. Halan, the international ride hailing app and on-demand delivery startup has so far raised USD 23.5 mn from investors. Digital advertising platform Adzily was noted to have raised USD 12.2 mn. Dsquares' consumer discounts platform Lucky raised USD 20 mn from investors, while fintech startup MoneyFellows saw USD 5 mn invested since its 2016 launch.
PSA- Look for a warm weekend before temperatures cool next week to the low 30°c range as we slide into fall weather.
---
The Health Ministry reported 121 new covid-19 infections yesterday, up from 98 the day before. Egypt has now disclosed a total of 103,902 confirmed cases of covid-19. The ministry also reported 11 new deaths, bringing the country's total death toll to 6,001. We now have a total of 97,449 confirmed cases that have fully recovered.
One in 10 of the world's population may have already been infected by the virus, Mike Ryan, director of the WHO's Health Emergencies Programme, said on Monday, CNN reports. More than 35.6 mn cases have so far been reported globally, according to the Johns Hopkins University's covid tracker.
A covid-19 vaccine might be ready by the end of 2020, WHO Director-General Tedros Adhanom Ghebreyesus said, calling for equal distribution when immunization is available, according to Reuters. Currently, there are nine experimental vaccines in the pipeline of the WHO's Covax global facility, which aims to distribute 2 bn doses by the end of 2021.
Pfizer and BioNTech's vaccine is getting expedited clearance from the EU's medical regulator, allowing mass production to begin immediately if it is judged to be safe following phase three trials, the Financial Times reports. Pfizer previously said that it will be able to assess whether the shot is safe and effective before the end of October.
As a first-class leading golfing destination, Somabay will be hosting a 2020 edition golf tournament on its world renowned golf courses, upgraded with new innovative tweaks, driving ranges and floodlights.
Somabay's golf course stands out when it comes to sustainability as solar energy is used for seawater desalination, in addition to applying smart irrigation systems to ensure minimum water consumption and cost of sand.
The World Trade Organization (WTO) is a bit more optimistic than expected on global trade performance this year, saying yesterday it expects the volume of traded goods to drop by 9.2% this year — a more upbeat outlook from the 13-32% drop it had anticipated in April. The updated forecasts came after June and July's trade volumes outperformed expectations as countries eased lockdowns, but the WTO caveats that the outlook could change again if we see a "resurgence" of covid-19 in 4Q2020.
The rebound next year isn't going to be as sharp as previously anticipated, though: The WTO is now penciling in 7.2% growth in 2021, which is a significant downwards forecast from the 21.3% growth it had expected previously, due to the threat of a second wave of lockdowns.
Google-affiliated health insurance provider Clover Health is jumping on the SPAC bandwagon as it goes public through a USD 3.7 bn agreement with former Facebook executive Chamath Palihapitiya's special-purpose acquisition company (SPAC) Social Capital Hedosophia III, the FT reports.
Don't know your SPAC from your PIPE? We've got you covered here and here.
We're that much closer to understanding black holes thanks to these Nobel Laureates:
Three scientists — Sir Roger Penrose, Reinhard Genzel and Andrea Ghez — have been awarded the 2020 Nobel Prize in Physics for their research into black holes. Sir Penrose's research showed that black holes were an inevitable consequence of Einstein's theory of relativity, while Genzel and Ghez (who is the fourth woman to ever win the physics prize) provided convincing evidence that our galaxy is centered around a supermassive black hole, known as Sagittarius A*.
The Nobel Prize in chemistry will be announced today, the literature prize tomorrow and the peace prize on Friday. The too-complicated-to-write prize in economics will be announced next Monday.
Eddie Van Halen — the lead guitarist of rock band Van Halen — has passed away at age 65 following a battle with cancer, his son said yesterday. The New York Times and Rolling Stone, among others, have obits for the Rock Hall of Famer.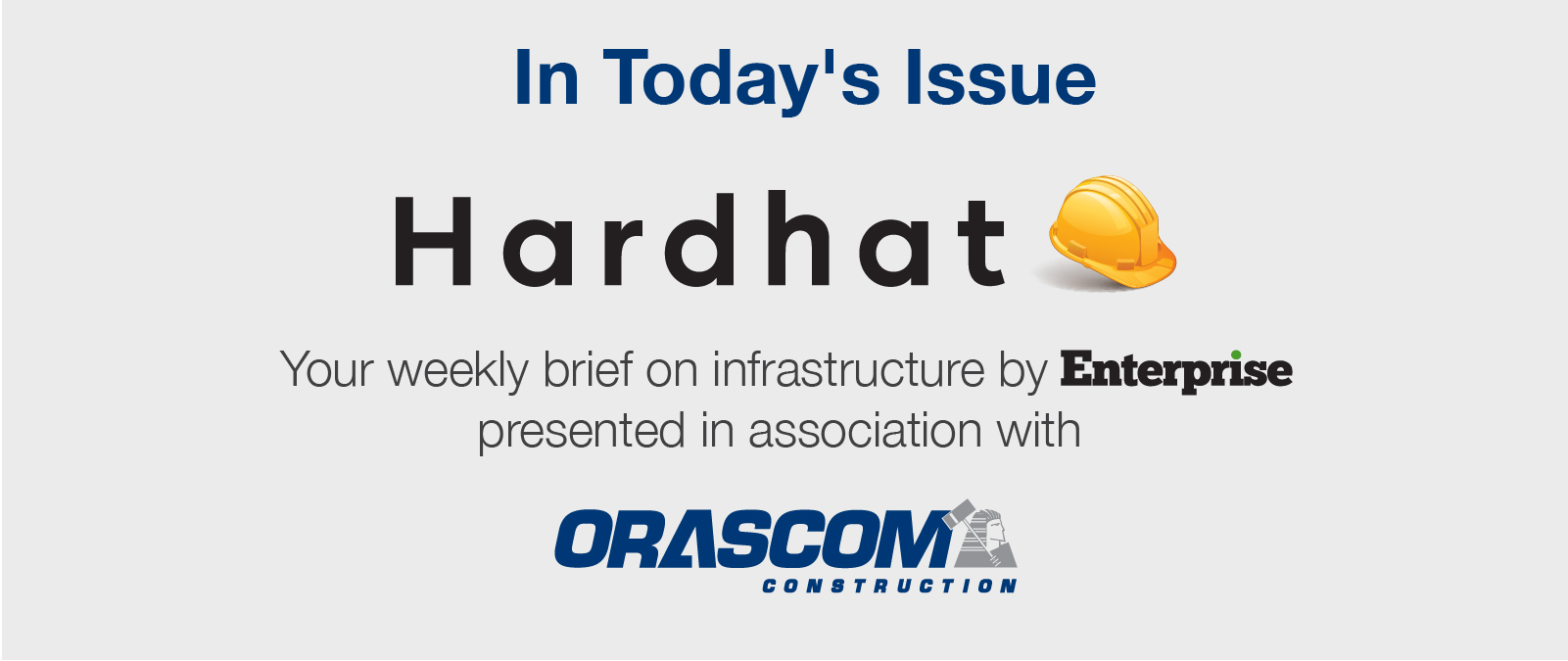 *** It's Hardhat day — your weekly briefing of all things infrastructure in Egypt: Enterprise's industry vertical focuses each Wednesday on infrastructure, covering everything from energy, water, transportation, urban development and as well as social infrastructure such as health and education.
In today's issue: In part 3 of our series on how our ageing water infrastructure is causing us to lose water to leakage, we explore just how bad the leakage problem has hurt the most water intensive activity in Egypt — agriculture.