Monday, 14 September 2020
What we're tracking on 14 September 2020
Good morning, wonderful people — it's a particularly busy news day, so we're going to jump straight in.
We're looking at what could be a strong start to the new (developed world) trading week, with Asian shares in the green in early trading and US and European stock futures on the rise after what CNBC notes was "the market's first back-to-back weekly declines in months" on the back of a slump in tech stocks. The EGX30 closed up 0.2% yesterday on lighter-than-average trading.
We'll know on Wednesday the results of last week's run-off elections for the Senate. The first round of voting last month saw 174 members elected to the newly-constituted upper chamber, and the run-off round will determine another 26. President Abdel Fattah El Sisi will appoint the remaining 100 members of the 300-seat Senate after the final results of the votes are announced.
It's a great week for our fellow tech nerds: Sony will unveil today its much-leaked A7C full-frame camera, Apple has an event tomorrow, and on Wednesday you can expect Sony to talk PS5 while Nikon takes the wraps off a 50mm prime and a 50mm f/1.2 and a 14-24 f/2.8, both for its new Z mount.
MORNING MUST READ- Half a century later, the jury is still out on how well the economic theory that led to "greed is good" has aged: 50 years ago yesterday, economist Milton Friedman penned an essay for the New York Times Magazine on how businesses' main objective should be maximizing profits — and that money spent on social responsibility is money taken out of stakeholders' pockets. Now, the contemporary corporate community is split on whether the Nobel laureate's ideas are still applicable, particularly as social responsibility has become "in vogue among CEOs." Read the NYT Dealbook's series on Friedman's essay, which includes commentary from Dealbook founder and CNBC host Andrew Ross Sorkin as well as from Kurt Andersen and a poll of big corporate CEOs on where they stand.
It's (virtual) conference month:
---
The Health Ministry reported 153 new covid-19 infections yesterday, up from 148 the day before. Egypt has now disclosed a total of 101,009 confirmed cases of covid-19. The ministry also reported 21 new deaths, bringing the country's total death toll to 5,648. We now have a total of 84,161 confirmed cases that have fully recovered.
International visitors to Luxor arriving on charter flights will now be able to take PCR tests on arrival, Al Shorouk reports. It joins Hurghada, Sharm El Sheikh, Marsa Alam and Taba as the only airports offering tests on arrival.
Are wedding parties about to make a comeback? The government is considering allowing the resumption of wedding parties at hotels, El Watan reports, citing a Tourism Ministry official. Prime Minister Moustafa Madbouly is expected to issue the decision later this week, which would see hotels able to host weddings provided they do not exceed 50% capacity. Public wedding celebrations have been banned since the government first introduced lockdown measures at the end of March. Head of the Federation of Tourism Chambers Hossam El Shaer told El Hekaya's Amr Adib that the move would be seen favorably by the industry, which has suffered drastic covid-induced drops in hotel occupancy rates (watch, runtime: 5:34)..
Covid news from the region:
Saudi Arabia will lift restrictions on some international flights starting tomorrow to allow travel for "exceptional categories" of people to travel, such as public and military sector employees, diplomats, patients who require treatment abroad, overseas students and sports teams, Reuters reports. The kingdom will lift all travel restrictions for all citizens on 1 January 2021.
Israel is heading into its second lockdown after a botched reopening caused a new surge in covid cases, Bloomberg reports.
Next week is set to be the biggest for US software listings since Uber's offering last year. Cloud software company Snowflake is set to rake in USD 2.2 bn, video game software company Unity will raise USD 950 mn, and Sumo Logic, another data software platform, will raise USD 281 mn, the Financial Times reports, citing data provider Refinitiv. The companies are among a dozen IPOs set to raise a total of USD 6.8 bn, as companies capitalize on the market's insatiable appetite for tech stocks.
TikTok owner ByteDance and US tech company Oracle have come up with a fudge that just might save the Chinese social media firm from being banned in the US. ByteDance has reportedly given up on the idea of selling its US arm and is instead gunning for an agreement with Oracle that would see the US tech firm take over the management of its user data and acquire a stake in its US unit in a bid to assuage authorities that it does not pose a security threat, Reuters reports, citing people familiar with the matter. An agreement with Microsoft seemed to be in the cards after the Trump administration forced the Chinese company to exit the country, but retaliatory export controls from Beijing effectively killed the possibility of a sale.
Those two blockbuster M&As we mentioned yesterday are now sealed:
Japanese tech conglomerate SoftBank has sold UK chip designer Arm Holdings to US chip manufacturer Nvidia for USD 40 bn, the Financial Times reports.
Gilead Sciences has reached a final agreement to acquire biotech firm Immunomedics for USD 21 bn, the Wall Street Journal reports.
Jordan's Capital Bank has begun due diligence to acquire Bank Audi's Iraq and Jordan arms, Reuters reports. Lebanese banks have sought to scale back their overseas operations since the country's financial crisis, and First Abu Dhabi Bank is reportedly planning to re-enter talks to acquire Bank Audi's Egypt assets.
OPEC and its allies will have a lot to think about when they meet on Thursday, as the recent rebound in oil demand shows signs of faltering. Prices fell beneath USD 40/bbl for the first time since June last week as covid-19 continues to hit demand for fuel and concerns about a weak economic recovery rise. This may mean that the Saudi-led cartel and its Russian allies have to reconsider their decision to begin to reverse the huge supply cuts agreed earlier this year in order to put a floor underneath the market, Bloomberg says.
Tensions in the Eastern Mediterranean are starting to cool after Turkey withdrew its survey vessel from contested waters on Sunday, according to Reuters. Greek Prime Minister Kyriakos Mitsotakis called the move a "positive first step" and raised the prospect that Athens may now be willing to resume diplomatic talks.
---
Egyptian businessman Ahmed El Zayat — the owner of the Triple Crown-winning horse American Pharoah — has filed for Chapter 7 bankruptcy in the US to pay off some USD 19 mn in debts to hundreds of creditors, Bloomberg reports. The creditors include horse trainers and breeders that provided services in the run-up to American Pharoah laying claim to the Triple Crown in 2015, whom he owes some USD 600k. Court filings show that Zayat's USD 4 mn New Jersey stables have been declared insolvent and are now being liquidated to compensate lenders. El Zayat rose to fame in Egypt as he acquired, turned around and sold Ahram Beverages to Heineken in the early 2000s.
---
US ELECTION WATCH- The Biden campaign is about to receive a healthy financial injection that could swing one of the most important battleground states: Bn'aire and former presidential candidate Michael Bloomberg will pump USD 100 mn into the Biden campaign's push to win Florida, Bloomberg reports. The money will be spent on efforts to boost voter turnout and increase Biden's popularity among Hispanics, while allowing the Democratic Party to divert funds to other states.
Meanwhile, the Donald takes his campaign trail to California today amid devastating wildfires that show no signs of abating, the Financial Times reports.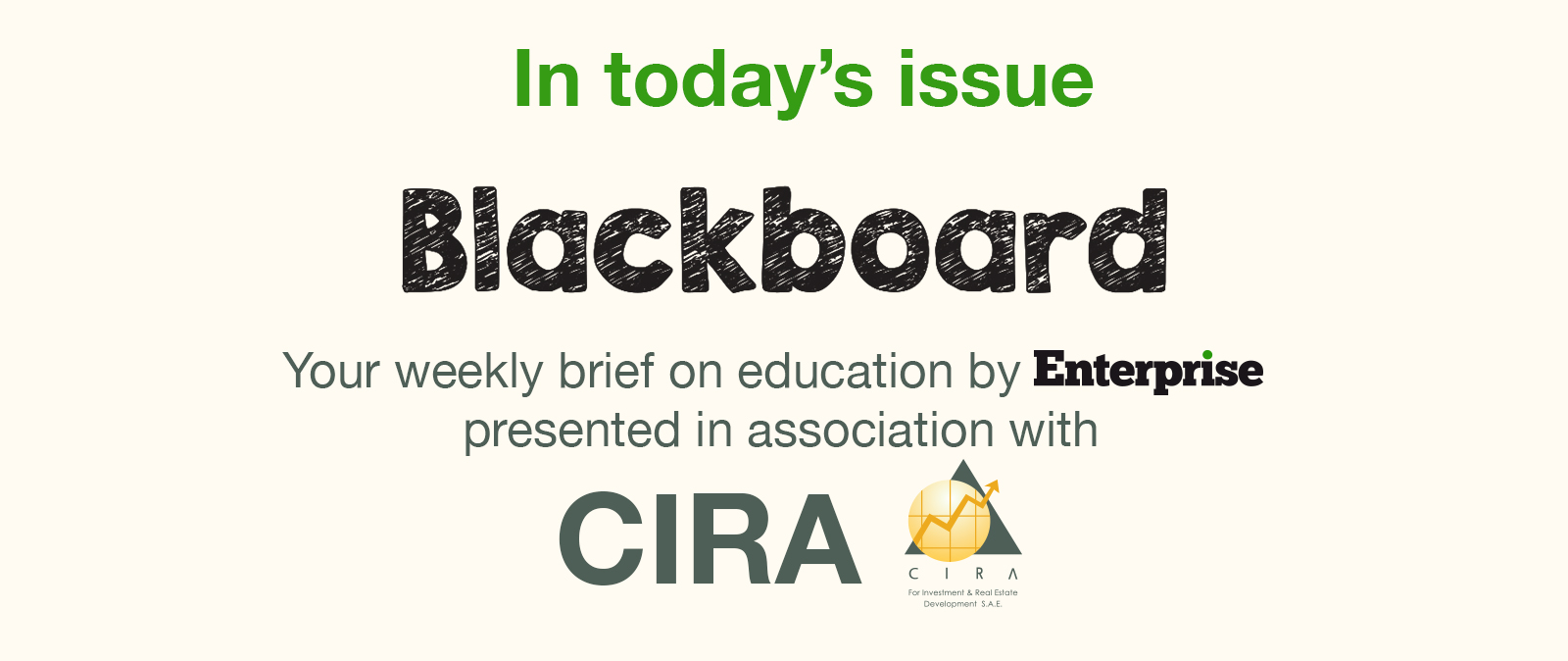 *** It's Blackboard day: We have our weekly look at the business of education in Egypt, from pre-K through the highest reaches of higher ed. Blackboard appears every Monday in Enterprise in the place of our traditional industry news roundups.
In today's issue: We speak with Amira Kazem, senior operations officer at the World Bank, about how the bank has responded to the covid crisis and how it will affect Egypt's education system over the long term.