Wednesday, 9 September 2020
What we're tracking on 9 September 2020
Even if you're not an infrastructure geek, you'll want to read this morning's Hardhat interview with the European Investment Bank's Alfredo Abad, who covers everything from where the EIB is allocating funds (transportation, wastewater) to why it's not yet on board with what we think is one of the most critical programs the Madbouly government has yet announced: The push to improve water security through desalination.
The EIB was an early pioneer in putting "everything green" at the center of its investment decisions, and the twin imperatives of climate change and ESG are only going to accelerate that trend across asset classes and sectors going forward.
Hardhat is one of two weekly deep dives we take into the industries that are shaping our economy — and our future. It's presented each Wednesday in association with our friends at Orascom Construction, and we're proud to have CIRA as our partner for Blackboard, our weekly look at the business of education, which appears every Monday.
What industry should we dive into next? Our plans for this fall and winter include starting research on two more industry verticals (among other products) and we'd love to hear from readers — what do you want to learn about next? Let us know on editorial@enterprise.press.
---
The sell-off resumed on the EGX yesterday as the benchmark index slumped 1.7% by the closing bell. Every sector finished the session in the red, led by NBFS, real estate, and tech. Clothing company Dice saw the biggest losses, closing 7.7% in the red, while Telecom Egypt fell 7% a day after a report suggested that Saudi Telecom may be looking to reduce its offer for Vodafone's 55% stake in Vodafone Egypt. Index heavyweight CIB remained comparatively unscathed, falling only 0.4%. Trading was moderate, with EGP 1.2 bn-worth of shares changing hands — 8% above the trailing 90-day average. The EGX30 has now fallen 4.5% since shares began their slide on 30 August, and is down 21.6% year-to-date.
The downbeat performance here at home mirrored developments in the global markets, which saw last week's US tech sell-off gather pace. Benchmark Wall Street indices fell for the third consecutive session as investors continued to bail on tech stocks following an unprecedented five-month boom that saw valuations reach dot-com-esque levels. Tesla's James Bond villain-in-waiting saw his stock record its worst ever single-day performance as the tech-dominated Nasdaq lost 4.4%, leaving it 11% off its peak last Wednesday. The S&P 500 lost almost 3% and the Dow closed 2.3% in the red.
After shrugging off events on Wall Street on Monday, European stocks sold-off yesterday, with indices across the continent losing 1-2% by the close of play.
EM stocks, meanwhile, have an entirely different problem: The escalating covid case rate in major emerging markets since late July is starting to put pressure on equities, with the MSCI EM Index falling almost 3% during the period, Bloomberg reports.
Oil prices also took another tumble yesterday, with Brent crude falling more than 5% to USD 39.93/bbl — the first time it has dropped below the USD 40 since June — and US crude plunging 7.2% to USD 36.89/bbl. Unyielding covid infection rates in countries like India, the US, UK and Spain have dampened the demand outlook for the rest of the year, and Saudi Arabia's state oil company Aramco on Sunday cut its October selling prices, Reuters reports.
Asian shares are down this morning in early trading this morning and both European and US futures are in the red.
---
Today is the last day to vote in the Senate run-off elections, which will see the remaining 26 elected members nominated to sit in the upper chamber. The first-round of voting last month saw 174 representatives elected to the 300-seat Senate. The president will appoint the remaining 100 members after the results of the run-off are announced on Wednesday, 16 September.
---
The Health Ministry reported 187 new covid-19 infections yesterday, up from 178 the day before. Egypt has now disclosed a total of 100,228 confirmed cases of covid-19. The ministry also reported 19 new deaths, bringing the country's total death toll to 5,560. We now have a total of 79,886 confirmed cases that have fully recovered.
Russian airliner, Aeroflot, will relaunch flights between Cairo and Moscow today, operating three trips a week, according to an AeroFlot statement. Today's Aeroflot flight is already fully booked, said Egypt's ambassador in Moscow Ehab Nasr in an interview with Sada El Balad's Azza Moustafa (watch, runtime: 7:38).
Dutch flag carrier KLM also makes its return to Egypt today following a three-year hiatus. The airline will operate two weekly flights between Cairo and Amsterdam from 9 September to 25 October.
EgyptAir will begin operating three flights a week between Cairo and Moscow starting Thursday 17 September. Flights will run Saturdays, Tuesdays and Thursdays. Passengers will be required to present a negative PCR test result issued 72 hours before arrival in Moscow, as per Russia's anti-covid precautions.
Globally: "AstraZeneca stopped giving shots of its experimental coronavirus vaccine after a person participating in one of the company's studies got sick, a potential adverse reaction that could delay or derail efforts to speed an immunization against covid-19 for the world," Bloomberg reports. CNBC also has the story.
Military talks between Turkey and Greece at NATO headquarters in Brussels have been postponed until Thursday, Reuters reports, citing unnamed informed sources. With tensions flaring between the two countries in recent weeks over Turkey's energy exploration in the eastern Mediterranean, the "military de-confliction" talks will not attempt to resolve the territorial dispute, but try to establish a hotline between the two militaries and consistent use of naval call signs, to avoid incidents like the collision last month between Greek and Turkish warships.
The Donald will host a signing ceremony on 15 September between Israel and the UAE to formalize last month's historic agreement to establish diplomatic ties, Reuters reports, citing a senior White House official.
Never trust the Brits: The UK is threatening to break international law to force through its version of a post-Brexit trade accord with the EU by the 31 January deadline with an air of nonchalance that has stakeholders concerned, the Associated Press reports. The UK had agreed to maintain an open border between Northern Ireland (part of the UK) and EU member Ireland as part of the withdrawal agreement signed earlier this year, but is now trying to bypass that commitment to the understandable chagrin of the EU.
This has raised fears that the UK is about to commit ritual seppuku by crashing out of the EU during the worst global recession of our lifetimes. The GBP-USD rate hit two-week lows yesterday as traders priced in the growing risk of a hard Brexit.
---
US ELECTION WATCH- King Cheeto could be left searching for pennies as campaigning enters decisive phase: The Donald's re-election campaign is running short on cash after blowing more than three-quarters of its USD 1.1 bn war chest with 60 days still to go until election day, the New York Times reports. With Trump having splurged USD 800 mn on fund-raising, staff, legal costs and a pre-convention ad-buy, the once-cash-strapped Biden campaign is raking in the donor money and now enjoys a huge financial advantage as campaigning enters the crucial final phase. The situation is so dire that Trump is reportedly now considering pumping in USD 100 mn of his own money to see him through to election day.
Attention all iSheep: Put 15 September in your diaries, as Apple hosts a "special event" to unveil the latest generation of (some of?) its flagship products, Reuters reports. But don't expect a new iPhone just yet — Bloomberg says the online-only event will focus almost exclusively on the Apple Watch, while the Apple blogosphere suggests it could also feature a new iPad.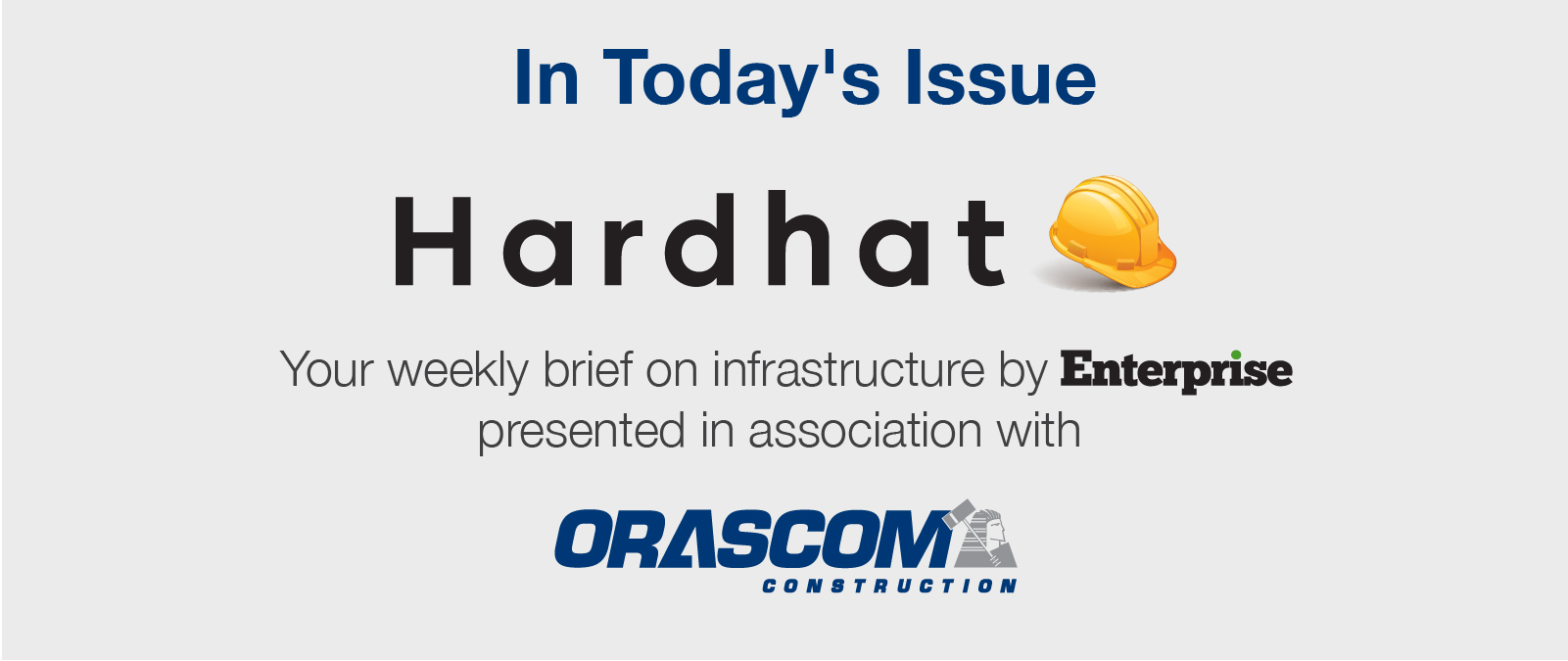 *** It's Hardhat day — your weekly briefing of all things infrastructure in Egypt: Enterprise's industry vertical focuses each Wednesday on infrastructure, covering everything from energy, water, transportation, urban development and as well as social infrastructure such as health and education.
In today's issue: We talk to Alfredo Abad, head of the European Investment Bank's Cairo office, about the bank's funding plans, obstacles to infrastructure development in Egypt, and how the economic downturn caused by the pandemic is likely to affect investment going forward.