Monday, 7 September 2020
What we're tracking on Monday, 7 September 2020
The EGX30 closed yesterday in the red in the first session since last week's selloff on Wall Street: The index lost 1% during trading yesterday, continuing a poor run of form that has seen it finishing in the red for six consecutive sessions. Trading was moderate, with EGP 1 bn-worth of shares changing hands (about 8% below the trailing 90-day average). The EGX is now one of the worst performing indexes in the region this year, currently down 20.7% year-to-date.
Emerging markets have been feeling the heat of last week's selloff, with the MSCI emerging markets index falling 2%, the biggest weekly decline since April, reports Bloomberg. Exchanges in the Gulf Cooperation Council countries weren't helped by Friday's slide in oil prices — the biggest weekly fall since June — as Dubai's key index fell 1.1%, Qatar's index lost 1.2%, shares in Abu Dhabi dropped 0.6%, and the Saudi Tadawul ended marginally down 0.3%. The US's biggest indices fell at the tail end of last week, with Nasdaq closing down 3.3% for the week on Friday — its worst single-week performance since March. Tech shares led the selloff in the US.
Asian markets were marginally in the green at the time of dispatch this morning, while futures suggested a mixed open in Europe when the opening bell rings. US markets are closed today for Labor Day.
The US tech industry's 10 wealthiest people have seen their collective net worth drop USD 44 bn since Thursday as stocks plunged, according to Bloomberg. Amazon's Jeff Bezos and Tesla's Elon Musk — two people who have seen their net worth balloon during the pandemic — were the biggest losers, seeing their fortunes fall by USD 9 bn and USD 8.5 bn respectively.
---
Be on the lookout for foreign reserves figures today and inflation data on Thursday.
We're heading back to the polls tomorrow to elect 26 seats in a runoff for the Senate.
---
The Health Ministry reported 151 new covid-19 infections yesterday, up from 130 the day before. Egypt has now disclosed a total of 99,863 confirmed cases of covid-19. The ministry also reported 19 new deaths, bringing the country's total death toll to 5,530. We now have a total of 78,108 confirmed cases that have fully recovered.
Flights to Cairo from Moscow will restart in mid-September following a six-month hiatus, flag carrier EgyptAir said in a statement carried by the local press (Al Mal | Masrawy). The statement follows an agreement signed with Russian Prime Minister Mikhail Mishustin last week that will see the three weekly trips between Cairo and Russia. Flights will be operated by EgyptAir and Russian flag carrier Aeroflot.
Direct flights to Malta could also resume soon: The restoration of flights between Egypt and Malta was high on the agenda in a meeting between Foreign Minister Sameh Shoukry and his Maltese counterpart Evarist Bartolo yesterday, a Foreign Ministry spokesperson said in a statement. Shoukry and Bartolo also discussed the situation in Libya and migration across the Mediterranean, the statement said.
The pandemic has seen Europe experience its worst summer tourism season in recent history, and it doesn't look like it's going to get better this fall, the Associated Press reports. "Revenue losses during the first half of 2020 for hotels, restaurants, tour operators, long distance train operators and airlines were roughly 85-90%," the European Commission said, adding that bookings for September and October are "abnormally low."
---
KUDOS- Our friends at CIB have won the most nominations of any issuer in Institutional Investor's 2020 Middle East Investor Relations Awards presented with the Middle East Investor Relations Society. CIB is nominated for the best overall IR program in the Middle East and got a nod in the same category for Egypt. Meanwhile, CEO Hussein Abaza is in the running for best investor relations by a CEO in the region, while IRO Yasmine Hemeda snagged a nomination for best IR professional in Egypt.
Two other CEOs served by our parent company, Inktank, also received nominations in the top IR by a CEO category, including Cleopatra Hospital's Ahmed Ezz El-Din and, in Saudi Arabia, Olivier Nougarou from Arabian Centres.
Other Inktank clients in Egypt earning nominations this year include Cleopatra Hospital's Hassan Fikry, EK Holding's Haitham Abdel Moneim, and Elsewedy Electric's Tarek Yehia, all of whom have been nominated as finalists for best IR professional in Egypt. Rayan Alkarawi is a nominee in the same category in Saudi Arabia.
Inktank clients in the category of "leading corporate for IR" in Egypt include our friends at Edita Food Industries, Cleopatra Hospitals and EK Holding. In the GCC, we're pleased to note nominations going to United Electronics (Extra) and Arabian Centers in Saudi Arabia and SICO Bank in Bahrain.
Egyptian companies and professionals took home the most nominations of any national contingent in this year's ranking.
You can check out the full list of nominees here (pdf). The finalists will be announced 22 and 23 September at a virtual event.
---
MORE KUDOS- Vezeeta's founder and CEO Amir Barsoum has made Fortunes' 40 under 40 leaders in Healthcare list for 2020, recognizing "influential game-changers" worldwide. The healthcare platform for researching, rating, and booking appointments with medical professionals is currently available in 50 cities across six countries and is still expanding.
STILL MORE KUDOS- Three Egyptians made it to Forbes' Middle East 30 under 30 list of Young Innovators Working to Change the Region. First up was founder and CEO of Prime Hospitality Khaled El Sayyad (Linkedin), who made it to the list for his contributions in the retail and F&B industries. The other two mentions came from the sports and entertainment industry for swimmer Farida Osman (Bio) and Eksab CEO and co-founder Aly Mahmoud (Linkedin).
---
US ELECTION WATCH- President Donald Trump continues to fuel hopes of a potential vaccine release before November, according to the Washington Post, which suggests his bid to speed up the process is a way of swaying voter sentiment ahead of the election. Medical experts have been wary of making guarantees with many voicing concerns at the idea of pushing out a vaccine that hasn't been fully tested.
Biden is maintaining a solid lead over Trump in recent polling: A CBS News poll puts the former VP 10 points clear of the Orange Incumbent at 52% to 42%, Bloomberg reports.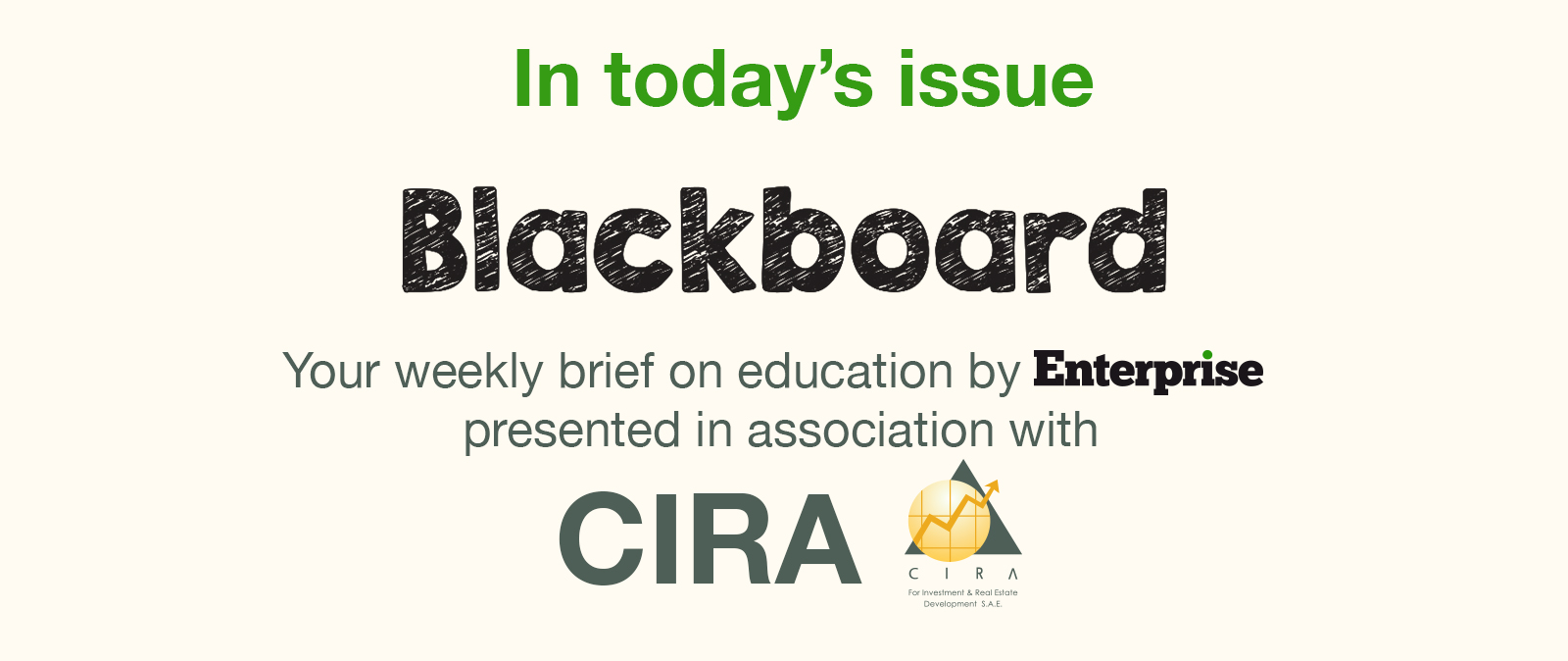 *** It's Blackboard day: We have our weekly look at the business of education in Egypt, from pre-K through the highest reaches of higher ed. Blackboard appears every Monday in Enterprise in the place of our traditional industry news roundups.
In today's issue: We look at the future of the IGCSE system in Egypt following this year's exam fiasco which resulted in thousands of students being unfairly penalized by an algorithm used to mark papers.