Wednesday, 10 June 2020
What we're tracking on 10 June 2020
We could know more as early as this afternoon about when the Madbouly government plans to reopen airspace to regular commercial flights. Cabinet's covid-19 committee said last week that it would review today the schedule on which it would ease some lockdown measures including the flight ban, which is presently due to expire on Sunday, 14 June. Officials said yesterday that they were giving 20-50% discounts on landing, parking and ground services fees at Sharm El Sheikh, Hurghada and Matrouh airports to encourage charters when airspace reopens.
Inflation figures for the month of May are due out today and central bank watchers around the world will cast their eyes to the United States as the US Federal Reserve's open market committee kicks off its two-day meeting. Jay Powell & Co will offer their first economic forecasts in six months when the meeting wraps tomorrow. The FT has a list of six things to watch as the Fed meets.
PSA #1- It's going to be hot today. Look for the mercury to spike to 40°C in the capital city today, according to our favorite weather app, cooling to 21°C overnight.
PSA #2- What part of "stay home" don't you get? Coronavirus patients are most infectious when they first feel unwell, WHO experts said yesterday.
Also on the horizon:
We're inching closer to House approval of the next state budget: The House Planning and Budgeting Committee approved yesterday parliament's allocations under the state budget for the upcoming fiscal year, Al Mal reports. The committee has been holding piecemeal reviews and votes on the overall budget before handing it over to the general assembly for a final vote, which is scheduled for later this month. Parliament is expected to approve the budget before the current fiscal year ends on 30 June, though it has occasionally done so after that deadline. If that happens, spending continues as if the previous year's budget had rolled forward to the new fiscal year.
SMART POLICY- The budget has earmarked EGP 447.3 bn for 691 green energy, transportation and housing projects during the upcoming fiscal year, according to a Planning Ministry statement. Around half of this amount is earmarked for Metro line upgrades as well as a new high-speed electric rail line linking the new administrative capital to Ain Sokhna and Alamein. Other projects include sustainable housing in Upper Egypt and renewable energy plants.
State grain buyer GASC is looking to tap the global grain market for the fourth time during the current 2020-2021 domestic harvest season. GASC, the world's largest grain buyer, is shoring up reserves after signals earlier during the covid-19 pandemic that sellers might ban exports. GASC purchased 120k tonnes of Ukrainian wheat last week as it looks to import a total of 800k tonnes to help shore up its strategic reserves.
We're going to see a partial solar eclipse on Sunday 21 June, according to the National Research Institute of Astronomy and Geophysics, Ahram Online reports. The eclipse will be visible from 6:24am to 8:24am — just make sure to not look directly into the sun without a pair of sunglasses on.
Keep your eye on:
The Central Bank of Egypt will meet to review interest rates on Thursday, 25 June.
Founding members of the EastMed Gas Forum will meet this month to ink the Cairo-based energy organization's charter.
** What about your first e-learning for you? The Madbouly government signaled this week that e-learning could be on the menu again this fall — by itself or as part of a hybrid approach. Tell us how e-learning is working out in your household in a poll for our weekly Blackboard focus on education. As is our custom, we'll draw the names of three respondents who will receive an Enterprise mug and a bag of our favourite coffee from our friends at 30 North. Tap or click here to take the survey. It's quick and painless, we promise.
COVID-19 IN EGYPT-
The Health Ministry confirmed 35 new deaths from covid-19 yesterday, bringing the country's total death toll to 1,306. Egypt has now disclosed a total of 36,829 confirmed cases of covid-19, after the ministry reported 1,385 new infections yesterday. We now have a total of 11,071 confirmed cases that have since tested negative for the virus after being hospitalized or isolated, of whom 9,786 have fully recovered.
Companies in 10 industries most affected by the pandemic will be given leeway in remitting social insurance for their employees as long as they don't resort to layoffs, according to a decision by Social Solidarity Minister Nivine Kabbag. Aviation, hospitality and tourism, healthcare, media, contractors, and manufacturing are among the eligible industries and will receive temporary proof of coverage if they pay 40% of the monthly dues or commit to installment plans.
Business at Uber's Careem arm has started to rebound across the Mideast as lockdown restrictions ease. Business is still down 50-60% y-o-y but has improved on the 80% drop seen in March and April, CEO Mudassir Sheikha told Bloomberg TV on Tuesday. Ride-hailing sister companies Uber and Careem disclosed on Monday that they had indefinitely suspended recruiting new drivers amid the slump in activity.
The market for air conditioners has dropped 50% y-o-y as consumers reportedly fear that ACs could help spread the virus that causes covid-19, Deputy Head of the Air Conditioning and Refrigeration Division in the Chamber of Commerce Zizi El Malat told the local press.
Repatriation flights start on Saturday as EgyptAir and Air Cairo look to bring home 3k nationals stranded in Qatar. The two airlines are also running repatriation flights to London from Cairo on Saturday, 13 June and Friday, 19 June.
Another 19 hotels are cleared to reopen under rules issued by the Tourism Ministry, bringing the total to 174, according to a ministry statement.
ON THE GLOBAL FRONT-
Fauci is "almost certain" a vaccine will be found, but warned that the outbreak is "far from over" globally even as countries everywhere begin to reopen their economies, the New York Times and Financial Times report. The disease is still "taking off" in emerging markets, FT columnist Martin Wolff adds,
From the good news / bad news department: Shoppers in the US are surprising retailers by flocking to brick-and-mortar stores, the WSJ writes. Fourteen US states reported a record rise in infection rates since the start of June as previously hard-hit areas such as New York and Illinois continue to reopen, the Washington Post reports.
Expats are starting to leave Dubai, Bloomberg notes in a gloomy piece that suggests the emirate could lose 900k jobs and see as much as 10% of its population leave.
Gulf mall owners are putting expansion plans on hold as the retail sector continues to struggle under coronavirus lockdowns and a dearth of tourists, Reuters reports. Openings in Dubai and Oman have reportedly been delayed. EFG Hermes has forecast in-store sales in Dubai to fall by a fifth if tourists are allowed into the country in 3Q — and 40% if travel restrictions remain until the end of the year — while MAF is expecting the retail slump to extend for another 18-24 months.
Satellite images and online searches suggest China had coronavirus last fall, according to a Harvard study that's making headlines in the global press. Satellite images show a "dramatic" increase in vehicle traffic outside Wuhan hospitals as early as last summer, with some parking lots being 90% more crowded than usual, according to the study (pdf). Search engine Baidu saw a rise in searches about the terms "cough" and "diarrhea" at the same time.
China angrily dismissed the study: "To derive these conclusions from phenomena such as road vehicle traffic is … extremely preposterous," the Financial Times reported a spokesperson for the foreign ministry as saying.
The cost of covid to airlines: USD 84 bn. Global airlines will see their revenue slashed in half to USD 419 bn and profits tumble by USD 84 bn this year in what will be the sector's worst year in recorded history, the International Air Transport Association said yesterday. The news came as Emirates said it's going to start cutting thousands of jobs.
AND THE REST OF THE WORLD-
---
SIGNS OF THE TIMES- Only 25% of Americans think that capitalism is good for society and Goldman Sachs thinks we could already be in the early days of a 20% oil price correction.
Palestinians are prepared to declare an independent state in response to Israeli plans to annex the West Bank, Palestinian Authority Prime Minister Mohammed Shtayyeh warned yesterday according to Reuters. The move comes as Israeli Prime Minister Benjamin Netanyahu plans to declare sovereignty over illegal Jewish settlements in the West Bank.
EY is facing a perfect storm as four simultaneous scandals threaten its influence over UK policymakers at a time when proposals to break-up the Big Four accounting firms are gaining traction among legislators, the Financial Times reports. In just the past few months, the firm was found to have covered up organized crime connected with a Dubai gold company, is facing questions over its role in the accounting scandal at Dubai-headquartered NMC Health, and the implosion of NYSE-listed Chinese coffee chain Luckin Coffee, and on Tuesday was sued by investors for alleged market manipulation by German fintech firm Wirecard.
The GCC is pushing hard on fintech: New York-based online Islamic investment platform Wahed Invest will make Riyadh its regional hub as it looks to expand into MENA after securing funding from Saudi Aramco, Dubai's BECO Capital and Boston's Cue Ball Capital, according to Bloomberg, which also notes that DIFC just invested in four fintech startups.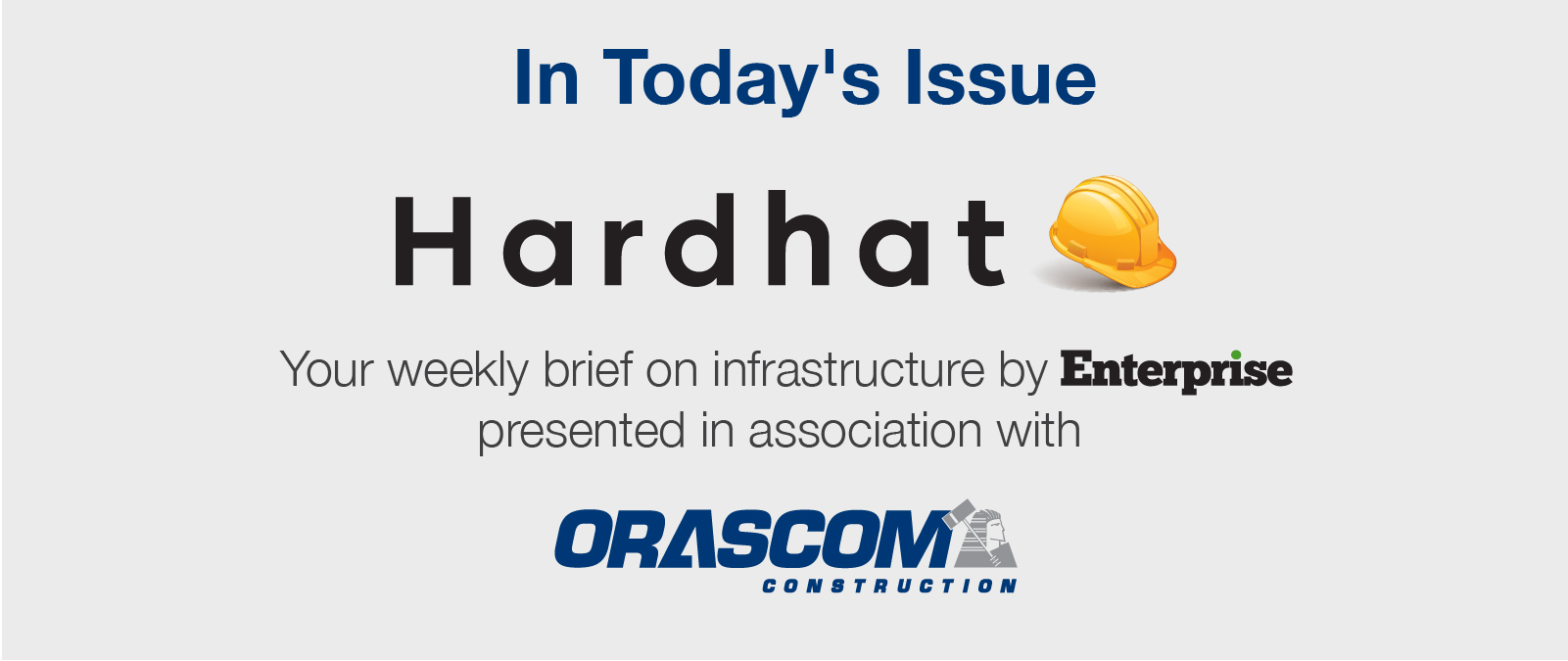 *** It's Hardhat day — your weekly briefing of all things infrastructure in Egypt: Enterprise's industry vertical focuses each Wednesday on infrastructure, covering everything from energy, water, transportation, urban development and even social infrastructure such as health and education.
In today's issue: We explore Egypt's electric vehicles market and infrastructure before and after covid-19.