Back to the complete issue
Monday, 8 June 2020
What we're tracking on 8 June 2020
Good morning, friends. Let's take stock of where we stand as we slide into summer. The global covid case count stands at 7 mn this morning, or less than 0.1% of the global population, with total deaths standing at a little over 402k. Brazil reported the largest number of total new cases yesterday at about 27k. MSCI's World Index of global stocks is down 6% since Wuhan went into lockdown at the end of January, and global GDP contracted about 2.3% last month.
Here at home, shares are down a hair over 20% year-to-date, our economy is one of the only ones in the region expected to post even slightly positive growth this year, and our daily case total has stabilized for the moment at just under 1.5k per day with around 40 people per day succumbing to the infection.
The challenge: Managing our continued reopening. Global experience points the way: California, Florida and Texas are among many states that have posted rises in infections since starting to reopen their economies. New York is bracing as it prepares to reopen today amid continuing protests for racial equality and an end to police violence. And South Korea is dealing with an uptick.
---
The House is back in session — and their agenda is packed:
A bill to set up a tourism support fund could go up for a final vote as early as today, Rep. Galeela Osman told Al Mal. The bill received approval yesterday from the House committees for tourism, culture, and media, Al Mal reports.
The FY2020-2021 state budget is up for discussion next week, House Speaker Ali Abdel Aal told the general assembly yesterday.
MPs are set to discuss the reconstitution of the upper house of parliament and a number of business-related bills this week as they close in on their summer vacation. We have more on this in this morning's Speed Round, below.
The markets this morning: Asian shares are cautiously in the green in early trading this morning and Gulf shares posted major gains yesterday after Saturday's OPEC+ agreement that will see producers limit oil production through July. Futures suggest shares in Europe and the US will open in positive territory later today, and the EGX shot up nearly 5% yesterday on news of fresh funding from the IMF (we have the rundown in this morning's Speed Round, below).
The inaugural EFG Hermes Virtual Investor Conference will run for six days between 22-30 June. The event will feature one-on-one virtual meetings between investors and business leaders during three two-day sessions running 22-23 June, 24-25 June and 29-30 June.
Other key news triggers coming up this month:
Inflation data for May will land on Wednesday, 10 June.
The Central Bank of Egypt will meet to review interest rates on Thursday, 25 June.
Founding members of the EastMed Gas Forum will meet this month to ink the Cairo-based energy organization's charter.
---
COVID-19 IN EGYPT-
The Health Ministry confirmed 39 new deaths from covid-19 yesterday, bringing the country's total death toll to 1,237. Egypt has now disclosed a total of 34,079 confirmed cases of covid-19, after the ministry reported 1,467 new infections yesterday, about on par with the day before. We now have a total of 10,131 confirmed cases that have since tested negative for the virus after being hospitalized or isolated, of whom 8,961 have fully recovered.
Banks to cover infected staff: Central Bank Governor Tarek Amer has instructed the country's banks to cover the medical costs of employees and their families should they become infected with the virus, Masrawy reports.
EgyptAir is seeking a EGP 3 bn loan from the National Bank of Egypt as it haemorrhages EGP 1 bn per month amid the ban on international flights and anemic domestic traffic, chairman of the holding company Roshdy Zakaria told the local press. The funding would be used to service debt. Zakaria said that the national flag carrier has already drawn down an EGP 2 bn lifeline from the state to fund covid-related obligations, including paying staff salaries.
In other news from the tourism industry:
Repatriation flights: EgyptAir and Air Cairo are running flights 14-20 June to bring back as many as 3k citizens from Jordan; Air Cairo is bringing home 1.9k citizens originally in Qatar via Oman.
ON THE GLOBAL FRONT-
Imperial College London to bypass Big Pharma to provide cheap, accessible covid-19 vaccine: Imperial College London is preparing to bring to market a potential covid-19 vaccine at the lowest possible cost in Britain and in low- and middle-income countries. Private companies have dominated the R&D of potential covid-19 vaccines, raising fears that they will eventually be distributed based on profit, rather than on need. Its vehicle: a newly-created social enterprise VacEquity Global Health.
GLOBAL MACRO-
Weakening USD sends investors flooding into EM currencies: Emerging-market currencies saw their best week in more than four years last week as the weakening USD sent investors storming into risk assets, Bloomberg reports. EM assets added at least USD 1 tn in value during the week as currencies joined a rally that had been spurred by stocks and bonds. EM equities added around USD 800 bn during the first four days of trading while bonds added USD 40 bn.
Uncertainty over trajectory of virus in Africa fails to dent exuberance: More than half of the top-performing developing-country bond markets this quarter are in Africa, where daily infection rates continue to climb. "[Investors] seem prepared to ignore rising cases in lower-income countries where ineffective lockdowns have been dropped," said Charles Robertson, global chief economist at Renaissance Capital
Global remittances could fall 20-30% this year -IIF: The flow of global remittances could fall between 20-30% this year as economies across the world enter simultaneous contraction, the Institute of International Finance has said. By comparison, receipts fell only 5% during the global financial crisis, suggesting that countries with high external funding needs such as Egypt, the Philippines and much of Central America could face pressure, the IIF said.
US policymakers need to act fast to prevent the economic crisis from further entrenching economic inequalities -El Erian: The economic damage wrought by the pandemic has overwhelmingly fallen on the poorest and most vulnerable communities in the US — if policymakers don't act decisively to ramp up contact tracing and expand welfare programs the US faces deepening economic, institutional and social instability, Mohamed El Erian and Michael Spence write in Foreign Affairs.
AND THE REST OF THE WORLD-
Protests against racial injustice and police brutality continued to flare up across US cities and European capitals: Thousands of protesters continued to peacefully gather calling for racial justice and police reform in major cities and small towns across the US, the Guardian reports. The UK, Italy, Spain, Belgium, Denmark and Hungary also saw demonstrations. Protesters toppled a statue of a colonial-era slave trader in Bristol and the defaced a likeness of King Leopold II statue in Belgium. South Korea, Australia and Japan saw gatherings fan out in city centers.
80% of Americans think their country is "spiraling out of control" and "voters by a 2-to-1 margin are more troubled by the actions of police in the killing of George Floyd than by violence at some protests," according to a Wall Street Journal / NBC News poll.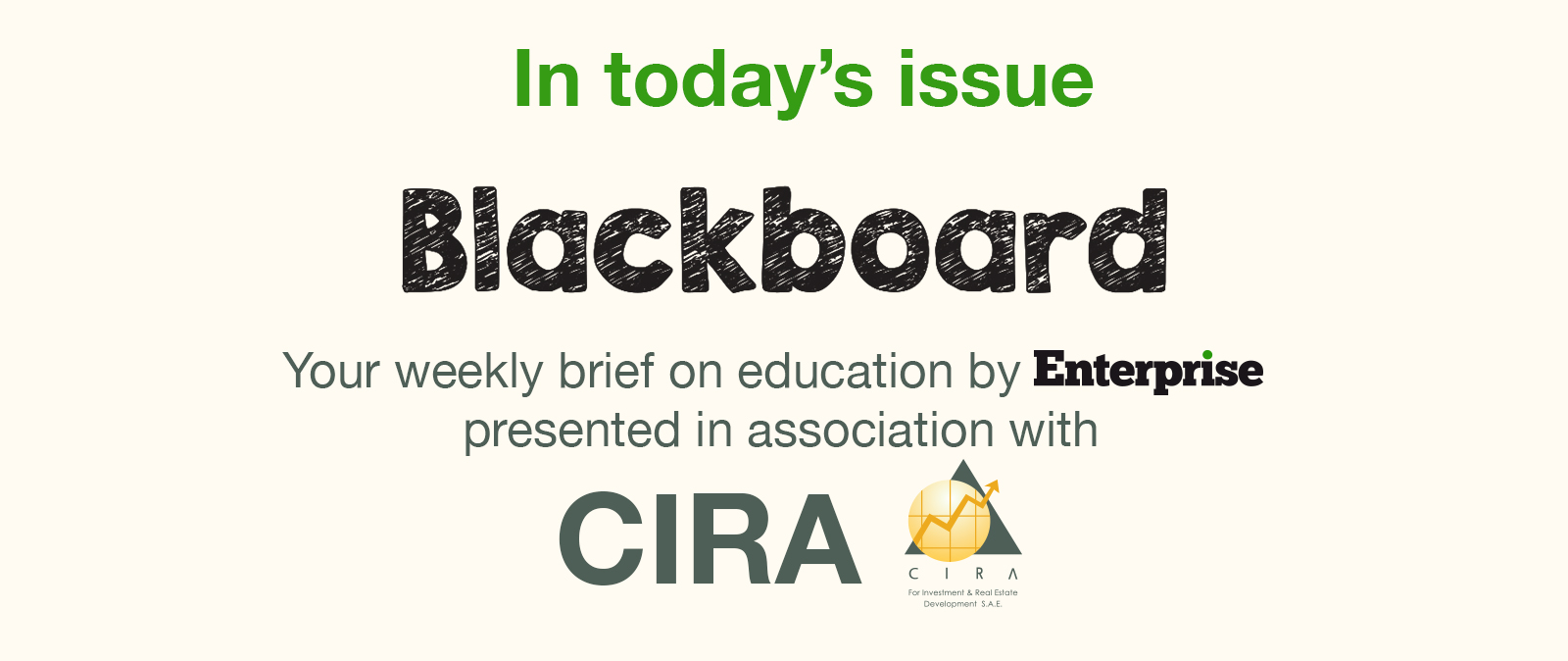 *** It's Blackboard day: We have our weekly look at the business of education in Egypt, from pre-K through the highest reaches of higher ed. Blackboard appears every Monday in Enterprise in the place of our traditional industry news roundups.
In today's issue: Should we care where Egyptian universities fall on global rankings of higher education?