Wednesday, 20 May 2020
What we're tracking on 20 March 2020
Well, it's official: Planet Finance has a full week off for Eid El-Fitr, just like the rest of the private sector. The Central Bank of Egypt made the announcement overnight in a terse, single-sentence statement that says banks are closed Sunday-Thursday, inclusive, and will reopen on Sunday, 31 May. The EGX will also close for the full week, it said in a statement (pdf) last night.
It's the longest shutdown of the banking sector that we can remember since 2011, when banks were closed for a week after the events of 28 January.
Also announced yesterday: Commercial flights are grounded "until further notice" and citizen-facing services will remain suspended for another 15 days after Eid, Cabinet said in a statement yesterday. Suspended services include the issuance and renewal of passports, visas and work permits.
We have the full rundown in this morning's Speed Round, below.
The shutdown comes as the Health Ministry announced 720 new cases of covid-19 yesterday, a new single-day record. Among the measures in effect next week as the Madbouly government looks to flatten the curve:
A 5pm-6am curfew from Sunday, moving to 8pm-6am on 30 May;
The closure Sunday-Friday, inclusive, of all malls and retail outlets other than pharmacies and grocery stores.
Separately, the CBE sent a strong signal yesterday as Governor Tarek Amer told state news agency MENA that the central bank will guarantee 80% of each loan banks make under the CBE's EGP 100 bn stimulus program for industry. Launched in December, the EGP 100 bn industry stimulus initiative provides subsidized loans with a declining 8% interest rate to medium-sized factories. The program was expanded to include agricultural companies in March and contractors last week.
---
** TODAY IS THE LAST DAY TO TELL US HOW COVID-19 IS IMPACTING YOUR BUSINESS.
We run an annual reader poll asking what you expect of business conditions and the economy in the year ahead. Covid-19 has us thinking that the results of
this year's survey
need updating. Take a minute and tell us how covid-19 has impacted your business, whether it's changed your outlook on the economy, and what you think of WFH.
We'll have the results for you immediately after the Eid.
NEED AN INCENTIVE? Five respondents will get an Enterprise mug and a bag of our own custom coffee from our friends at 30 North. Want to enter? Leave your name, title, company, email address and telephone number in the comments field at the end of the survey.
*** So, when do we eat? Maghrib prayers are at 6:45pm and you'll have until 3:17am to finish caffeinating. Fajr is coming one minute earlier every day through the end of the Holy Month.
COVID-19 IN EGYPT-
Egypt has now disclosed a total of 13,484 confirmed cases of covid-19 after the Health Ministry reported 720 new infections yesterday — topping yesterday's record by almost 200 cases. The ministry also said that another 14 people had died from the virus, taking the death toll to 659. We now have a total of 4,275 confirmed cases that have since tested negative for the virus after being hospitalized or isolated, of whom 3,742 have fully recovered. Reuters covered the story.
The latest high-profile cases: Former oil minister Sameh Fahmy has tested positive for covid-19, his brother said yesterday. Fahmy is currently receiving treatment at an isolation facility and his condition is said to be stable. Abdullah Montasser, head of the Supply Ministry's weights and measures authority, also contracted the virus, the authority said, according to Masrawy.
The government has cut the mandatory quarantine for Egyptians returning from abroad to seven days from 14, Al Masry Al Youm says, citing unnamed government officials. Travellers who test negative after a week will reportedly be released from quarantine on the condition they self-isolate at home for another seven days.
Egypt's courts will fully reopen on 13 June, the Justice Ministry said yesterday. Everyone in a court will be required to wear face masks and steps will be taken to ensure the headcount in court remains low, the ministry said in a circular to courts picked up by Al Shorouk. Some courts are currently convening only to issue final verdicts in major cases, while others are ruling on detention orders. Most are fully closed at present.
ON THE GLOBAL FRONT-
It's the World Bank's turn to bring the grim economic news this morning: World Bank president David Malpass warned yesterday that as many as 60 mn people will be forced into extreme poverty as a result of the global recession, the Financial Times reports. The bank is anticipating a 5% contraction in global output this year, significantly below the 3.8% forecast by the IMF last month.
There are early signs that Italy and Iran are already facing second waves of infections as each reported upticks in new infections.
What's up with the Great Lockdown in our part of the world?
The UAE will lengthen its curfew during Eid El Fitr by two hours to run from 8pm-6am instead of 10pm-6am, Bloomberg reports without citing a source for the news. Malls will be allowed to operate from 9am-7pm.
Turkey is locking down the country for the full Eid vacation and schools will not be back in session his academic year, Bloomberg reports. Mosques, however, will reopen on 29 May.
Pakistan is allowing retail outlets to reopen after a decision by its Supreme Court, the Wall Street Journal reports.
The Fed and the Treasury have different prognoses for the US economy: Fed chair Jay Powell and Treasury Secretary Steve Mnuchin yesterday offered competing visions for where the US economy is headed, disagreeing about whether fiscal stimulus will be necessary to prevent the country suffering an extended downturn. The story is leading the front pages of both the Financial Times and the Wall Street Journal this morning.
US President Donald Trump is threatening to "permanently" cut his country's funding for the World Health Organization (WHO) and is threatening to pull, claiming the institution has failed in its covid-19 response. The Donald's tantrum was promptly shut down by the other members of the organization, who decided instead to set up an "impartial, independent" investigation into the WHO's response, the New York Times reports.
AND THE REST OF THE WORLD-
The EU is threatening to get tough on Zuck: Facebook will face more regulation if the company fails to ease concerns over market power and data collection, EU Industry Commissioner Thierry Breton told Facebook CEO Mark Zuckerberg during an online debate this week, Bloomberg reports.
And Zuck is signalling that he wants to go after Amazon, saying yesterday that the Evil Empire is going to launch an online shipping platform. Facebook Shops would add a checkout feature for in-app purchases through Facebook and Instagram, building on the recent launch of limited shopping functionality on Facebook-owned Instagram and WhatsApp.
Climate risks haven't gone anywhere — the real question is how to price them into the market: Corporate green bonds marked record growth in 2019, reporting sales of over USD 217 bn but the figure is too small to address climate concerns on a global scale. Government-issued green bonds that account for future climate catastrophes may be a more effective way forward, Bloomberg suggests. Difficulties still stand in the way of appropriately pricing the cost of climate change through government debt instruments and "when markets find it difficult to price the risk, they just don't price it at all," said Shaun Roache, Asia-Pacific chief economist at S&P Global Ratings.
Saudi bn'aire businessman Sheikh Saleh Abdullah Kamel passed away at age 79, Al Arabiyah reported yesterday. Kamel was the owner of TV station Arab Radio and Television Network (ART) and a high-profile investor in Egypt. The longtime head of the Egyptian-Saudi Business Council, Kamel is perhaps best known for his Dallah Al Baraka Group, which invested across a wide range of sectors.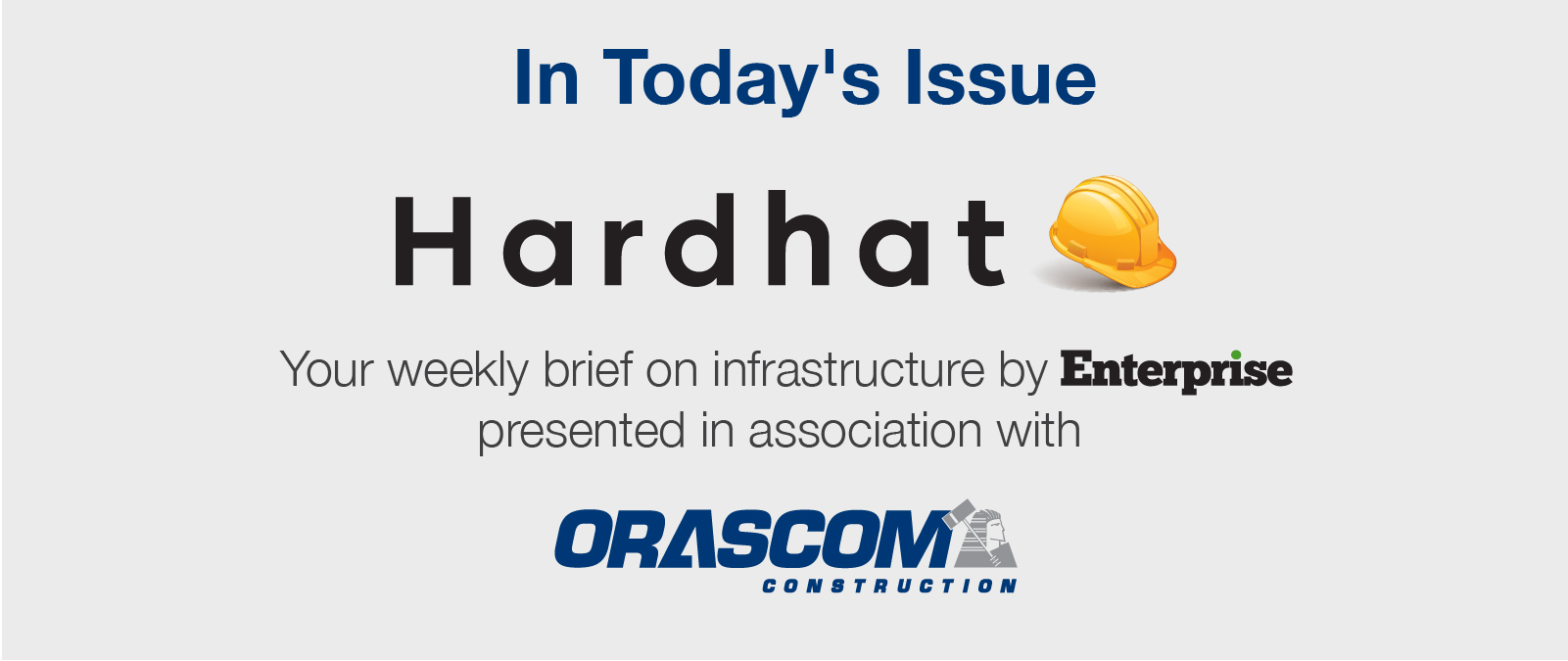 *** It's Hardhat day — your weekly briefing of all things infrastructure in Egypt: Enterprise's industry vertical focuses each Wednesday on infrastructure, covering everything from energy, water, transportation, urban development and even social infrastructure such as health and education.
In today's issue: It's part two of our three-part series examining how renewable energy in Egypt is likely to fare in these tumultuous times. This week: How will the oil shock impact investment in our renewables sector.