Wednesday, 29 April 2020
What we're tracking on 29 April 2020
A (potential) ray of sunshine? Okay, so what we're about to say is heavily caveated — we're not epidemiologists any more than your average VC bro who figures his understanding of "virality" means he can comment on virology. Moreover: These are just a couple of data points. And math is … hard. Especially in the pre-dawn hours. But:
It appears the rate of doubling of infections in Egypt may be slowing. It took 13 days for total cases to double to 5,042 yesterday — but only 10 days for them to double to 2,505 between 5 April and 15 April.
The rate at which deaths are doubling is just about unchanged: It took 12 days for deaths to double to 183 from 94 and then 13 days for them to double again to 359 yesterday — which follows the pattern globally of deaths being a "trailing indicator."
---
Thing we're pondering this morning #1- Why some countries have been ravaged by the coronavirus and others … simply haven't. start with How Portugal became Europe's coronavirus exception in Politico and then move on to 'Life has to go on': How Sweden has faced the virus without a lockdown in the New York Times. Cap it off with Low Covid-19 death toll raises hopes Africa may be spared worst in the Financial Times, which essentially boils down to (our summary): "Covid-19 hasn't yet messed up Africa. We don't know why. But it could."
Thing we're pondering this morning #2- Is the coronavirus going to accelerate the concentration of economic power in the hands of mega-corporations? The essential reading for starters: Investors think giant companies will dominate after crisis in the NYT.
Have we reached peak corona? Or at least peak 2020? Not in the epidemiological sense, but when this is a headline in the New York Times… Commissioner resigns after he threw a cat during Zoom meeting.
Also: There's never a bad time to read an interview with Stephen King — horror master, social observer and the most under-rated literary genius of our age (after, perhaps, John Grisham).
---
The markets today: Asian shares are largely in the green this morning, while futures point to a similar trend at the opening bell in Europe and the United States later today. The EGX30 climbed 0.4% yesterday in very heavy trading. The benchmark index is now down 25.4% since the start of the year.
So, when do we eat? Maghrib prayers are at 6:31pm and you'll have until 3:39am to finish caffeinating. Fajr is coming one minute earlier every day through the end of the Holy Month.
COVID-19 IN EGYPT-
Egypt reported on Tuesday its highest-yet single-day count of deaths and new infections. Egypt has now identified a total of 5,042 confirmed cases of covid-19 after the Health Ministry reported 260 new infections yesterday. The ministry also said that another 22 people had died from the virus, taking the death toll to 359. We now have a total of 1,669 confirmed cases that have since tested negative for the virus after being hospitalized or isolated, of whom 1,304 have fully recovered.
MPs are lobbying the Health Ministry to allow private labs to provide covid-19 testing under government supervision, according to Youm7. Our representatives' (very sensible) proposal is meant to widen the country's testing capacity — particularly for asymptomatic cases — since the ministry's testing is currently limited to symptomatic cases and contact tracing.
The Manpower Ministry is resuming the issuance of work permits for foreign residents, according to state news agency MENA. It will be issuing proof-of-employment documents and offering services for day laborers. The story does not make clear the date on which services resume.
You can renew your car license starting on Sunday, the Interior Ministry said yesterday as the Madbouly government continues to bring some citizen services back online. The move came after Traffic Police offices resumed issuance of new car licenses this week.
General Motors and Nissan Egypt are resuming operations at assembly plants now that new licenses are once again being issued., according to Al Mal.
MPs are suggesting summer vacations should be canceled for judges who they think should stay on the bench to address the backlog of cases that has accumulated since the beginning of the outbreak, according to Al Mal.
FinMin pushes start date of mandatory electronic payments for healthcare services: The Finance Ministry will allow citizens to pay for public healthcare services either electronically or in cash until the partial lockdown restrictions are lifted, according to a ministry statement. Under the Government Accounting Act, a ban on the use of cash or paper cheques for transactions above EGP 500 was set to come into effect on 23 April, but the ministry has decided to push the start date due to current conditions.
148 Egyptians were repatriated from Indonesia and Oman yesterday on an Air Cairo flight that landed at the Marsa Alam International Airport, Al Mal reports, citing Civil Aviation Ministry sources. A ferry has also transported 150 citizens from Saudi Arabia, while three other flights are due tomorrow to repatriate expats and travelers stranded in Oman, the Maldives, France, and Nigeria.
---
Egypt has access to more funding from multilateral lenders if we need it, says Al Mashat: The European Investment Bank is ready to ramp up its lending to Egypt's banks and private sector, particularly those in the pharma sector, International Cooperation Minister Rania Al Mashat said, according to a cabinet statement. The minister also noted the European Bank for Reconstruction and Development has expanded its short-term liquidity funding package for its Southern and Eastern Mediterranean countries (including Egypt). Al Mashat's statement comes after the government announced it is formally seeking a funding package from the IMF, which the minister said at the time is the most cost-effective option on the table since it's from a multilateral lender.
Egypt's VC outfits put new investment on ice: Egypt's venture capital funds are riding out the corona crisis by shoring up their companies and holding off on new investments, Zawya reports. Algebra Ventures and Himangel are both focused on protecting existing investments and don't anticipate any new transactions for at least a few months.
But industry leaders are cautiously optimistic about a tech-led rebound: Algebra Ventures founding partner Ziad Mokhtar believes that tech startups will end up benefiting from an influx of talent from hard-hit corporates and recent changes to consumer behavior. With all its downsides, Mokhtar expects the crisis to boost the digital economy and speed up "migration to digital platforms."
The Alexandria Business Association is asking its members on the impact of covid-19 is having on their businesses and their outlook for 2020. The questions they are asking are intended to identify the challenges Egyptian business may face as a result of covid-19 crisis and their needs to survive until the end of 2020. Want to give the ABA your two cents? You can find the questions here.
Our friends at AmCham are out with three new research notes on how the pandemic is affecting the Egyptian economy and how the government has responded: Egypt's Policy Responses to Covid-19 | An Overview of Sectors at Risk | Impacts on Egypt's Transportation Sector.
AmCham is also hosting a series of webinars on covid-19 over the next few weeks, starting with a webinar on Sunday, 3 May on international finance institutions' support for countries to navigate the pandemic. The webinar will feature: Khalid Hamza (deputy head of the EBRD's Egypt office), Marina Wes (World Bank country director), Walid Labadi (IFC country manager), Sherry Carlin (USAID mission director) and Denys Denya (AfreximBank executive vice president).
DONATIONS-
Bel Egypt, La Vache Qui Rit's parent company, is donating EGP 4 mn for day laborers through the Egyptian Food Bank and Resala, according to Hapi Journal. The company has also committed to contributing a portion of La Vache Qui Rit's revenues for the next two months to support day laborers and is teaming up with Al Shifa Bank to cover respirator maintenance costs at quarantine facilities.
ON THE GLOBAL FRONT-
Dubai is hoping to reopen for tourism in early July, the director of its principal tourism authority told Bloomberg. The move comes amid analyst expectations that the emirate could be particularly hard hit by fallout from the coronavirus.
Saudi Arabia has drawn down on its reserves at the fastest pace in 20 years, "showing the severity of the damage inflicted on public finances by the slump in oil prices," Bloomberg reports.
Uber could be laying off as much as 20% of its full-time workforce, letting go of up to 5.4k of its 27k employees, The Information reports in an exclusive. "The ride-hailing provider's core business in recent weeks is down about 80% compared to the same period last year as widespread stay-at-home orders have wiped out demand for its services," the tech-focused publication writes.
British Airways is about to lay off 30% of its workforce, saying the aviation industry is "several years" away from recovery, the FT writes.
The pandemic has postponed the implementation of the African Continental Freetrade Agreement (AfCFTA) from the original date of 1 July over covid-19 disruptions, AfCTA secretary General Wamkele Mene said during a press conference, according to Reuters. Once active, the agreement could potentially unlock USD 3 tn-worth of growth across the continent and increase intra-African trade by 52.3%, while also drawing more foreign direct investment.
---
Does economic fallout mean deflation…? The collapse in consumption demand in the US means that the Fed's ongoing Open Market Committee meeting could see discussion of a disastrous scenario in which prices could actually start falling, according to the Financial Times. Deflation or very low inflation "is the clear call for the next 18 months," the FT quoted chief US economist at TS Lombard as saying.
… or inflation? A contrasting piece from Axios notes that the real concern is potentially accelerating inflation, which could force the Fed to raise interest rates, and lead to an equally problematic situation of stagflation, in which prices still increase despite a recessionary environment.
---
More banks and corporates were out with 1Q2020 earnings in this closely watched reporting season:
Black swan funds up nearly 60% in rare chance to thrive: Funds that seek to profit from crises — so-called black swan funds — have gained 57.2% so far in the year, but the party is a "rare chance," says the FT. The hedge funds, which hunt for surprise major events that cause "markets to crumple," are still down by an average 24% from 2008 to today, despite having three crises to profit from since then, notes the salmon-colored paper.
---
EGYPT BEYOND COVID-
The House of Representatives has a busy schedule ahead next week:
State of emergency hearing: Prime Minister Mostafa Madbouly will address the House on Sunday to justify his government's three-month extension of the state of emergency, according to Al Shorouk.
State budget: The House Planning and Budget will begin its discussion of the draft FY2020-2021 state budget on Sunday, according to Youm7. You can refresh your memory on the key parts of the budget here, here and here.
Unified Tax Law: The House Planning and Budgeting Committee will continue discussing the Unified Tax Law, which would create a single platform for filing income tax, stamp tax and VAT returns, sometime next week, according to Al Mal.
The government has purchased some 578k tonnes of wheat from local farmers since the beginning of the harvest season on 15 April, the Supply Ministry said yesterday. The ministry expects to harvest 3.6 mn tonnes of the crop this season.
---
AND THE REST OF THE WORLD-
Libyan National Army chief Gen. Khalifa Haftar and his forces moved to take control of the country on Monday, with Haftar saying he was accepting a "popular mandate" to rule, Reuters reports. Haftar and the LNA, supported by Egypt, Russia and the UAE, have for years been in conflict with the internationally recognized Government of National Accord (GNA), with Libya split into areas controlled by the GNA in Tripoli and the northwest and areas held by the LNA in Benghazi.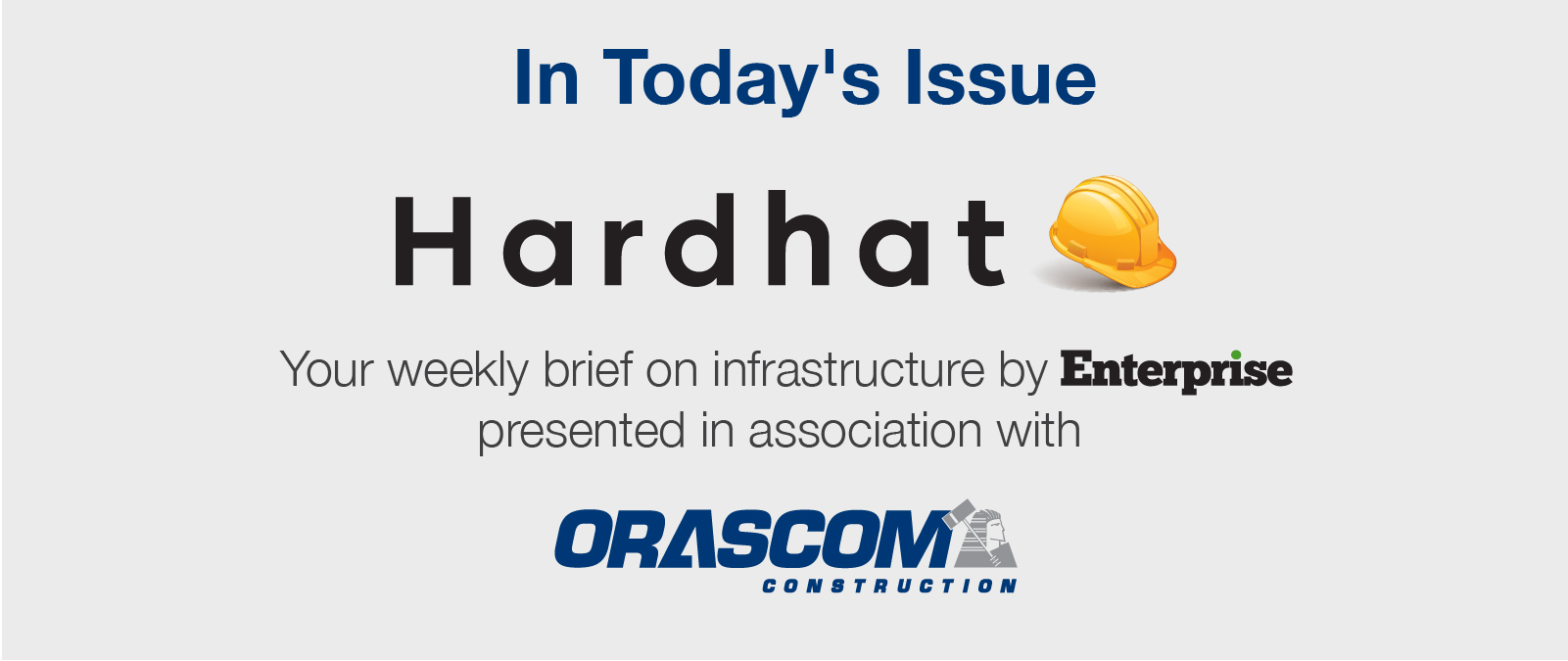 *** It's Hardhat day — your weekly briefing of all things infrastructure in Egypt: Enterprise's industry vertical focuses each Wednesday on infrastructure, covering everything from energy, water, transportation, urban development and even social infrastructure such as health and education.
In today's issue: We look at how the covid-19 crisis is impacting infrastructure-related and dependent startups. While the crisis has been a shot in the arm (no pun intended) for businesses turning to digitization, we're noticing that startups in the infrastructure sphere that are succeeding are the ones that are minimizing reliance on physical infrastructure and personal interactions.