Wednesday, 15 April 2020
What we're tracking on 15 April 2020
A gun battle with alleged terrorists in the capital city and the IMF's warning that we're heading into the worst thing since the Great Depression. That's how we start this next-to-last business day of the week, friends.
One good thing: Egypt will be the only MENA economy to (just barely) grow this year, lender predicts. We have chapter and verse in this morning's Speed Round, below.
Not enough for you? Scientists are pouring cold water on the notion of "immunity passports," saying it's still an open question whether survivors of covid-19 are really immune. The two key things that need to be sorted out: "How long do antibodies to SARS-CoV-2 remain in the body, and for how long do they prevent reinfection, if at all?"
Oh, and the nice people at the New York Times' editorial board think the global crisis is going to get "much, much worse" — a piece that isn't off-base in its worries, and that includes the board's first gratuitous swipe at Egypt in a while (you know, just to round things out).
That four-day long weekend? Can't come fast enough.
(Frivolous, momentary antidote to the stuff above: The night shift here at Enterprise is solidly Team Dog. But after we posted to our Slack this , the day shift (which is apparently Team Cat) insists you should all know about the superiority of cats at navigating obstacles.)
---
The outlook for markets today: Shares in Japan, China and Hong Kong opened the day in the red, with only South Korea bucking the trend. Futures point to a lower opening in the United States as well as in most European markets.
The EGX30 closed up 1% yesterday in heavy trading, with shares worth EGP 1.5 bn changing hands, about 137% above the trailing 90-day average. The benchmark index is now down 25.1% for the year.
COVID-19 IN EGYPT-
Egypt now has 2,350 confirmed cases of covid-19 after the Health Ministry reported 160 new infections yesterday, the highest daily report of new cases here since the outbreak began. The ministry also said that another 14 people had died from the virus, taking the death toll to 178. We now have a total of 683 cases that have since tested negative for the virus after being hospitalized, of whom 514 have fully recovered. Statistics show that we have 21 positive cases for each 1 mn Egyptians, while the death rate is two per 1 mn, which is a lower ratio than most European countries, Health Minister Hala Zayed said.
The Health Ministry has launched its Health of Egypt app for Android. The app can alert users if they are approaching a location where there was previously a covid-19 patient, according to a cabinet statement. You can download the app here.
Authorities have sealed off a second village in Gharbia after 18 residents tested positive for covid-19 and one died. Saft Torab is just across the street from Al Hayatim, which was sealed off for two weeks last month, according to El Watan.
Egyptian research shows Avigan could be effective treatment for covid-19: Research conducted by Egypt's National Research Center is confirming suggestions that Japanese influenza med Avigan could be an effective treatment for the virus, director Mohamed Hashim said, according to Al Shoruouk. Avigan is one of 70 meds the center has been testing for their impact on covid-19. Japanese Prime Minister Shinzo Abe has recently promoted Avigan, which was produced by the conglomerate Fujifilm, as a treatment for the virus.
Two workers tested positive for covid-19 at Lecico Egypt's ceramic factory in Borg Al Arab, prompting the company to close the facility for two weeks, according to a disclosure (pdf). The company has also asked staff employed at the facility to self-isolate at home for the two-week period until operations resume.
Mwasalat Misr, the provider of higher end mass transport, is seeking financial support from the Public Transport Authority, saying that the nighttime curfew has pushed down demand for the company's bus services by 95%, CEO Hisham Taha said, according to the local press. The company has also scaled back its operations to one shift per day instead of two, Taha said.
Car dealerships have proposed that newly sold cars be issued with temporary commercial plates as the suspension on issuing licenses hits the sector hard, Al Mal reports.
Work on the Grand Egyptian Museum is ongoing despite the covid-19 restrictions, cabinet said. The museum was due to open at the end of this year, but President Abdel Fattah El Sisi earlier this month postponed its inauguration to 2021 due to the pandemic.
Hotel management companies chasing down receivables owed by local tour operators, having not received any payments since the end of December. Outstanding dues have by some estimates reached between EUR 500k and EUR 4 mn, according to sources operating in the Red Sea hospitality industry who spoke with the local press.
Falak Startups is offering EGP 1 mn in direct investments and technical support to help startups survive the crisis, according to Disrupt Africa. The Egypt-based accelerator is prioritizing startups in the fields of e-health, fintech, logistics, 3D printing, remote work and ed-tech by providing advice on running their businesses, raising finance and marketing, in addition to the funding.
DONATIONS-
State raising funds to support day laborers: The government has launched a new platform, Ahalena, through which businesses and individuals can donate to support day laborers, according to a cabinet statement. Donors will have the option of contributing funds online or via text.
Orange Egypt set up full connectivity including 4G services to support patients and staff at a new 600-bed quarantine facility in cooperation with Ahl Misr Development Foundation, the company said in an emailed statement (pdf). The facility will be inaugurated in the coming days; Orange set up the entire connectivity project in less than 24 hours. Separately, Orange Egypt has enhanced connectivity at other covid-19 facilities to ensure that patients and medical staff can stay in contact with their families.
Correction: An earlier version of this story incorrectly suggested Orange Egypt had converted one of its own buildings into a facility. It has in fact worked with Ahl Misr on an entirely separate building, not one owned by Orange Egypt. We regret the error.
The Federation of Egyptian Industries' cereals division has donated EGP 1 mn to the Tahya Misr Fund, according to Ahram Gate.
Bank Audi Egypt has donated EGP 20 mn as part of the Federation of Egyptian Banks initiative to raise EGP 150 mn, according to Hapi Journal.
ON THE GLOBAL FRONT-
To re-open or not to re-open, that is the question: As some countries extend their lockdowns into May, others are (very) tentatively reopening their economies:
Saudi Arabia is scrambling to contain the virus in Mecca, where a large number of cases have cropped up as the infection spread among workers in dense labor camps, Bloomberg reports.
The White House has suspended American funding to the World Health Organization while the US conducts a review of how the institution has responded to the coronavirus. The Donald says the WHO made mistakes that "caused so much death."
GLOBAL BUSINESS + ECON FALLOUT-
MUST-READ- The always-on-point Mohamed El Erian suggests economists and markets are still too bullish. In a piece for the Financial Times, the markets sage suggests that while consensus is shifting from the early, optimistic view that we could see a V-shaped recovery to the more reasonable expectation of a big second quarter contraction followed by a gradual recovery, that's still too bullish. Optimists are underestimating the severity of the shutdown and the "inherently messy" recovery process. Unfortunately, that sounds just about right to us.
US markets (surprisingly) were in the green by closing bell yesterday, despite dismal earnings reports from big banks. The uptick was buoyed by investor optimism that the economy reopening is on the horizon — and traders already knew banks would not be turning in handsome earnings reports, the Wall Street Journal says. The Dow Jones was up 2.4%, the S&P 500 closed up 3.1%, and the Nasdaq was up 3.9%.
The first three big outfits to report their 1Q2020 earnings and essentially quantify the economic fallout from the covid-19 pandemic:
Wells Fargo (pdf) reported its first-quarter profits freefalling 89% to USD 653 mn, compared to USD 5.86 bn for the period last year. The bank has set aside bns to cover potential losses on loans to covid-hit borrowers.
JPMorgan Chase (pdf) saw its 1Q2020 profits dropping 69%, which Bloomberg notes is its lowest in six years, citing surging credit costs. The decline in profits was offset to a certain degree by its trading business.
Johnson & Johnson (pdf) had a much better showing than banks, with profits shooting up on the back of over-the-counter sales spurred by covid-19. The healthcare company still adjusted its outlook for the rest of the year as its medical device sales took a hit.
---
Is venture capital bucking the trend of the economic downturn? 62 venture capital funds raised USD 21 bn in the US in 1Q2020 alone, according to a report by PitchBook and the National Venture Capital Association carried by Bloomberg. Success is uneven, however, with established funds faring much better than those new to the scene, and so-called megafunds making up about half of the total raised. VC investments in health related companies — including pharmaceuticals and biotech — are up at nearly USD 5.7 bn this year, and indicate the sector's growth as an investment area. They still fall behind total investments in software companies, however, which stand at USD 9.9 bn.
US hedgies think they should qualify for small-business bailouts. We'll leave it to Bloomberg: "Ironically, hedge funds are designed to employ as few people as possible so star traders don't have to share millions of dollars in fees. The industry gets its name from the premise it can generate gains even when markets fall."
The Kuwait Stock Exchange's share listing has been postponed due to government restrictions on work hours, according to Kuwait News Agency. Shares were initially scheduled to be listed on 19 April but have been postponed due to the "extraordinary circumstances" caused by the coronavirus.
Airline passenger revenues will plunge 55% in 2020 if domestic flight restrictions are maintained for three months and some international flights are suspended beyond this period, according to figures released yesterday by the International Air Transport Association (IATA). This equates to USD 314 bn in lost revenue for airlines around the world. The IATA warned that Egypt's airlines could lose USD 1.6 bn in revenues earlier this month.
---
The Saudis are keeping their taps open until the OPEC agreement kicks in next month, swelling stockpiles for at least two more weeks, according to Bloomberg. The kingdom exported 9.3 mn barrels a day in April so far and still has 10 supertankers with 20 mn barrels in pre-loading at a Saudi port signalling they were not bluffing when Aramco pledged to bring crude production to 12.3 mn barrels a day. Saudi should, however, cut production to 8.5 mn barrels in May and June as per an OPEC+ agreement signed earlier this week.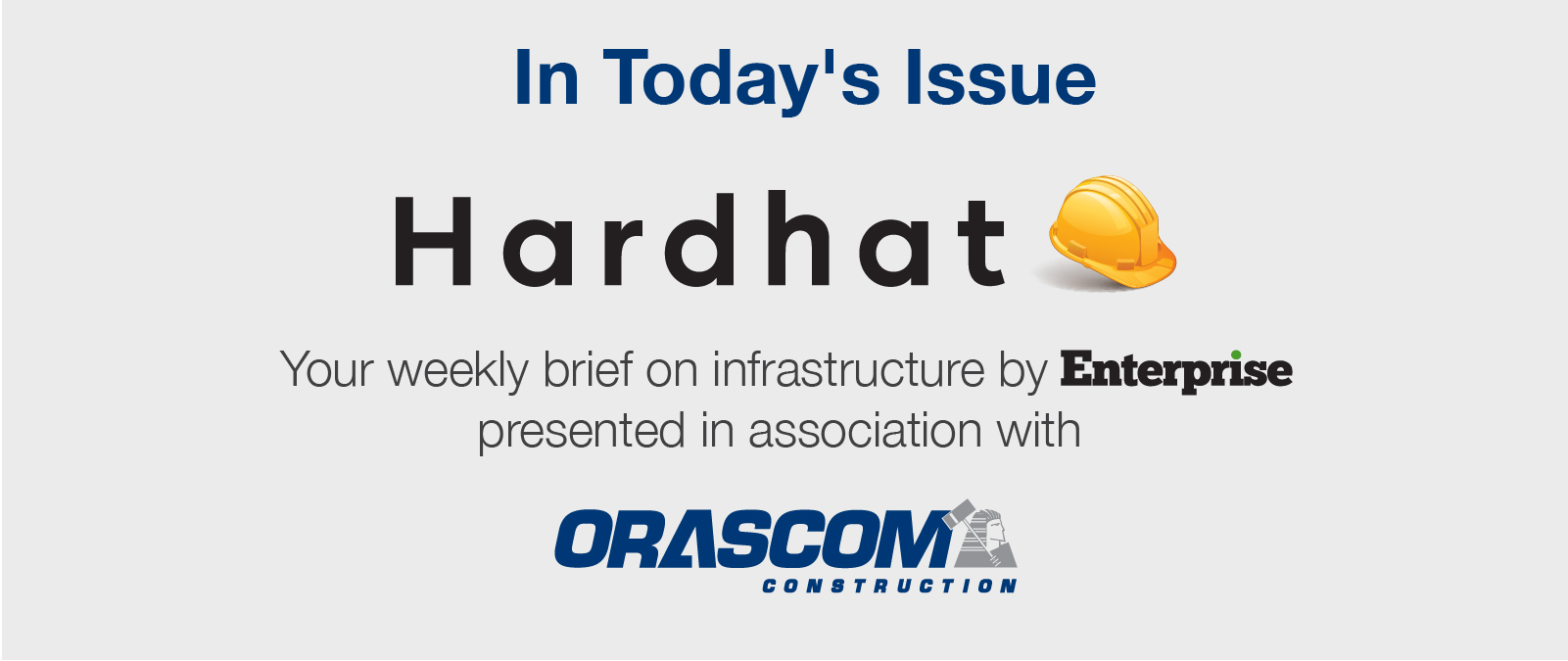 *** It's Hardhat day — your weekly briefing of all things infrastructure in Egypt: Enterprise's industry vertical focuses each Wednesday on infrastructure, covering everything from energy, water, transportation, urban development and even social infrastructure such as health and education.
In today's issue: We look at why Egypt's ports haven't seen a decline in activity despite the drop in global trade brought on by covid-19.