Monday, 13 April 2020
What we're tracking on 13 April 2020
Good morning, friends. Only four more days until our four-day weekend. Banks and the stock exchange are closed on Sunday in observance of Coptic Easter, while Monday is a national holiday for Sham El Nessim.
STORY OF THE MORNING: Saudi Arabia, Russia, and the US have officially put an end to the oil price war after reaching an agreement that would see a multinational coalition cutting output to put a floor under falling prices. Agreement to end the Saudi-Russian price floor came after US President Donald Trump intervened to resolve a standoff between Saudi and Mexico over the extent of the cuts. Under the new agreement, 23 oil-producing countries will withhold a total of 9.7 mn bbl / day from global markets. Brent crude was up 4.2% on the news overnight at dispatch time.
The story dominates the front page in the global press: WSJ | FT | NYT | CNBC | Reuters | Bloomberg.
---
The oil pact wasn't enough to distract investors from worries that this coming earnings season will be one of the worst in a generation, the global business press suggests. Futures point to a lower open tomorrow for US shares (markets are closed today for Easter Monday), while stocks in Japan, China, and South Korea started the trading week this morning modestly in the red.
Companies in Egypt have an extra month to disclose 1Q20 earnings after the Financial Regulatory Authority (FRA) said companies could have until 15 June. What's more, companies won't have to conform with IFRS 9 and IFRS 15 until the end of the year, according to an FRA decision yesterday carried by Hapi Journal.
Egyptian companies will soon be required to disclose what covid-19 means to their financials, the newspaper reports, as the regulator strikes a sensible middle ground: Give companies a bit more time, but prompt them to be as transparent with investors as possible under the circumstances.
Across the pond: Banks and healthcare companies are first up in the US: JPMorgan, Wells Fargo and Johnson & Johnson will all report first quarter earnings tomorrow, with Citi, Bank of America, Goldman and UnitedHealth following on Wednesday.
Over in Europe, luxury-goods company LVMH, chipmaker ASML Holding and cosmetics giant L'Oreal will release figures this week before reporting moves up a gear next week.
"Looming," "terrible" and "brutal" are all words being used by the global financial press to describe the coming earnings season:
Global investment banks could see their profits completely wiped out during the first quarter — and that's apparently the best case scenario, according to a report published by Oliver Wyman and Morgan Stanley picked up by the Financial Times.
Forecasts for the auto, aviation and oil sectors have been cut dramatically, pushing down average earnings for S&P 500 companies down 10% year-on-year, according to estimates.
Tech earnings are almost impossible to predict as supply chains in some parts of the world return to normalcy but global demand falls.
The EGX30 fell 0.8% in yesterday's trading session as regional and foreign investors sold. Leading the decliners yesterday were EFG Hermes (down 3.8%), Emaar Misr (-3.7%), and Palm Hills (-3.5%). Trading was anemic on a holiday long weekend for western investors, with total turnover of EGP 480 mn, 22% below the 90-day trailing average. The EGX gained 9.2% last week in four consecutive sessions.
---
THINGS TO KEEP YOUR EYE ON-
The House of Representatives will discuss real estate tax exemptions on 29 April, the local press reported yesterday. The measures are part of the government's program to support businesses hit by the economic fallout from measures taken to contain the spread of covid-19.
The community is waiting for specifics on the corporate income tax relief announced last week by President Abdel Fattah El Sisi. The measure would allow companies to pay income taxes for FY2019 in installments through 30 June, and we're told companies can expect to have to pay in three equal installments at the end of April, May and June. Policymakers are not planning to extend deadlines for remittance of VAT, wage tax or any other levy, we're told.
---
COVID-19 IN EGYPT-
Egypt now has 2,065 confirmed cases of covid-19 after the Health Ministry reported 126 new infections yesterday. The ministry also said that another 13 people had died from the virus, taking the death toll to 159. We now have a total of 589 cases that have tested negative for the virus after first testing positive and being isolated or hospitalized, of whom 447 have fully recovered.
The Armed Forces began yesterday handing out face masks to citizens without charge in Cairo's major squares, metro and railway stations, according to a statement. Military-owned companies have ramped up daily output of masks to 100k units.
The Council of State (Maglis El Dawla) is postponing all of its sessions until 23 April, according to Al Shorouk. Judges and employees will still be required to tend to administrative work.
Al Azhar issued a decree outlining burial and mourning rites for covid-19 victims through its electronic center for digital fatwas. The religious authority said funeral prayers are not required to be carried out at mosques and can take place at hospitals, onsite at graves, and in open spaces.
---
BUSINESS IMPACT IN EGYPT-
The near-collapse of the automotive market is expected to hit the industry for months to come, says Kayan Egypt CEO Karim El Naggar, according to Hapi Journal. Naggar says sales have come to a complete halt and repair services are operating at 40% capacity. Modern Motors has also cut back on production at its Suzuki minibus facility in light of the slowdown, company head Mohamed Yunis said in a Hapi Journal report.
AmCham's take on covid and the economy + the administration's stimulus measures: Our friends at AmCham are out with a new report on how the pandemic will affect each sector of the Egyptian economy and a run-down on the details of each stimulus measure rolled out by the government to support businesses. Read the full report here (pdf).
Egypt is set to make a "robust" economic recovery by 2021, the director of the North Africa Office of the United Nations Economic Commission for Africa, Khaled Hussein, told MENA. Hussein lauded the state's stimulus package and said that Egypt's recent growth rates and its robust infrastructure make it well positioned for a rapid economic recovery next year.
City Stars Mall reopened yesterday after a two-week closure that began on March 25 for all retail outlets, according to Al Mal. Commercial tenants at the mall have been granted a rent holiday throughout the duration of the closure. Only banks, supermarkets, and food delivery were permitted during the closure.
DONATIONS-
The 22 banks comprising the Federation of Egyptian Banks will donate EGP 660 mn over a period of three months in coordination with the Central Bank of Egypt and the Planning Ministry, according to Al Mal. The amount each bank is donating has been determined based on their profits last year.
Cleopatra Hospitals Group is donating EGP 10 mn, according to the local press.
Al Yassin Holding chairman Yassin El Shokery donated EGP 7 mn, including EGP 5 mn to support day labourers workers through the Tahya Misr Fund, EGP 1 mn to Al Azhar's Zakat and Charity House, and EGP 1 mn to support the poor families, according to a cabinet statement.
Palm Hills has handed over to the government a fully equipped 200-room hotel to be used as a quarantine center, Chairman Yassin Mansour said, according to a cabinet statement. The company is also donating EGP 5 mn to the Health Ministry and will cover the needs of 10k vulnerable families impacted by the pandemic.
---
ON THE GLOBAL FRONT-
Covid-19 cases appear to be slowing in some of the hardest hit European countries, the WHO said, but the organization has called on countries to think about ongoing containment before they lift lockdown restrictions to avoid a second wave of infections, CNBC reports. The WHO is also worried about the rapid acceleration of cases in Africa.
Parts of the US may be able to ease emergency measures in May, but there won't be a "light switch" moment where everything simultaneously starts up again, Anthony Fauci, director of the National Institute of Allergy and Infectious Diseases, told CNN yesterday. Fauci advocates a slow and cautious approach to reduce the likelihood of a covid-19 rebound — which could happen in the fall in any case, Bloomberg reports.
UK Prime Minister Boris Johnson has left hospital and is on the road to recovery, after a worrisome stint in intensive care for persistent covid-19 symptoms, the BBC reports.
---
SUPPORTING BUSINESS + EMPLOYEES-
US lawmakers are similarly exploring ways for the federal government to ensure private sector salaries amid unprecedented layoffs, according to the Wall Street Journal. The proposals would be a sharp expansion beyond the paycheck protection program already enacted as part of the US response.
Qatar has earmarked USD 820 mn for a support fund to pay the salaries of private companies for up to three months, according to Bloomberg.
Arab countries have dished out a combined USD 180 bn in covid-19 stimulus packages, equivalent to 9.5% of their total GDP, the Arab Monetary Fund (AMF) said in a research paper (pdf). Growth rates for Arab countries in 2020 are set to be cut by half, the AMF said, but could recover next year if the impact of the pandemic is confined to 1H2020. A lasting crisis could pave the way for recession, it warned.
---
MARKETS + MACRO-
Equity and high-yield debt investors should be cautious about false dawns in the markets and expect a "lopsided recovery" from one of the greatest economic shocks in living memory, Michael Mackenzie writes for the FT. Although last week was by far the best for global markets since covid-19 hit, investors shouldn't underestimate "second- and third-order effects on growth" such as "rising unemployment, falling capital expenditures and tighter financial conditions," Anrea Cicione of London-based research house TS Lombard said.
Debt payments by countries in the global south should be canceled this year, argues the Jubilee Debt Campaign, as data shows that 64 out of 121 low and middle-income countries surveyed spent more on debt servicing than public health in 2019, the Guardian reports. This is before covid-19 compounded existing pressure, with the economic fallout including plummeting commodity prices and remittances, substantial capital flight, and increased borrowing costs. The question of debt relief will be discussed in a series of virtual meetings this week between G20 finance ministers, the World Bank and the IMF.
Six Egyptians made the Forbes list of World's Richest Arabs 2020: Nassef Sawiris tops the list of 21 bn'aires with a net worth of USD 5 bn, followed closely by Mohamed Mansour at #4 and Nassef's brother Naguib at #6. Yassin and Youssef Mansour came in at #7 and #13, and Mohamed Al Fayed was rated #15 with a net worth of USD 1.4 bn. Forbes noted that the covid-19 pandemic's hit to the global economy affected number of bn'aire on the list as well as their total wealth.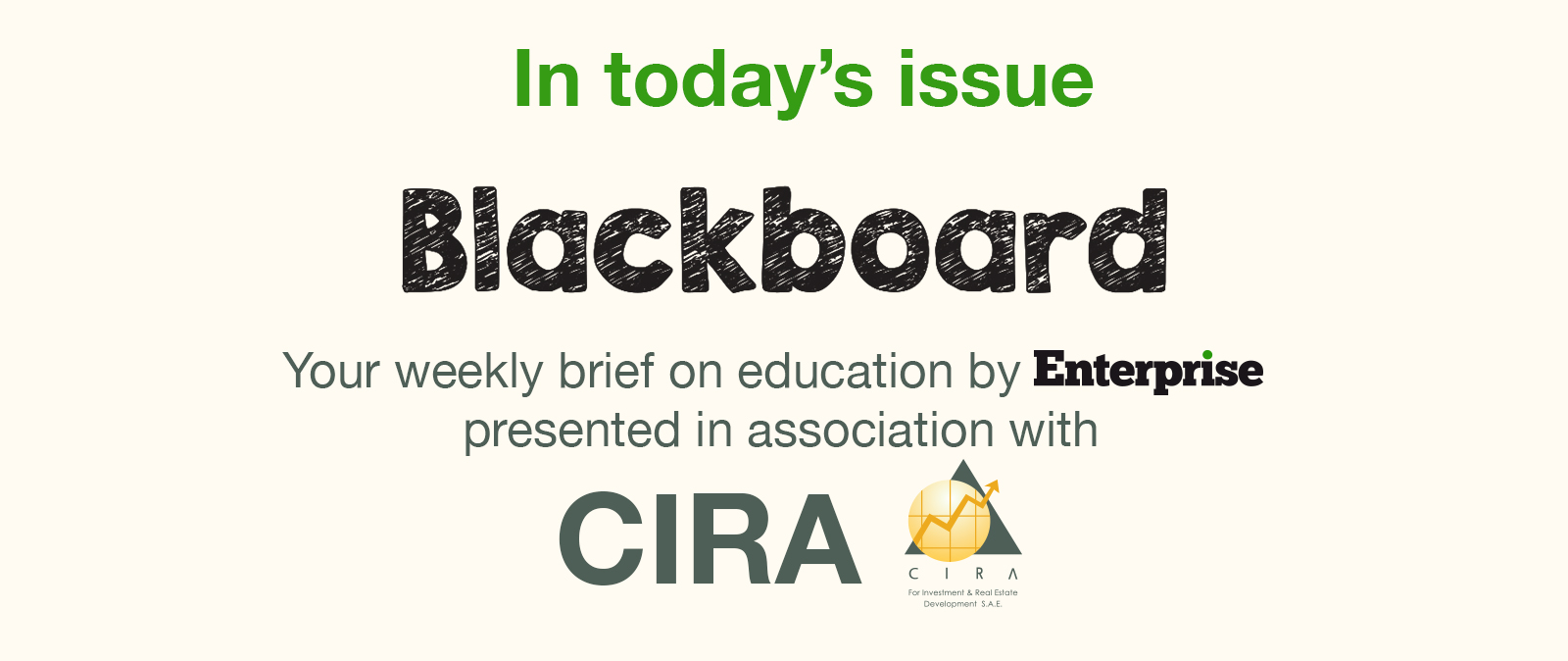 *** It's Blackboard day: We have our weekly look at the business of education in Egypt, from pre-K through the highest reaches of higher ed. Blackboard appears every Monday in Enterprise in the place of our traditional industry news roundups.
In today's issue: We look at an emerging dispute over tuition relief between parents and private schools that teach the national and national language curriculums. Parents want 15% of total tuition to be deferred, refunded, or counted towards upcoming tuition hikes. Schools are saying the move could put them and teachers' jobs at risk.