Monday, 23 March 2020
What we're tracking on 23 March 2020
Egypt now has 327 confirmed cases of covid-19 after 33 new cases, all Egyptians, were reported yesterday by the Health Ministry. Four more people are confirmed to have died of the disease — all aged between 51 and 80 years old — bringing the death toll to 14. A total of 56 patients are now reported to have fully recovered, while others seventy-four now appear to be on the path to recovery after having tested negative for the virus that causes covid-19.
Nearly every governorate now has covid-19 cases: Cases have been reported in 24 of the nation's 27 governorates, Health Ministry spokesman Khaled Megahed told El Shorouk yesterday.
Egypt sees first high-profile casualty of covid-19: Maj. Gen. Khaled Shaltout has died after contracting the virus while helping with sterilization efforts in Minya Governorate, the Armed Forces said in a statement, Al Masry Al Youm reports. The Associated Press also picked up the news, which led the news last night (watch, runtime: 1:03).
The president speaks on covid-19: President Abdel Fattah El Sisi gave his first televised address on the state's efforts to combat the virus during a meeting with cabinet members yesterday (watch, runtime: 48:06).
El Sisi announced a stimulus and bailout package worth nearly EGP 100 bn as Egypt manages fallout from the global and domestic spread of the covid-19 virus:
The Central Bank of Egypt will allocate an unprecedented EGP 20 bn to support the stock exchange (See detailed coverage in Speed Round below);
EGP 27.6 bn will be disbursed to 2.4 mn families, totaling some 10 mn citizens. The funds could be disbursed "possibly within weeks," Al Masry Al Youm reports Social Solidarity Minister Neveen Qabbaj as having later said. The funds will be funnelled through an amendment to the recently ratified Social Security and Pensions Act that will allow pensioners to add the previous five raises to their pensionable pay under the new law (approved in principle) at 80% of their basic wages.
The CBE's EGP 50 bn tourism bailout fund earmarks for impacted hotels;
Implementation of the tax on agricultural land will be suspended for two years. Policymakers had been on track to bring it into effect in July of this year after imposing a three-year suspension back in 2017.
Annual raises for pensioners will be 14% starting next fiscal year.
El Sisi stressed that Egypt is not past the worst of the crisis and vowed that the Health Ministry and the Armed Forces' chemical warfare and sanitation crews will be doing more in the coming days. He thanked citizens for their steadfastness in enduring hardships from the country's economic reform plan, saying the country would not be in a position to cope with covid-19 had the reform package not been enacted..
Social media sites are humming with commentary on the virus and Egyptians are maintaining a good sense of humor, El Sisi said. He called on citizens, however, to maintain discipline and abide by the state's precautionary measures, sta: home where they can and work hand-in-hand to prevent "great losses." He said that the state was dealing with the contagion according to World Health Organization's guidelines and thanked Egypt's heroic medical doctors. He added that closing down houses of worship was "a given" under the circumstances and added that his administration was committed to being transparent with the public about the crisis.
---
COVID-19 IN EGYPT-
Will the suspension of international flights to and from Egypt be extended? An extension to the two-week flight ban has been floated for the first time after tourism chamber head Hossam El Shaer told El Kahera Alaan's Lamees El Hadidi last night that the Civil Aviation Ministry could move to delay the resumption of flights (watch, runtime: 04:51). The government halted all inbound and outbound passenger flights last Thursday in a bid to contain the spread of covid-19. Flights are due to resume on 31 March. We have more on El Shaer's interview in Last Night's Talk Shows, below.
Lower energy costs for industry will go into effect in bills for March 2020, Al Mal reports, citing unnamed sources.
Folks feeling the pinch of credit card debt can reach out to their bankers for help: The Central Bank of Egypt's (CBE) decision to postpone interest payments on bank loans also applies to payments on credit cards as well as personal car and home loans, the CBE said in a circular to banks (pdf). CBE Governor Tarek Amer said last week the central bank is extending the tenor of all bank loans for a period of six months, after it enacted an emergency 300 bps rate cut to shield the economy from the covid-19 outbreak.
No commission on local transfers: In another bid to support customers, the CBE ordered banks to charge no fees or commissions on transfers between local banks for three months, according to another circular carried by Al Mal.
The Labour Ministry may set up a fund for day laborers who fail to find work in the period to come as a result of the economic fallout from the covid-19 outbreak, according to a cabinet statement.
In other Egypt covid-19 news:
A sign of things to come? The Suez Canal started feeling the effects of the pandemic in February as the number of container ships passing through fell by 7.3%, according to Al Mal. The number of passenger ships using the canal fell by 22.2% and the number of cargo ships dropped by 1.3%.
ON THE GLOBAL FRONT-
Talks on nearly USD 2 tn stimulus program fail in Washington, DC, setting up another [redacted] date in markets. Democratic senators yesterday blocked emergency stimulus legislation worth USD 1.8 tn as partisan arguments threatened to derail efforts to prevent the economy from suffering an unprecedented shock, the Washington Post reports. Democrats are opposing the Republican-led bill on the grounds that it does too much for big business and not enough for workers and the healthcare sector. The story is front-page news in the global business press: FT | WSJ | Reuters | Bloomberg.
Markets are not impressed: Stocks are being pummelled in New Zealand and Australia and merely battered in China, Hong Kong, Japan and South Korea. Among the major global markets open as we head to dispatch this morning, only Indian equities are in the green. Futures suggest London will open in the red, and it looks even worse in America, where Dow futures hit limit-down overnight and both Nasdaq and the S&P are set to open in red.
The UK's market regulator wants LSE-listed companies to … not release their financials for at least two weeks. The Financial Conduct Authority writes in very polite language that effectively suggests auditors need the time to reconsider their opinions whether they need to raise going concern flags at companies worst-hit by covid-19.
All the latest on lockdowns, shutdowns, travel bans and everything else that is bringing life around the world to a standstill:
Lockdowns not enough to stop the spread -WHO expert: Governments cannot rely on lockdowns to half the spread of the virus and must focus also on "strong public health measures," Mike Ryan, one of the World Health Organization's top emergency experts, said yesterday. "What we really need to focus on is finding those who are sick, those who have the virus, and isolate them, find their contacts and isolate them," he said. "if we don't put in place the strong public health measures now, when those movement restrictions and lockdowns are lifted, the danger is the disease will jump back up."
Merkel goes into quarantine: German Chancellor Angela Merkel has quarantined herself after coming into contact with a doctor who tested positive for covid-19.
Is Japan backtracking on its plans to hold the Olympics this summer? In spite of loud and public assertions that the games will go forward even amid covid-19 disruption, contingency plans for potential delays are now being drawn up behind the scenes, Reuters reports. At risk is over USD 3 bn in domestic sponsorship, an Olympic record, and USD 12 bn spent on preparations.
Anyone in the US may want to look away: The latest GDP forecasts are not looking good. Last week a JPMorgan economist predicted that US economic growth could fall by as much as 14% in the second quarter, handsomely beating the worst period of the Great Recession which saw output fall 8.4% in 4Q2008.
But Morgan Stanley's new projection makes this look reassuring by comparison: The US investment bank is projecting economic growth to fall by more than 30% in the second quarter as efforts to contain the outbreak grind the economy to a halt. "We now see 1Q GDP dropping by 2.4% as economic activity has come to a near standstill in March, followed by a record-breaking drop of 30.1% in 2Q. We estimate that March will also mark the first drop in nonfarm payrolls, down 700k. We expect a record-high unemployment rate, averaging 12.8% in 2Q," analysts wrote in a report.
What will this mean for the global economy? "Incorporating revised forecasts for the US economy, we see an even deeper recession in 1H20, taking full-year global growth to 0.3%. If the COVID-19-related economic disruption continues into 3Q20, in the bear case scenario we see global growth contracting by 2.1%Y in 2020, which will bring the global economy well below what we saw during the global financial crisis, when global real GDP contracted by 0.5%Y in 2009," the report says.
China, on the other hand, is talking big about its economic prospects: Beijing has claimed that economic data will show "significant improvement" in the coming quarter as the country shows signs of success at stemming the virus and restarting economic activity, Bloomberg reports. Will it all be based on domestic consumption? Because it doesn't look to us like global demand is all that strong at the moment…
The shuttering of industry around the world is exacting a heavy toll on global supply chains, further fueling a conviction that the world is sliding into a recession for the first time in over a decade, Bloomberg reports. "This is kind of a rolling natural disaster," said Ethan Harris, head of global economic research at Bank of America. "In terms of the impact on global production, the shutdown outside of China will likely become bigger than the impact from China." Major companies like Apple were able to withstand the February slowdown in China but will now have to cope with the shutdown of hundreds of component manufacturers in Italy, Germany, Malaysia and South Korea. The auto industry is particularly vulnerable, given its complex supply chains reliant on lithium and cobalt and its logistics that are designed to have storage times of only 1-2 months.
WORK-FROM-HOME TIP OF THE DAY- As the entire house fights over bandwidth, the Wall Street Journal provides tips on how to speed up your wifi: If you're anything like us and your house has turned into world war wifi, Wall Street Journal's Joanna Stern recommends a few ways to make sure the work-from-homers can speed up the wifi and send in that email (watch, runtime: 02:15). Some tips include buying a new modem, making sure you're connecting to the 5GHz network, plugging into the modem, and surprise surprise, unplugging everything and plugging it back in.
---
A DISTRACTION FROM ALL THINGS COVID: Go watch a documentary about … typography. "Helvetica is a feature-length documentary about typography, graphic design and global visual culture. It looks at the proliferation of one typeface as part of a larger conversation about the way type affects our lives." Filmmaker Gary Hustwit is streaming (without charge and with no geographic restrictions) his catalogue of documentaries for the duration of the covid-19 outbreak. Helvetica (watch, runtime: 1:21) is available today and tomorrow. (Look for the link at the very top of the page.)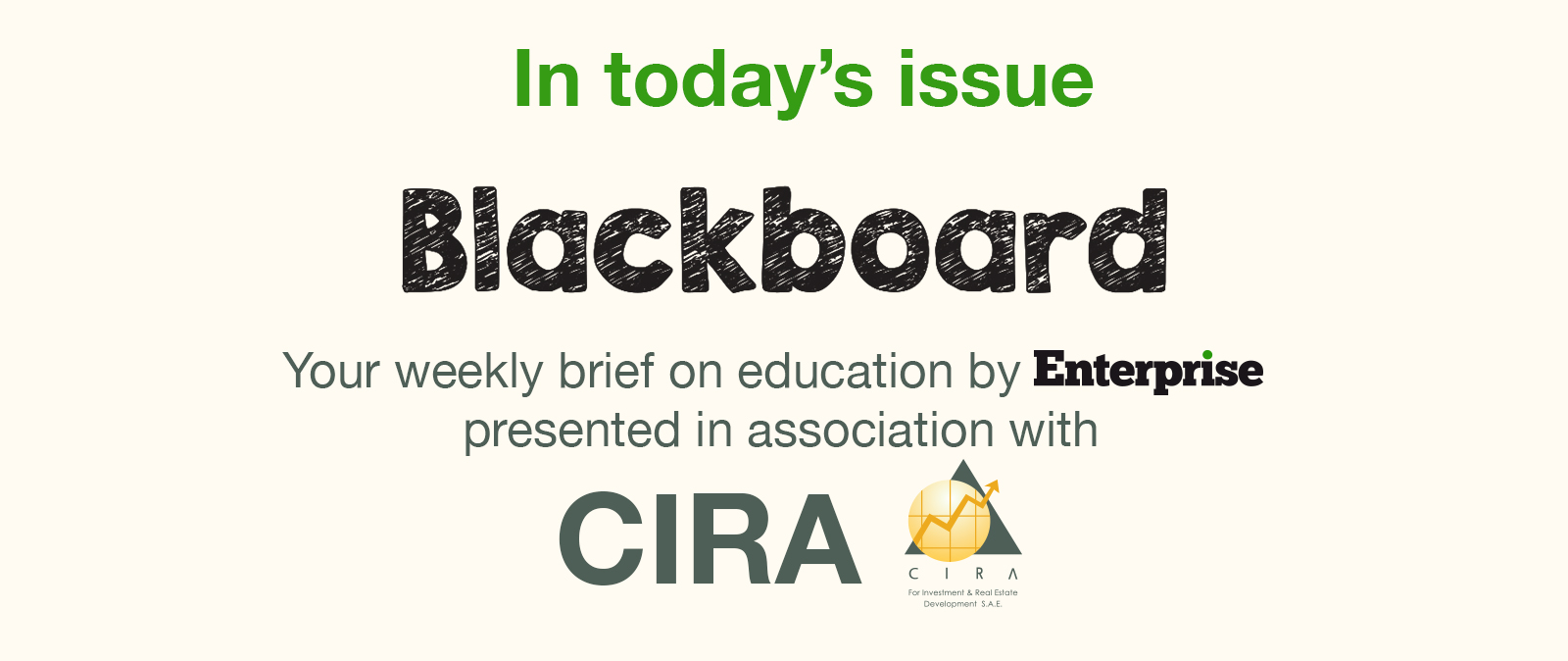 *** It's Blackboard day: We have our weekly look at the business of education in Egypt, from pre-K through the highest reaches of higher ed. Blackboard appears every Monday in Enterprise in the place of our traditional industry news roundups.
In today's issue: We look at how covid-19 has impacted the exam schedule for schools and universities in the 2019-20 academic year. It's extensive, but it has also forced us to think creatively on how we assess and test students.