Monday, 9 March 2020
What we're tracking on 9 March 2020
It's shaping up to be an ugly day. Covid-19 infections continue their slow-burn spread in Egypt and global markets are reeling after Saudi and Russia locked horns in an oil war that has sent crude prices down 30%. Throw in 16 mn Italians now living under travel restrictions and fears of covid-19's impact on the global economy and it's little wonder that Asian markets opened deeply in the red this morning — and that US and European futures point to a sharp sell-off when those markets open later today. How sharp? Well, US futures are down the maximum 5%. Bloomberg's David Ingles summed it up rather nicely in a tweet.
Here's where things stand just before dispatch time this morning:
The total number of covid-19 cases in Egypt has risen to 55: The Health Ministry announced in a statement late on Sunday that another seven people have tested positive for covid-19, bringing the total number of confirmed cases in Egypt to 55. The latest cases include four foreigners and three Egyptians, one returning from Umrah and two who had been in contact with an Egyptian who picked up the virus after returning from Serbia. That last person, a 44-year-old male, is in "critical condition" at the Matrouh quarantine facility, according to remarks by Health Minister Hala Zayed to El Hekaya's Amr Adib.
This means we added 10 new cases yesterday after 45 people tested positive for the virus on a cruise ship in Luxor.
The ministry also announced the first death resulting from the virus: A 60 year-old German tourist was pronounced dead in Hurghada after having arrived in Egypt on Friday, 6 March. The patient had refused to be evacuated to Egypt's quarantine facility on the north coast.
The Education Ministry has denied rumors of a covid-19 outbreak among school children and dismissed plans for any school closures.
What's it like to be in quarantine in Matrouh? Journalist Matt Swider, the managing editor of TechRadar, took to Twitter to document how his Egypt vacation turned sour after he tested positive while on a Nile cruise in Aswan.
Family members of three US citizens who tested negative for the virus but remain in quarantine on the Luxor cruise ship have expressed concerns about their health, as the decision to place whole ships in quarantine continues to draw criticism.
Covid-19's appearance in Egypt is getting a lot of attention in the foreign press this morning: Reuters | AFP | Bloomberg | Washington Post.
Market madness resumed yesterday: The EGX ended yesterday's session more than 4% in the red following news of the spread. CIB — which accounts for around a third of the EGX30 — fell 4.6%. Earlier in the session, the EGX suspended trading for 25 companies in a bid to contain the selloff.
It says a lot about the times we're living in that this was probably the least notable thing that happened in markets yesterday:
In "one of the most dramatic bouts of selling ever," oil prices collapse as traders react to Riyadh's oil price war: Brent crude futures fell 31% to USD 31.02/bbl and US crude dropped 27% to USD 30/bbl in a matter of seconds this morning as the Asian traders reacted to Saudi Arabia's decision to slash prices and ramp up supply, Bloomberg reports. Riyadh plans to raise its output above 10 mn bbl/d and cut prices by as much as 20% in April in reaction to Russia's refusal last week to agree to deeper production cuts in reaction to the covid-19 outbreak.
We could be facing USD 20 oil this year -Goldman: Goldman Sachs has warned that oil prices could fall as far as USD 20/bbl this year, a market crash that would outstrip that of 2014, according to a note picked up by Bloomberg. "The prognosis for the oil market is even more dire than in November 2014, when such a price war last started, as it comes to a head with the significant collapse in oil demand due to the coronavirus," the Goldman analysts wrote.
MENA equities fell through the floor yesterday in reaction to the Saudi moves: Kuwait's main index plunged 10%, according to Bloomberg. Dubai's DFM General Index saw its sharpest drop in a single session since the global financial crisis of 2008 to finish 7.9% in the red, while Saudi's Tadawul lost 8.3%.
It was a sea of red in the Asian markets at the time of dispatch this morning: The Australian stock exchange was leading the sell-off, down 5.4%, with the Nikkei close behind, down 5.3%.
---
In an unprecedented move, Italy has restricted the movement of more than a quarter of its population: Around 16 mn people in Italy's northern Lombardy province have been effectively quarantined as the government takes extreme measures to contain the spread of the virus, the Financial Times reports. The number of cases in the country rose dramatically over the weekend to 7.3k confirmed cases and 366 fatalities, causing Prime Minister Giuseppe Conte to declare that the country is facing a "national emergency."
Globally, the virus is continuing its spread: Argentina's health ministry issued a statement confirming the death of a patient who had been diagnosed with covid-19 on Saturday. This is the first death related to the virus in Latin America, according to Reuters. Paraguay, Colombia, Chile and Peru have also announced their first confirmed cases of the virus, and several cases have been confirmed in Brazil.
Bahrain's Formula One race will take place without spectators, Bloomberg reports. The F1 race is scheduled for 22 March.
IN NON-CORONA NEWS: Manufacturers may be getting a discount on energy prices this week when the government committee tasked with reviewing energy prices announces the results of review, MP and House energy committee member told Al Shorouk. The committee, which meets on a biannual basis, held a meeting yesterday. Energy rates were hinted to be going down this month, as per Planning and Economic Development Minister Hala El Said. The committee lowered the price of natural gas for the cement, metallurgy, and ceramics industries when it first met in October.
It's inflation day tomorrow: February figures will be out later today. January saw inflation accelerate for the third consecutive month, rising slightly to 7.2% from 7.1% in December.
Nawal El Saadawi made Time magazine's 100 Women of the Year list: Egyptian psychiatrist, feminist and novelist Nawal El Saadawi (bio) made it to The Time's list of "100 Women of the Year" yesterday as part of the magazine's celebration of International Women's Day. The Times writes that she proved "a fearless commentator on women's rights in Egypt."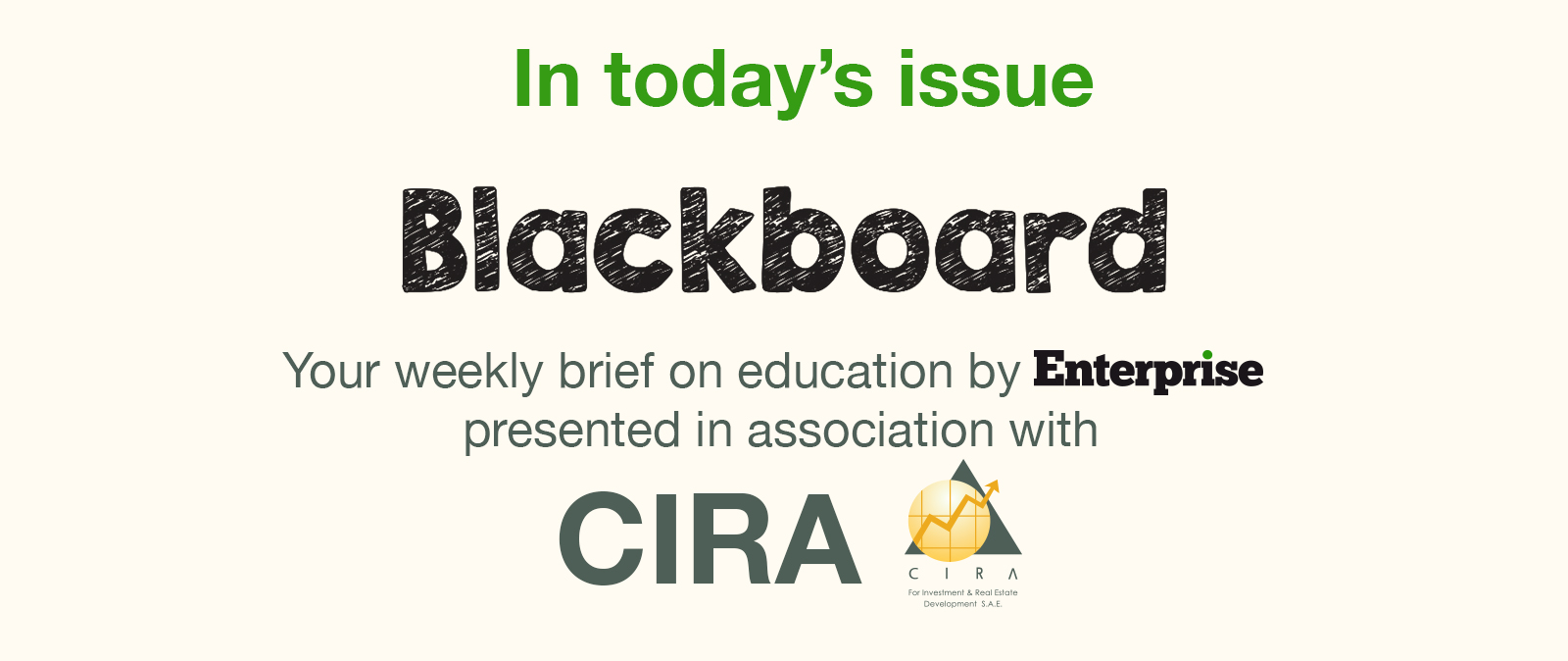 *** It's Blackboard day: We have our weekly look at the business of education in Egypt, from pre-K through the highest reaches of higher ed. Blackboard appears every Monday in Enterprise in the place of our traditional industry news roundups.
In today's issue: Government universities are planning to establish nonprofit subsidiaries that offer competitive curriculums, prices, and standards of education that match those in the private sector and other nonprofit schools. A closer look, however, shows that these new government universities will not be subject to the same regulations as other nonprofits, even though these new regs ostensibly aim to improve their level of education.