Wednesday, 19 February 2020
What we're tracking on 19 February 2020
Tomorrow is interest rate day: Our poll earlier this week showed a definite lack of consensus among analysts about whether the central bank will cut interest rates or keep them unchanged when it meets tomorrow, with six forecasting a cut and five calling a hold. A Reuters poll published yesterday showed similar results.
Belarus President Alexander Lukashenko will arrive in Egypt today for a two-day official visit during which he will hold talks with President Abdel Fattah El Sisi and participate in the Belarus-Egypt Business Cooperation Council, according to Belarusian state media.
The House of Representatives is studying the legislation governing rent control with an eye to finalizing it within three months, Rep. Soliman Wahdan tells the local press. Also expected to be finalized by the same deadline: The Labor Act and Criminal Procedures Act.
It's looking like the final GERD agreement isn't going to be signed by the end of the month as was previously expected. Despite reaching an initial agreement and appearing to be on track to sign a final contract on the Grand Ethiopian Renaissance Dam (GERD) with Egypt and Sudan, Ethiopia apparently doesn't see eye-to-eye with its northern neighbors on certain issues. Speaking at a joint presser with US Secretary of State Mike Pompeo, Ethiopia's foreign minister said there remain some "outstanding issues" to iron out, AFP reports. Pompeo also suggested the end-of-month target for a final agreement is now out of reach, saying, "a great [amount] of work remains, but I'm optimistic that over the coming months we can resolve this."
---
The only patient in Egypt to have been diagnosed with covid-19 is in good health and has not been showing any symptoms, Health Minister Hala Zayed said, according to Ahram Online. Meanwhile, the two Egyptian expats in Wuhan who were diagnosed with the virus and barred from boarding an evacuation flight to return to Egypt are also in good condition and will be returning home soon after their quarantine period is completed.
The spread of the virus in China appears to be slowing, but "experts cautioned against predicting that the worst was over," the New York Times reports. The death toll globally now exceeds 2k, with a total of 74,185 infections.
HSBC is taking dramatic measures as macro headwinds halve its profits. Europe's largest bank in terms of assets said it plans to cut over USD 100 bn of its assets by the end of 2022, drop its headcount from 235k to 200k over three years, suspend buybacks for two years, and revamp its US and European businesses, the Associated Press reported. The overhaul will also see HSBC cull some 224 branches in the US, Reuters notes. HSBC's net profit tumbled 53% in 2019 and is seeing "significant disruption″ this year as the covid-19 continues spreading, interim CEO Noel Quinn said.
Want to go deeper? The FT has a great piece on shareholder concerns that HSBC is effectively taking on too much with a caretaker leader in place.
Nissan's shareholders are demanding "quick fixes" to address the fallout from the Carlos Ghosn scandal, which has resulted in the automaker seeing its stock prices falling, failing to pay shareholder dividends, and turning in a quarterly loss for the first time in over a decade, the Associated Press reported. New CEO Makoto Uchida said he will announce a recovery plan, which would also address governance issues, in May.
CLIMATE WATCH- Glencore Plc, the world's largest coal shipper, sees its customers' carbon emissions falling by 30% over the next 15 years, according to Bloomberg. The shipper did not explain, though, how much coal production would be cut to meet the projection. The company said that indirect emissions created by the company's products are falling on the back of the depletion of mines in Colombia and South Africa.
Bezos commits USD 10 bn to face climate crisis: The world's richest man and Amazon CEO Jeff Bezos said he will fund scientists, activists, and NGOs to explore new ways of fighting the impact of climate change, the New York Times reports. Last year, Bezos introduced a "Climate Pledge" and said that Amazon will be meeting the Paris climate agreement goals 10 years ahead of schedule as it becomes carbon-neutral by 2040.
---
Former New York mayor Michael Bloomberg has qualified for the Democratic presidential debate taking place in Las Vegas today, the Washington Post reports. Bloomberg surged to the second spot in an NPR/Marist College poll, he secured the support of 19% of US Democratic primary voters. The national qualifying poll requires candidates to earn at least 10% of the votes to qualify for the debate. Senator Bernie Sanders continues to lead the pack with 31% of the poll's votes.
In international miscellany:
The EU is deploying warships "to enforce" an arms embargo on Libyan warring factions, according to Bloomberg.
Lebanon's premier turns to Iran after getting cold shoulder from the GCC: Lebanese Prime Minister Hassan Diab met with Iranian Parliament Speaker Ali Larijani yesterday to discuss how Tehran could help Lebanon through its economic crisis, after appearing to get snubbed by its "rich Gulf neighbors," according to Reuters.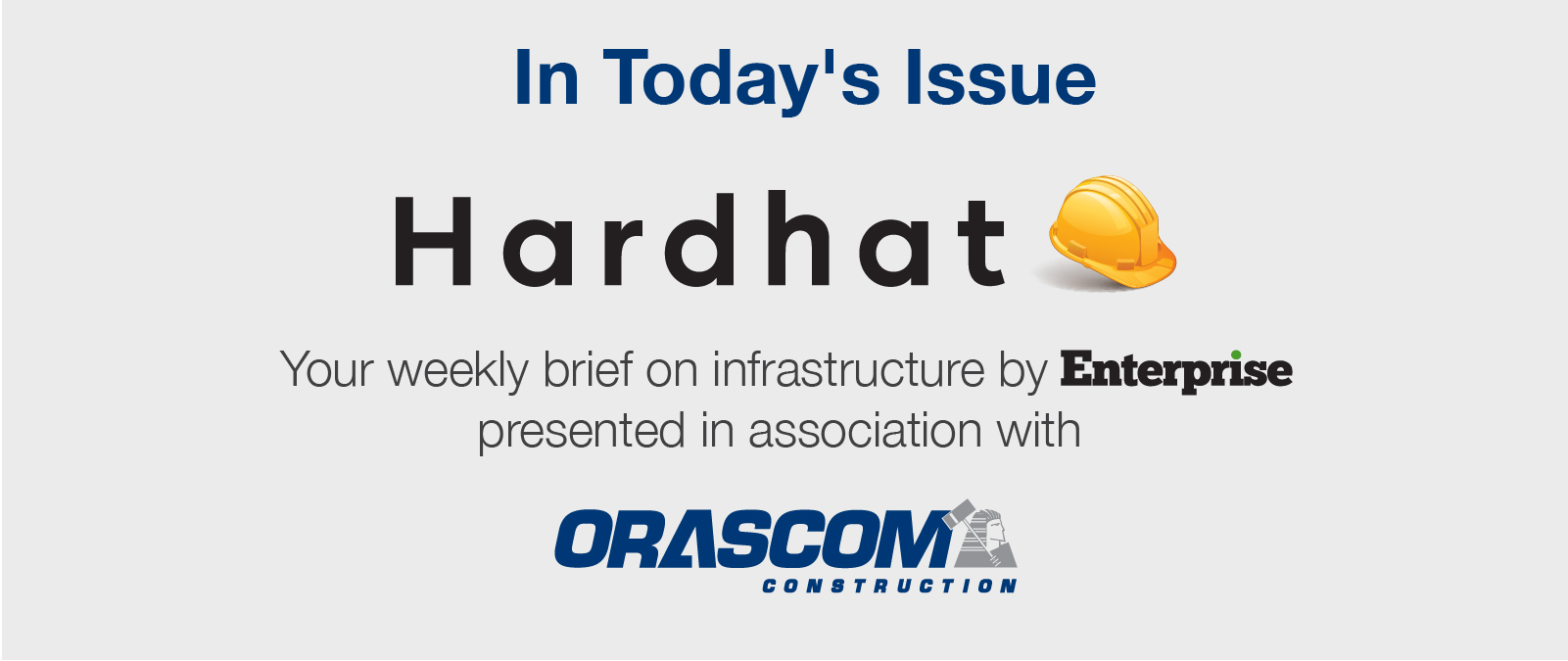 *** It's Hardhat day — your weekly briefing of all things infrastructure in Egypt: Enterprise's industry vertical focuses each Wednesday on infrastructure, covering everything from energy, water, transportation, urban development and even social infrastructure such as health and education.
In today's issue: We look at why multiple pieces of legislation that aim to reform our water usage have been mouldering in the House of Representatives for years (literally years).