Monday, 10 February 2020
What we're tracking on 10 February 2020
It's a typically quiet Monday news day, and as we suggested yesterday, the House of Representatives dominated newsflow, discussing amendments to the Anti-Terror Act and gearing up for votes on key pieces of legislation including the Consumer Credit Act and, soon, the long-awaited Banking Act. We have more in this morning's Speed Round.
Expect a wave of oil and gas announcements over the next three days as the Egypt Petroleum Show gets underway today at the International Exhibition Center. US Ambassador to Egypt Jonathan Cohen will be there, the embassy said in a statement that notes Washington "believes that Egypt is positioned to be an important regional energy hub, for Africa, the Mediterranean, and the Middle East." Cohen will be accompanied by senior energy officials from the State Department, Department of Energy and US Trade and Development Agency. Twenty US companies are participating, as are 10 French companies, including Schneider Electric, Total, and Technip, according to a French embassy statement (pdf).
Inflation data for January is out today. The rate of inflation accelerated to 7.1% in December after hitting multi-year lows of 2.4% in October, thanks in large part to the easing of the base effect.
Global venture capital group Kauffman Fellows is in Cairo for a three-day visit from Thursday, 13 February.
The Central Bank of Egypt meets a week from Thursday to consider interest rates.
Asian markets opened lower and US stock futures also dipped this morning, starting off a week "that may prove crucial in determining the trajectory of coronavirus cases, and in turn the prospects for a v-shaped economic recovery," Bloomberg says. Investors are keeping an eye on how quickly the virus' reach extends beyond China, and mounting concerns have already nudged up gold prices, the business information service notes.
Cryptocrime is very real — and rather lucrative: Cryptocurrency-related scams raked in nearly USD 4 bn last year amid a wave of new interest, notably from novice investors, in the fast rising currency. The Wall Street Journal details the swift rise and fall of the most prolific fraudsters at PlusToken, the six-man operation out of Vanuatu, that single-handedly drained investors of nearly USD 2 bn last year.
How stock exchanges are shifting towards diversification: Exchange operators — including NYSE's parent company Intercontinental Exchange, the London Stock Exchange Group and Nasdaq — have become "diversified multinationals," offering a host of global financial services, writes Alexander Osipovich in the Wall Street Journal. This is because it's no longer sufficiently profitable to be a mere exchange, he argues, and getting a foothold in data sales and technology is therefore an appealing alternative. NYSE's bid to acquire eBay — which it abandoned last week following investor backlash — appears to have been part of this direction towards diversification, as the exchange operator was likely looking to mine the online marketplace for data, Osipovich says.
---
In international miscellany:
UN calls for international action on African locusts: Developed countries should provide "speedy and generous" financial assistance to East African countries currently combating a severe outbreak of locusts. (Bloomberg)
UN Libya talks to continue this month: Libya's rival factions will meet again in Geneva next week for ceasefire talks after the first round of negotiations last week failed to produce a permanent truce. (Reuters)
---
Egypt's #1 tennis player ends our 24-year ATP dry spell: Egyptian tennis player Mohamed Safwat brought home yesterday Egypt's first ATP Challenger Tour title in 24 years, and his personal maiden title, according to the tournament's website. Safwat claimed the title after defeating Alex Bolt in his homeland, Australia. Tamer El Sawy last earned the title for Egypt in 1996 in New York City.
The Oscars kicked off a few hours ago, but only a few major category winners had been announced as of dispatch time. Brad Pitt took home the Academy Award for best supporting actor for his role in Once Upon A Time … In Hollywood, while Marriage Story's Laura Dern won best supporting actress. The millennials among you will appreciate that Toy Story 4 won best animated feature. You can catch the full list of winners here courtesy of the New York Times.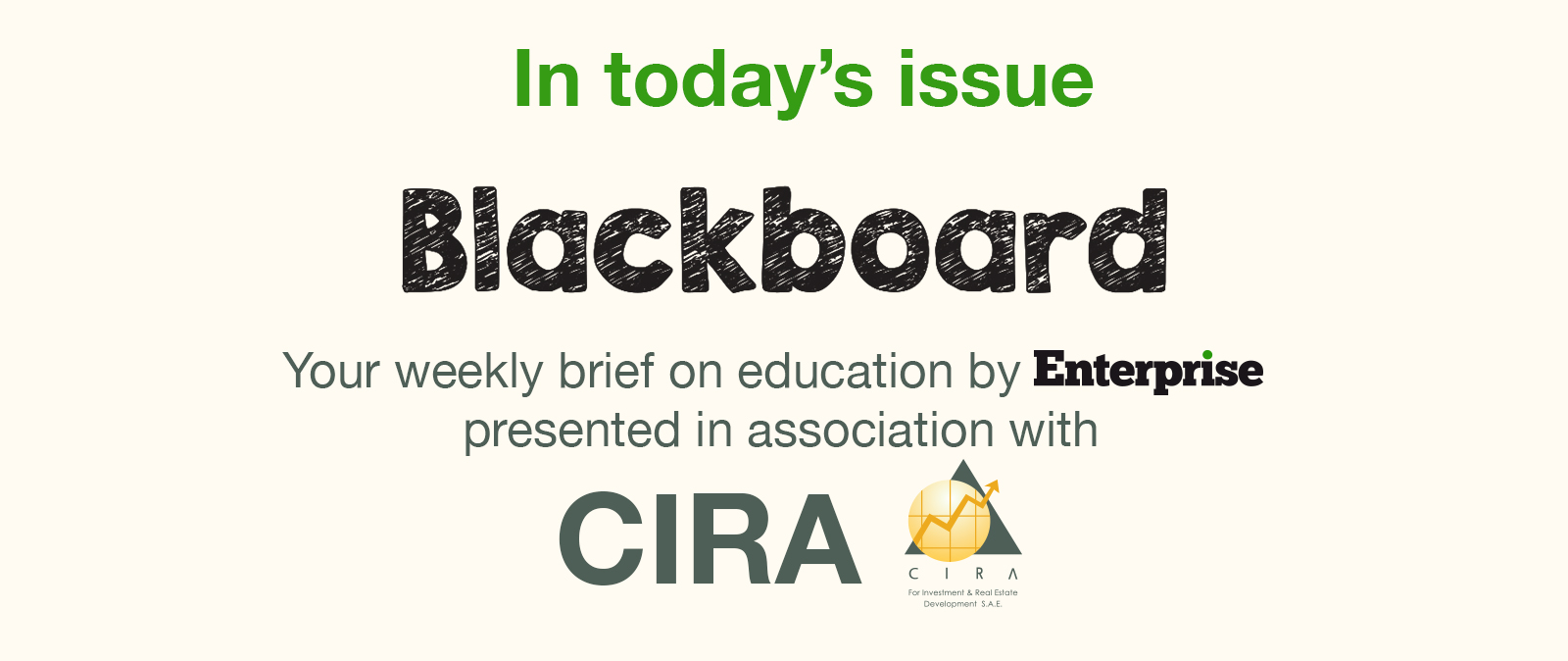 *** It's Blackboard day: We have our weekly look at the business of education in Egypt, from pre-K through the highest reaches of higher ed. Blackboard appears every Monday in Enterprise in the place of our traditional industry news roundups.
In today's issue: We explore the state of career services at Egypt's universities and how they are in further need of strategic investment to be able to meet the needs of the job market.