Sunday, 29 December 2019
What we're tracking on 29 December 2019
Fuel price decision this week -gov't sources: The government committee in charge of setting fuel prices under the new pricing mechanism is reportedly due to meet this week for its quarterly review, a government source said, according to Al Shorouk. Rumor has it that prices could remain unchanged at the meeting as Brent futures, which hovered above the USD 60 / bbl mark for the better part of 4Q2019, have largely been in line with government expectations. The new pricing mechanism, which allows local fuel prices to fluctuate ±10% in tandem with global prices, took hold earlier this year.
There's nothing to report on the interest rate front after the Central Bank of Egypt postponed to 16 January the meeting of the Monetary Policy Committee originally scheduled for Thursday, as we reported last week. Seven of the 10 economists we surveyed before the meeting was post expected the rates to be left on hold.
We expect to hear as early as this week about the roles and responsibilities of the reconstituted Ministry of Information.
Egypt set to reopen restored Alexandria synagogue in January: The restoration works for the 168-year-old Eliyahu Hanavi synagogue in Alexandria have been completed, and the temple will officially open its doors in January 2020, the Tourism and Antiquities Ministry said in a statement. Egypt had earmarked USD 22 mn to restore the synagogue and has since been in talks with representatives of Egypt's Jewish community to re-open it.
Wednesday is New Year's Day. We hope you're spending it with family and friends.
---
*** Tell us what you think will happen in 2020 and maybe we'll send you an Enterprise mug and our very own coffee, sourced from our friends at 30 North. Every year we ask you, our readers, to weigh in on what you expect for the year ahead: Are you investing? Do you plan to hire new staff in 2020? How do you think the EGP will perform? What's your take on interest rates? Tell us, and we'll share the results with the entire community in early January to help you shape your view of the year. The survey is quick, we promise.
---
Israeli Prime Minister Benjamin Netanyahu has been re-elected as the leader of Likud, beating former cabinet minister, Gideon Saar, according to Bloomberg. Final results from Thursday's vote showed Netanyahu re-elected with 72.5% of the votes against Saar's 27.5%, and the PM will lead the party into Israel's third election in less than a year on 2 March, which is predicted to also end in a stalemate.
What can emerging market investors expect from 2020? It's still not clear whether the year will bring a global recession, but EM currencies seem to be well positioned if it does, writes Henry Curr in the Economist. The world teeters on the brink of an unusual trade-war recession from the continued US-China dispute, which in 2019 caused a reduction in business confidence, global manufacturing, investment, and interest rates, he argues. While this means that all economies will need stimulus, the only central banks that will really be able to provide it are those in emerging markets, thanks to their higher interest rates and the positive impact of looser Fed policy on EM currencies.
Egypt, meanwhile, is one of several countries where EM investors should seek returns if they want to capitalize on potentially favorable conditions for EMs while avoiding the negative impact of political and economic difficulty in countries with big index weights, such as Mexico, Brazil, and Russia, the Financial Times says. Social instability in individual countries could still blight a generally positive macro environment for EM risk. So too could the health of the US economy, which some analysts argue has been held back by an overly aggressive Fed raising interest rates more than it should have, with negative consequences for EMs in particular and global growth in general.
In another potential boon for Egypt, we are likely to lead MENA bond sales next year, along with Saudi Arabia, Oman, and Bahrain, as plummeting oil prices and supplies that outpace demand keep upping the pressure to borrow, Bloomberg reports.
But investors in MENA economies will see plenty of risks in 2020 too: Potentially unpopular economic reform programs bring the continued risk of protests in several countries that have struggled with instability, including Egypt, Iraq, Lebanon, Algeria, Iran and Sudan, a director at Fitch Ratings says. And while a thawing in the rift between Qatar and Egypt, Saudi Arabia, the UAE and Bahrain would be a powerful boost for regional investment, Bloomberg argues, such a rapprochement still seems far from certain. Lebanon's currency crisis could lead to a default on its bond repayments, and the bns of USD expected to flow into Kuwait when it is added to the MSCI EM index in June 2020 could prove a mixed blessing. Meanwhile, investor concerns over disruption risks following September's drone and missile strikes on Saudi Aramco's facilities continue to dog the company, despite its shares having risen 10% since its USD 25.6 bn IPO.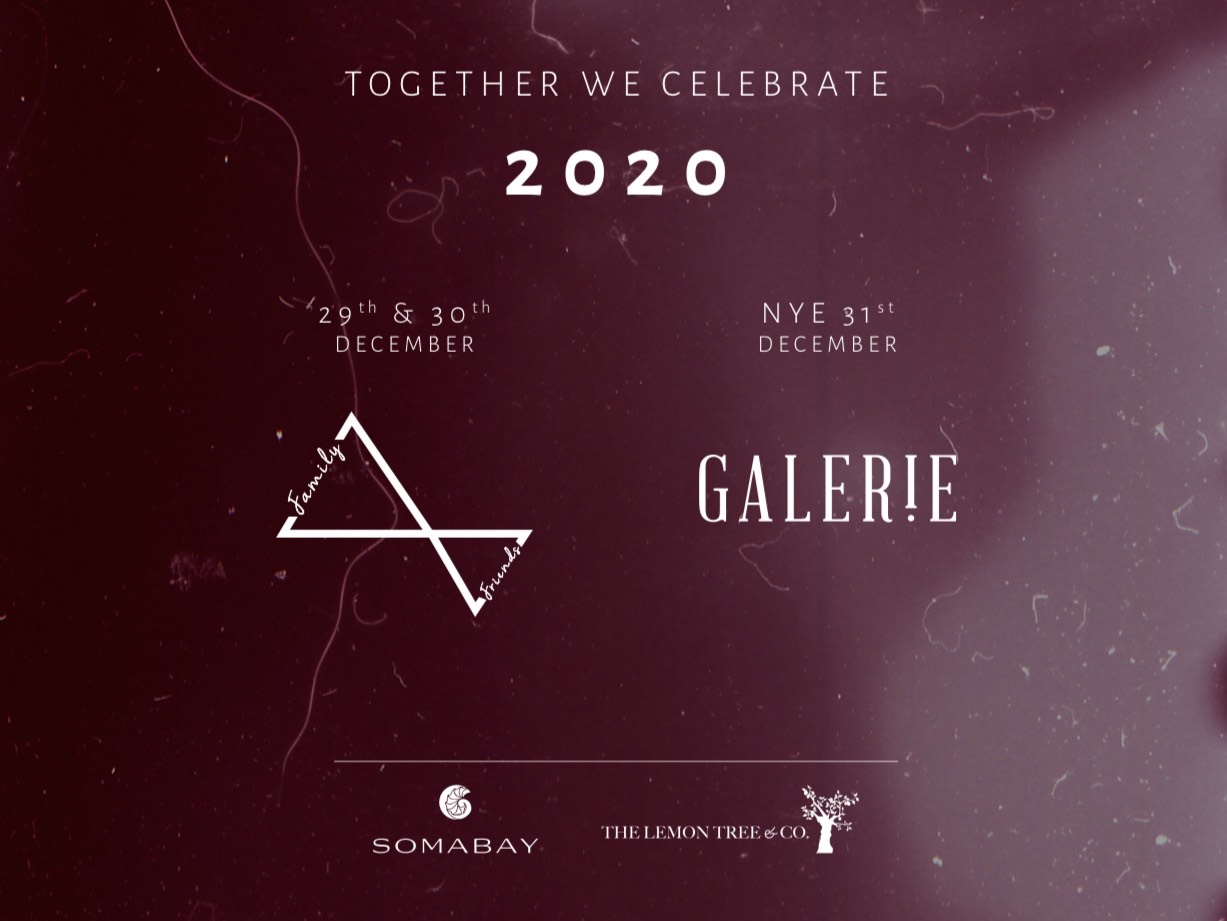 Take a step into our phenomenal world & celebrate 2020 with The Lemon Tree & Co. at Somabay. Family & Friends Reunion IV, Music Festival is happening on the 29th & 30th of December and the celebration extends to NYE, December 31st where GALERIE presents a full night of elegance, admiration & laughter. For reservations: http://nye2020tlt.com/
For better or worse, market sentiment in the US going into 2020 on a high note, as indications that an interim trade agreement with China is on track to be signed next month caused the country's three major US stock indices to reach new records, the Financial Times reports. The Nasdaq rose 0.8%, while the S&P 500 climbed 0.5% and the Dow Jones Industrial Average gained 0.4%, pushing all three indices past their previous record highs. Decreased unemployment, signs of a rise in oil prices, and a rally in gold has fueled the buoyant mood on Wall Street, the salmon-colored paper says.
The trade agreement is just one area in which The Donald has embraced more populist policy approaches, traditionally more in line with US Democrats than Republicans, in 2019, the Washington Post argues. Whether or not these policies — which include a rehaul of a trade agreement with Mexico and Canada, pushing the Fed to cut interest rates, and an expansion of government spending — are being implemented in the interests of working people is unclear. But they represent a striking break with core Republican policy.
With New Year's just around the corner on Wednesday, we're getting antsy about 2020 and the new decade. Among the stuff we've been reading on that front:
Making It, our first podcast series, is on hiatus until January 9, which gives you the perfect chance to catch up on season one: Previous guests on our show about how to build a great business right here in Egypt have included:
The episodes are available on our website | Apple Podcast | Google Podcast.