Monday, 2 December 2019
What we're tracking on 2 December 2019
It's a big day for … shorts. No, not the kind you wear (though at a balmy 24°C, you can get away with those, too), but rather for would-be short sellers, who can now short stocks on the EGX. We have chapter and verse in this morning's Speed Round, below.
GERD talks resume in Cairo today: Irrigation ministers from Egypt, Ethiopia, and Sudan will meet today for the second round of technical talks on the Grand Ethiopian Renaissance Dam (GERD). The first meeting in a new round of US- and World Bank-sponsored talks seems to have produced results, with Sudanese and Ethiopian media reporting last month that the sides agreed on a loose timetable for filling the dam's reservoir. Two further meetings will be held in Washington on 9 December and 13 January.
The three-day African Economic Conference gets underway in Sharm El Sheikh today. Organized by the African Development Bank, the UN Economic Commission for Africa, and the UN Development Programme, the event will bring together more than 500 African youth leaders, business representatives, policymakers, and media professionals to discuss jobs and entrepreneurship in Africa.
New incentives package for industry on the way? The government and the Central Bank of Egypt (CBE) are planning to announce soon details of "an initiative to support the manufacturing sector," Cabinet said in a statement following a meeting between CBE Governor Tarek Amer, Prime Minister Moustafa Madbouly, Trade Minister Amr Nassar, and SMEs Development Authority head Nevine Gamea. We'll be watching this space.
Stuff you can go to this week:
Cairo ICT kicked off yesterday and is set to run until 4 December at the Egypt International Exhibition Center, . The first day saw five MoUs and cooperation agreements signed between several tech companies, the Smart Villages Development and Management Company, and Nasser Social Bank, reports Hapi Journal.
News triggers to keep your eye on in the coming days:
The purchasing managers' index for Egypt, Saudi Arabia and the UAE is due out tomorrow at 6:15am CLT.
Foreign reserves figures for November will be released on Wednesday, 4 December.
Inflation figures for November are out next Tuesday, 10 December.
Enjoy unforgettable experiences in our golf course that looks over the sea, the first of its kind in the Middle East. The award-winning Cascades Championship Golf Course is the first championship course in the Middle East, designed by international legend, Gary Player.
Global assets held by exchange-traded funds have soared to USD 6 tn, doubling in size in under four years and standing to reach as much as USD 12 tn by the end of 2023, the Financial Times reports. ETFs, which offer a low-cost way of investing in multiple assets, have become increasingly popular since the global financial crisis, regularly making up a third of the trading on the US stock market.
This has regulators worried: A recent Goldman Sachs report found that ETF trades are helping drive market volatility, while some economists think that passive flows are interrupting the market's price discovery mechanism. This has regulators questioning whether a large scale sell-off by ETFs could exacerbate market corrections and cause larger losses for investors.
And it could get really, really bad when that sell-off comes: JPMorgan estimated late last year that as much as USD 7.4 tn in assets "could be subject to forced selling by passive funds during the next downturn." Deutsche Bank said at the same time that it saw an algo-led selloff as the biggest risk of 2019. As it is, the Wall Street Journal estimates that roughly 85% of all trading is on autopilot — controlled by machines, models or passive investing approaches.
---
Can finance save the world from climate change? Bank of England Governor Mark Carney is going to give it a shot as the Canadian, set to leave the bank at the end of January 2020, becomes the UN's special envoy on "climate action and climate finance" in the new year. Carney has been talking about the risk of climate change to finance since 2015, the Globe and Mail reports. The former Goldman staffer and ex Bank of Canada boss "has spoken of "stranded assets" — deposits of coal, oil and gas that might lose their value if the world shifts away from carbon — and decried a lack of transparency about the effect on global warming of tns of USD of potential investments." See more in Reuters | the Guardian | the Financial Times.
Continuing with the doom and gloom: Don't expect a brilliant end to the year in emerging markets, Bloomberg warns. With stalling trade agreements, popular unrest in Latin America dragging currencies, and slowing growth in India, positive manufacturing figures from China just aren't enough to help emerging markets rebound from a less-than-stellar November.
---
Investors still can't come to terms with women board members: Companies with women board members and strong diversity policies are more likely to see a drop in market value, suggesting anti-women sentiment among investors, new research has found. Based on 14 years' worth of data from more than 1.6k US public companies, the study finds that companies that placed women on the board experienced a two-year fall in market value, while those that introduced pro-diversity measures saw a near 6% plunge. The findings suggest that it has to do with the perception of a company's priorities: Investors are likely to assume that companies with male-dominated boards are focused squarely on maximizing shareholder value, while those with female board members prioritize social justice. The Financial Times has more.
Another record-breaking Black Friday shows the US consumer market is alive and well: This year's Black Friday saw a record USD 7.4 bn generated in online sales in the US, Bloomberg reports, marking the second biggest US online sales day of all time.
Impeachment hearing update: US President Donald Trump has been given one week by a Democrat-led congressional panel to decide whether to present evidence and call witnesses to upcoming impeachment hearings, which could lead to formal charges being brought against him, Reuters reports.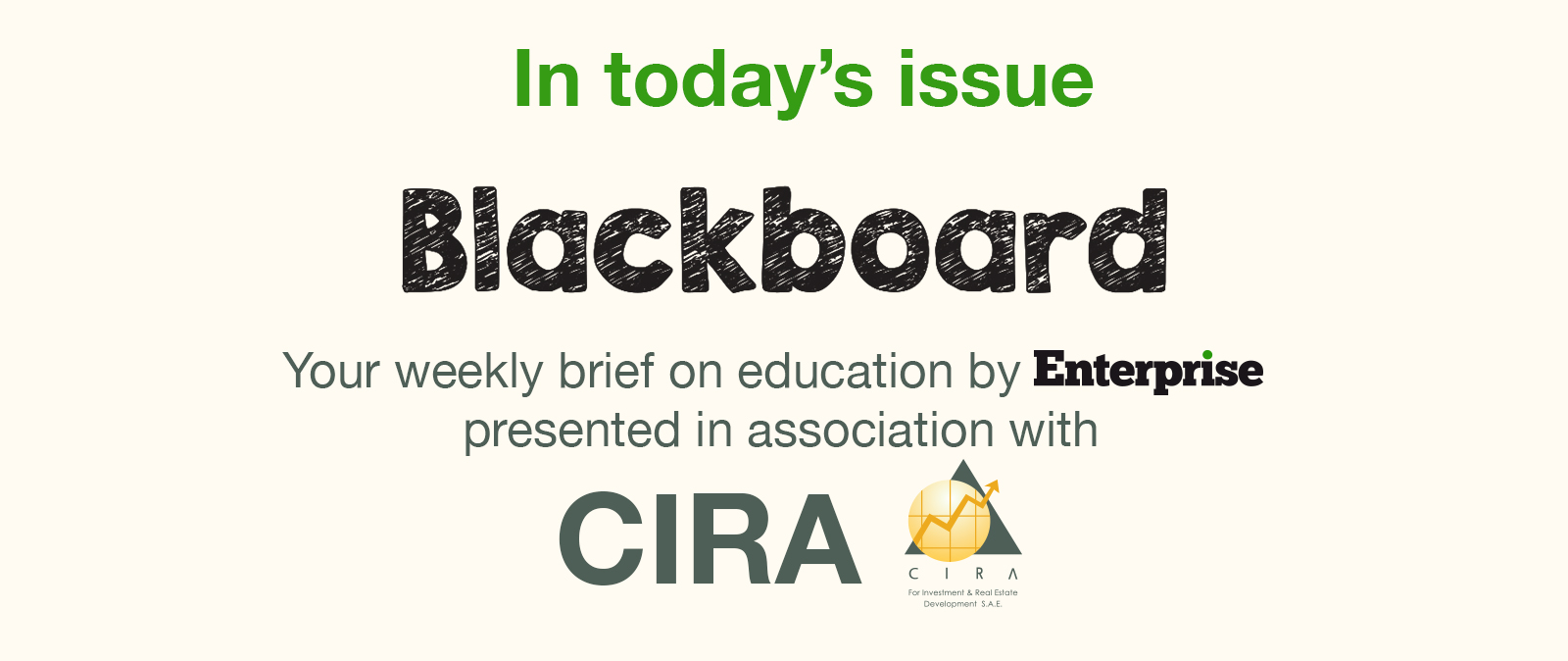 *** It's Blackboard day: Blackboard is the first of our 'verticals' — specialized editions that focus on individual industries. For Blackboard, that focus is the business of education in Egypt, from pre-K through the highest reaches of higher ed. Each edition of Blackboard will mix news, deep dives, analysis, raw data (plus context) and a touch of humor with the goal of making industry players think — and of getting non-experts up to speed. Our goal: To give you the inside track, whether you're an investor or operator in the field or just passingly interested in the topic. Blackboard appears every Monday in Enterprise right after Egypt in the News in the place of our traditional industry news roundups.
In today's issue: Blackboard sits down with the head of the Education Ministry's PPP unit, Amany El Far, to discuss where things stand with the ministry's public private partnership (PPP) program and where does it go from here.