Wednesday, 14 August 2019
What we're tracking on 14 August 2019
We're back, ladies and gentlemen. The domestic news cycle during Eid vacation was predictably slow. Thankfully, we've been bestowed with arguably two of the year's most significant stories — the release of July's stunning inflation figures and Fawry's debut on the EGX — inside a single issue. We cover both of these in detail in this morning's Speed Round, below.
And we have graphs. Lots of graphs.
The Tourism Ministry officially launched on Monday its latest promotion campaign video: PeopleToPeople. The campaign was curated by global travel brand Beautiful Destinations, and focuses on Egypt's citizens who are "welcoming, proud, and eager to show their country," according to a ministry statement (pdf). The campaign is part of the Tourism Reform Program unveiled by Tourism Minister Rania Al Mashat last December. You can watch the full video on YouTube here (runtime: 2:19), catch it on Al Mashat's Instagram and Twitter, or through Beautiful Destinations' social media platforms here and here.
Egyptian tycoon Hussein Salem died in Spain on Tuesday at the age of 85, Ahram Online cited his family as saying. Salem had fled Egypt during anti-Mubarak protests in 2011 before being charged with money laundering and illicit gains. The businessman, who held a Spanish passport, was later acquitted of the charges after paying a EGP 5.3 bn settlement to the government.
US delays some China tariffs: The US has delayed the introduction of fresh tariffs on some Chinese imports by three months, the US trade representative said in a statement. Trump announced on 1 August that a new 10% tariff would be applied to USD 300 bn of Chinese goods from 1 September. However, tariffs on imports of mobile phones, laptops, game consoles, computer monitors, some toys, and certain items of footwear and clothing have been pushed to 15 December due to "health, safety, national security and other factors."
US markets reacted positively, with equities and treasury yields rising following the announcement. The Nasdaq Composite rose 2%, the S&P 500 gained 1.4% and the Dow closed the day up 1.2%. Meanwhile, the yield on 10-year treasuries climbed four basis points to 1.68%.
But EM stocks are on the cusp of reversing 2019 gains: The sell off in EM currency and equity markets resumed yesterday following a calamitous day in Argentina (more on this below) and the protests in Hong Kong, Reuters reports. The MSCI EM Equities Index edged closer to erasing 2019 gains after falling 1%, driven by a sell off on the Hang Seng which closed 2.10% in the red, and market turmoil in Argentina.
Negative yields push EU insurers into EM debt: EU-based insurers are increasing their exposure to EM bonds amid a swell in the amount of negative-yielding debt in Europe, Reuters reports. European insurers — who now invest close to EUR 250 bn or 5% of their assets in fixed income — are balking at the idea of paying to hold European bonds and are increasingly looking at EUR-denominated issuances in countries such as Egypt, Ukraine, Saudi Arabia, Indonesia, Serbia, Romania and Croatia. This marks a shift for the underwriters — who have traditionally reserved the larger part of their portfolios to investment grade bonds — toward high risk securities.
As we wrote last week: A quarter of the global sovereign bond market — around USD 15 tn worth of bonds — are now trading at negative yields. Even countries whose credit profiles sit just a few notches above junk status (such as Portugal and Bulgaria) are now within 50 bps of turning negative. The ultra-low rates prompted Fitch to warn yesterday that they are not indicative of a country's credit profile, and in part are "a continuation of the distortion created by quantitative easing."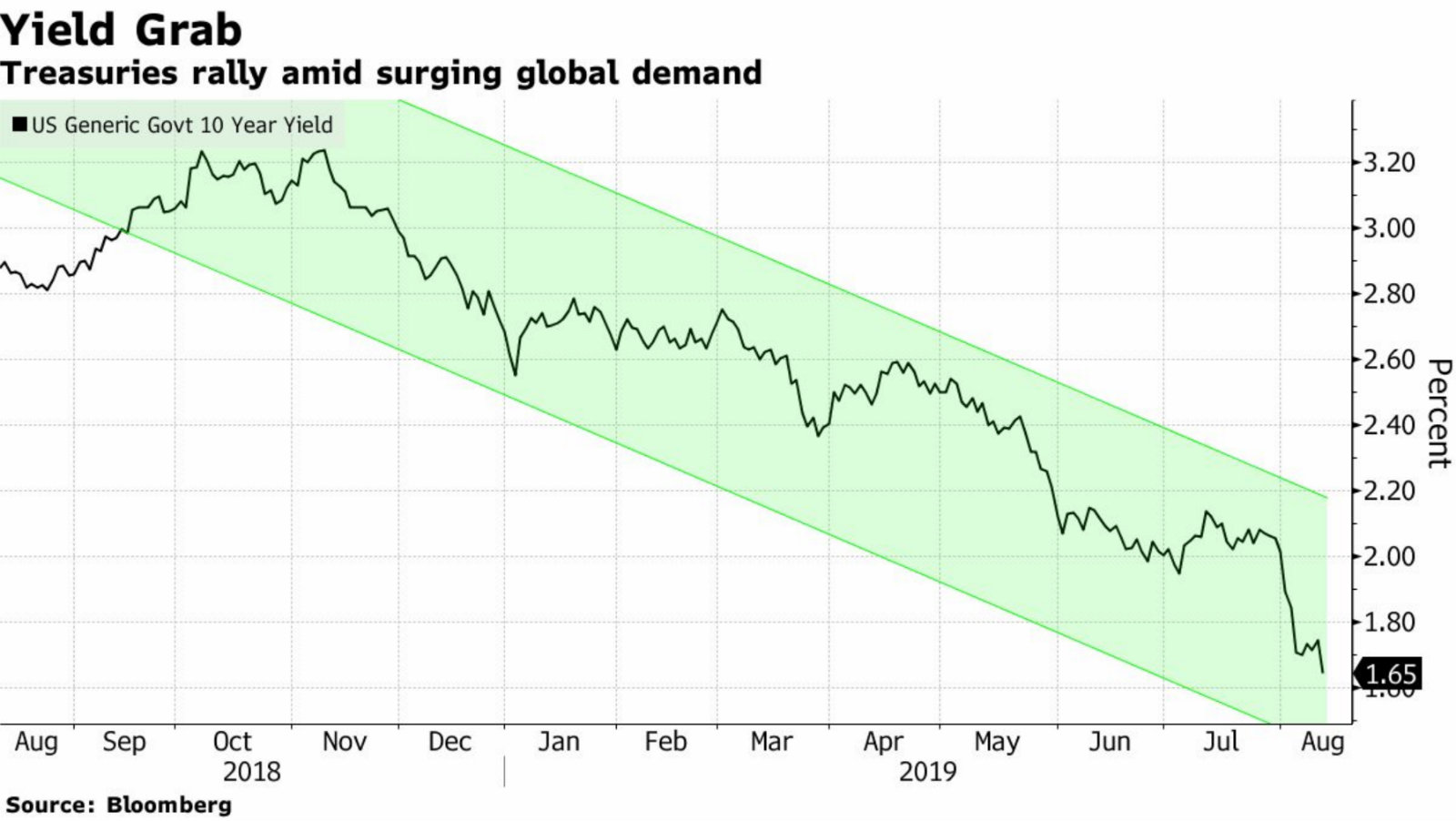 Could the US follow suit? Greenspan thinks so. Former Fed chairman Alan Greenspan told Bloomberg yesterday that he would not be surprised if US bonds also turn negative in the coming months. "There is no barrier for US treasury yields going below zero. Zero has no meaning, beside being a certain level," he said. A growing minority of investors are also beginning to prepare for negative rates in the US, the Wall Street Journal says. "If you proposed negative rates 10 years ago, people would have laughed you out of the room, Mark McQueen, bond manager at Sage Advisory Services, said. "Today people are getting on board the negative-rate idea very quickly." US yields have fallen dramatically this month as trade and geopolitical concerns weigh on the minds of investors.
Presented without comment: Denmark's third largest bank is now offering 10-year mortgages with a negative 0.5% interest rate — meaning that customers will be paid to borrow from the bank rather than pay interest. (CNBC)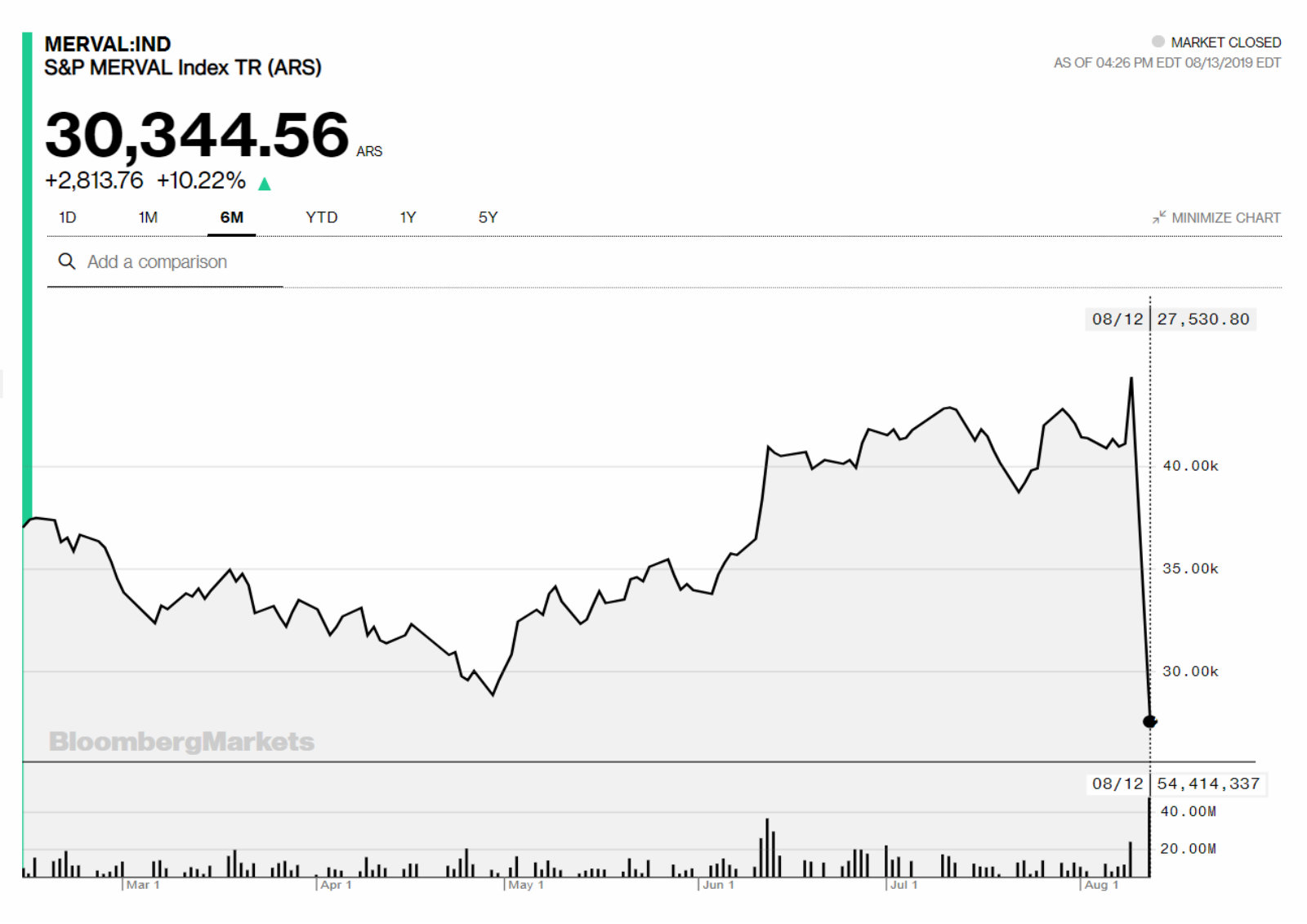 Argentina makes history: The Argentinian stock market experienced the second-largest daily stock market collapse in history on Monday after President Mauricio Macri suffered a surprise defeat in primary elections, the FT says. The Merval stock market index plummeted 48% in USD terms and 38% in ARS terms as investors fled on fears that former president Cristina Kirchner could oust the neoliberal Macri in elections at the end of October. This was the largest daily fall across the 94 markets tracked by Bloomberg since 1950, second only to a 62% collapse in Sri Lanka in 1989. The ARS meanwhile collapsed 30.3% to 65 per USD.
Anti-government protests crippled Hong Kong International Airport for the second day in a row yesterday as riot police were deployed to contain the situation, the New York Times reports. China stepped up its military presence on the Hong Kong border on Tuesday as the clashes intensified, the Independent notes.