Sunday, 7 July 2019
What we're tracking on 3 July 2019
It's official: The new electricity tariffs are now in force. Electricity companies have begun to apply the new rates for the FY2019-20, which means higher utility bills for all of us starting next month. You can check the full breakdown of the new rates here.
We're still waiting to see if the Oil Ministry will move 95-octane fuel prices under the automatic fuel pricing mechanism this month, which appears to be the general expectation in the local press. All eyes are also on other fuel grades, as the government was expected to announce last month its plan to extend the mechanism to other grades.
---
IMF Managing Director Christine Lagarde has been nominated to lead the European Central Bank, and will "temporarily relinquish" her responsibilities as IMF boss, Lagarde said in a statement yesterday. Lagarde's nomination is not popular among some parts of the European Parliament, however, and many have been quick to point out her lack of direct experience in monetary policy. If her nomination is approved, the former French finance minister will officially take the helm of the ECB within a few months. The story leads the global business press this morning (Bloomberg | Reuters | WSJ | Financial Times).
Emerging market central banks put the pedal to the metal and push ahead with rate cuts: Easing by emerging market central banks accelerated in June, as the number of rate cuts exceeded hikes for the fifth consecutive month, Reuters reports. A total of five net rate cuts were made across 37 developing economies last month, as banks reacted to signals from the US Federal Reserve and the European Central Bank that they could cut rates in the coming months. The ECB and the Fed will next meet on 25 July and 30-31 July, respectively.
We'll find out if Egypt will be included in next month's list of EM doves when the CBE's Monetary Policy Committee meets a week from tomorrow to review rates.
---
It's PMI day: The Emirates NBD purchasing managers' indexes for Egypt, the UAE and Saudi Arabia are due for release today at 6:15am CLT. Non-oil business activity contracted again in May, having expanded for the first time in nine months in April. The dip was fueled in part by a decline in tourism activity. You can see the PMI here when it's released.
Key data points coming up over the next several days:
· Foreign reserves: The CBE is due to release net foreign reserve figures for June this week.
· Inflation: Monthly inflation figures are due out next week.
The EBRD's VP of banking Alain Pilloux wraps up his four-day visit today. More EBRD investment plans were announced yesterday, a day after Pilloux indicated during a meeting with Prime Minister Moustafa Madbouly that the bank could help to finance the government's monorail project, along with other infrastructure initiatives. We have more in this morning's Speed Round, below.
Pilloux's tour included a ceremony yesterday to celebrate the EBRD's achievement of providing advisory support to 200 small businesses in Alexandria, the bank said in a press release (pdf).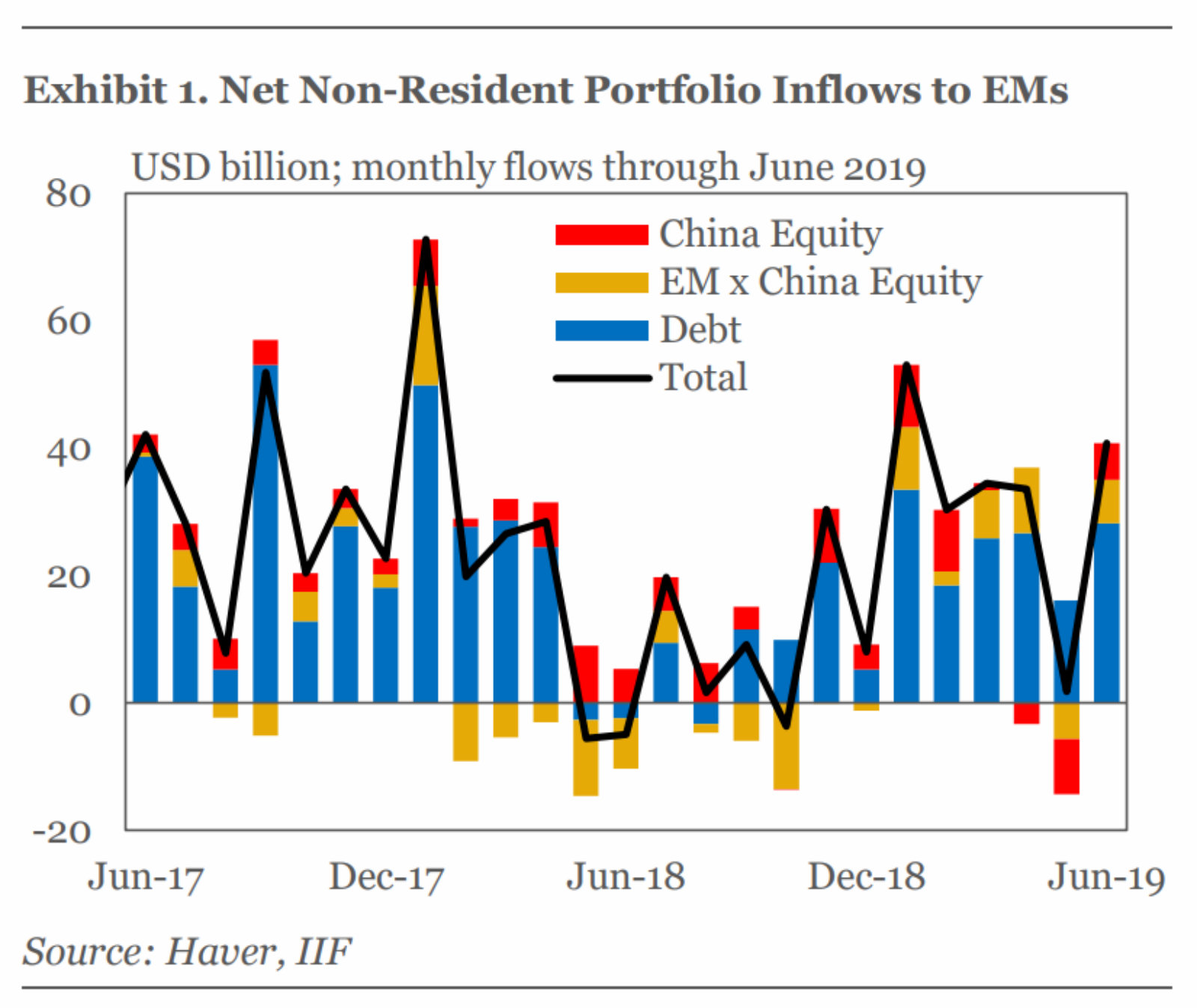 EM inflows hit five-month high in June: Emerging market inflows staged a sharp recovery in June, as investors poured USD 40.8 bn into EM stocks and bonds, according to Institute of International Finance data. Investors largely avoided emerging markets during the so-called 'trade tantrum' in May, with inflows amounting to just USD 1.8 bn during the month. But a recovery in Chinese stocks last month saw equity flows rise to USD 12.6 bn from USD -14.3 bn in May, while debt flows rose to five-month highs of USD 28.2 bn.
Is an Aramco IPO back in the cards (again)? Saudi Arabia is dusting off its plans to list Aramco more than a year after its IPO was put on hold. Sources told Bloomberg that company officials are in talks with investment banks over potential roles on the listing, which would be the world's biggest ever IPO, if it comes to fruition. The company shelved its IPO plans last year in favor of purchasing Saudi chemical giant Sabic, and is reportedly waiting until the acquisition is complete before pushing ahead with the listing. Crown Prince Mohammed bin Salman has said that the IPO will go ahead in either 2020 or 2021, but sources say that no decision has been taken regarding the timing.
OPEC countries signed yesterday a long-term agreement with Russia to continue cooperating on oil production once the supply cut agreement currently in place expires in nine months, the Wall Street Journal reports. The cooperation pact will remain in place "indefinitely" as the cartel looks to prop up oil prices, particularly in the face of oil prices "nearing a bear market" as the collective hand-wringing over the global economy persists.
The UAE has stepped up efforts to entice investors: The UAE will allow foreigners to acquire 100% ownership of local businesses in a bid to attract outside investment, Prime Minister Sheikh Mohammed bin Rashid Al Maktoum wrote on social media. Full ownership will be permitted in a number of industries including e-commerce, agriculture and construction, and individual emirates will "identify relevant [foreign] ownership percentages in every activity," he said. Foreign ownership of Emirati businesses was previously capped at 49%.
In international miscellany:
· Careem says goodbye to Sudan: Careem has exited Sudan as part of Uber's USD 3.1 bn takeover of the company, a spokesperson said, according to Reuters.
· "Banking's most notorious rogue" Nick Leeson is earning big bucks for giving talks about shady financial practices to an international audience, after going to prison for bringing down Barings Bank by gambling away GBP 862 mn, the Guardian reports.
---
EG Bank and Cairo Angels are now accepting applications for the fourth cycle of the MINT incubator, according to a statement (pdf). The incubation period will provide the 10-12 businesses selected to participate with "a series of different workshops that will address key areas to help accelerate the startups' growth," in addition to mentorship and access to legal support. You can apply here for the upcoming cycle, which lasts three months.
PSA- Surprise, it's going to be a hot and humid day: Daytime highs are forecast to reach 37°C (pdf), while the nighttime will be more merciful, with lows expected at 25°C.