Monday, 1 July 2019
El Sisi meets state leaders, talks business and politics in Osaka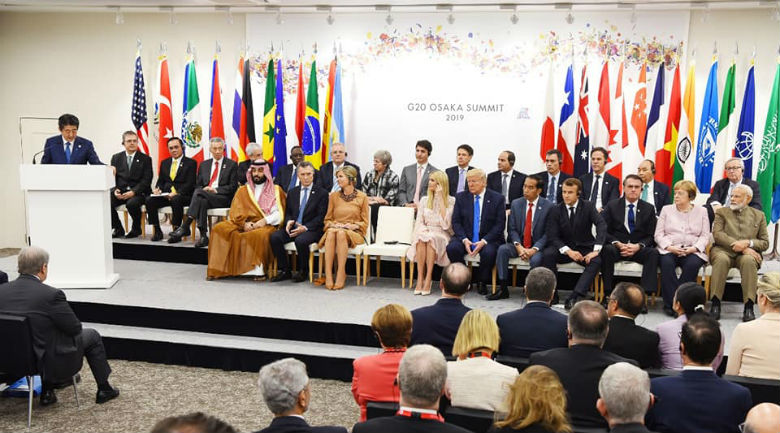 President Abdel Fattah El Sisi had a busy weekend at the G20 summit in Osaka, where he met with heads of states and top multinational organizations and companies. The meetings kicked off with talks with Japanese Prime Minister Shinzo Abe, with a focus on education, culture, technology, energy, and transport cooperation, according to an Ittihadiya statement.
Putin meeting sees no decision on restoring flights: El Sisi also met with Russian President Vladimir Putin to discuss efforts to resume Russian flights to Egypt's resorts, the Dabaa nuclear power plant, cooperation on Africa, and the Russian Industrial Zone, according to a statement. The two also discussed preparations for a joint summit slated for October.
The ongoing investigation into the death of PhD student Giulio Regeni was the pivotal point of discussion between El Sisi and. El Sisi reaffirmed Egypt's commitment to uncovering the truth as well as support for the unprecedented cooperation with the Italian side on the case. The two sides also discussed the situation in Libya and cooperation in development and economic sectors.
Other leaders El Sisi met with at the summit:
On the business front: El Sisi pitched Egypt as a potential "gateway for Japanese products into Africa" in a separate meeting with Toyota Group's trading arm Toyota Tsusho President Ichiro Kashitani, who gave El Sisi a rundown of projects his company would be interested in.
The president also participated in the Chinese-African mini summit alongside the leaders of China, South Africa, and Senegal and the UN chief, according to an Ittihadiya statement. The mini summit focused on development-oriented cooperation between China and Africa in light of the former's Belt and Road initiative and Egypt's Suez Canal Economic Zone.