Wednesday, 23 May 2018
Global M&A reaches USD 2 tn YTD in 2018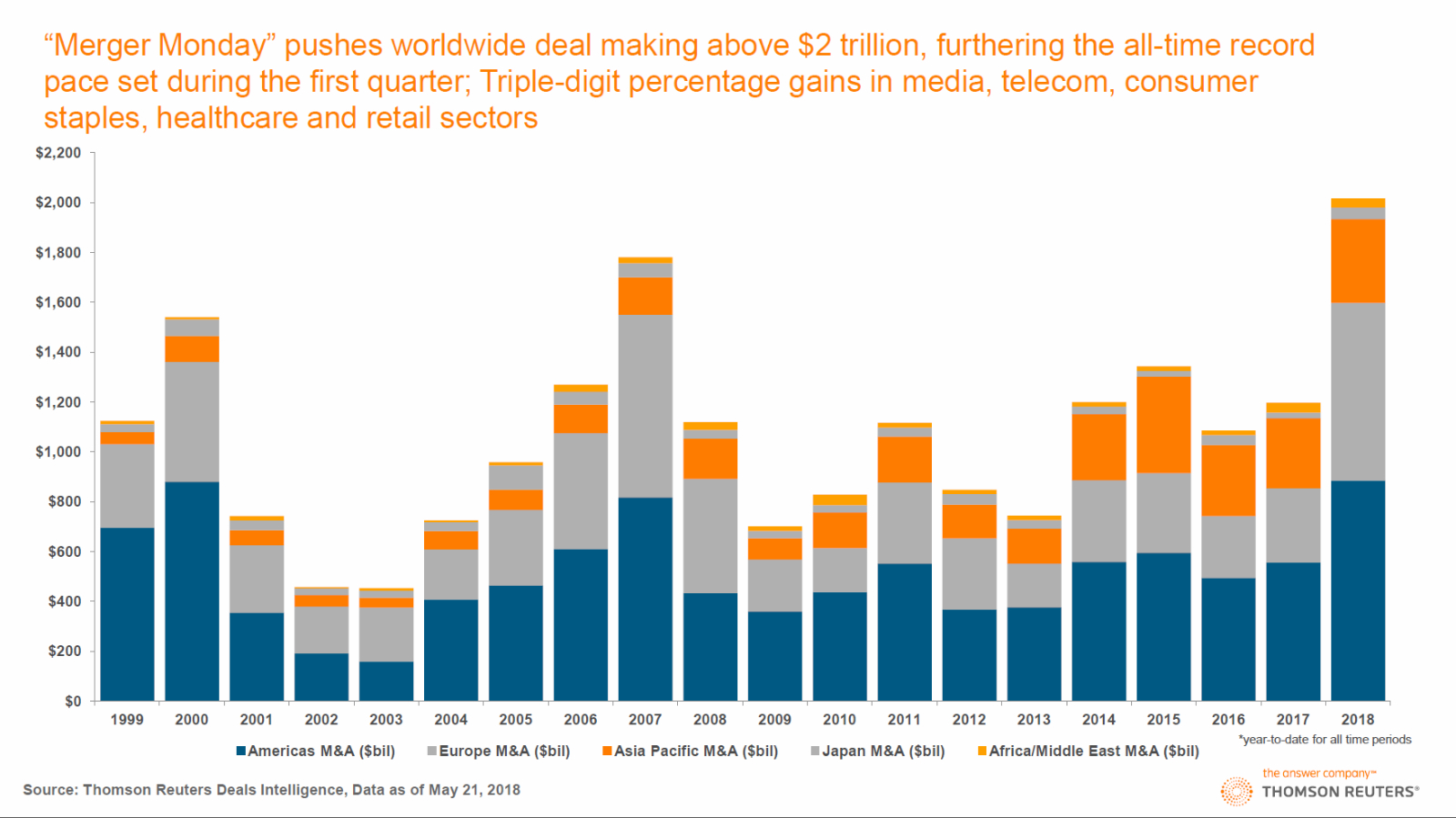 Global M&A hit USD 2 tn YTD in 2018, a new record according to data from Thomson Reuters. About USD 28 bn in US transactions were announced on Monday, with strong activity in power, financials, and real estate. The most notable among them was the USD 11.1 bn merger of GE's transportation unit and rail equipment maker Wabtec.
The data comes with an ominous warning: Reuters notes that the last times global M&A hit this level was a year before the global financial crisis and right before the bursting of the dot com bubble.
This week alone saw MENA banking M&A hit USD 8 bn, according to Bloomberg. Leading the pack was Saudi British Bank's USD 5 bn all-stock acquisition of Alawwal Bank. This was followed by Emirates NBD announcing that it has agreed to acquire Turkey's Denizbank from Russia's state-owned Sberbank for USD 3.2 bn. The acquisition of Turkey's fifth largest bank is the biggest ever undertaken by Emirates NBD, and will add USD 37 bn of assets to its books.
From the dept of D'uh: The Institute for International Finance (IIF) is concerned about the vulnerability to rising interest rates of emerging market asset classes in its latest report (pdf). Contagion risk from the sharp depreciation in the Turkish lira and the Argentine peso this year are dampened, however, by the fact that portfolio inflows to EMs since 2016 were largely concentrated in a select few emerging markets, including Egypt, Colombia, South Africa and Argentina. Nonetheless, it warns that the extent of the impact of the Fed hikes on the lira and peso could be a sign for things to come.
The New York Stock Exchange has a female boss for the first time in its 226-year history. Stacey Cunningham (LinkedIn), the exchange's COO, takes over as Thomas Farley steps down after a four-year run to launch an outfit that will invest in fintech, Axios reports. Cunningham started her career as an intern at NYSE back in 1994, worked at both Nasdaq and Bank of America, and went to culinary school during a hiatus from the trading floor. See wall-to-wall coverage from Reuters, the Financial Times and the Wall Street Journal.
The US Congress is rolling back some of the restraints put on banks after the global financial crisis, and the big winners aren't the Bulge Bracket, but smaller US banks. Goldman Sachs, Morgan Stanley and JPMorgan Chase got elbowed out by smart lobbying from smaller US banks who convinced lawmakers that only banks with USD 250 bn or less in assets face reduced federal oversight and easier lending, capital and trading rules, Reuters reports. Political junkies will want to read the WSJ's tick-tock on the lobbying effort to get the bill passed. The big Wall Street firms had pushed hard to water-down the 2010 Dodd-Frank act by raising the oversight threshold to USD 500 bn.
The new legislation is called the Crapo bill, and it's not a scatological reference, but rather a sobriquet arising from the rather unfortunate family name of Senate Banking Committee Chair Mike Crapo. Business Insider has a good explainer (as does the Wall Street Journal), CNBC offers five buys after the legislative overhaul.
You're in Egypt. Should you care? Only to the extent that you want to be vaguely aware of rising risk in the global financial system… The Dodd-Frank act was the source of the mandatory post-financial-crisis stress tests to which large lenders are subject. Banks with assets of less than USD 100 bn are now exempt from them and regulators are allowed to be more lax with lenders who have assets of USD 100-250 bn. If you're geeky on risk, you'll want to read Rana Foroohar's column on the issue in the Financial Times.
In miscellany today:
The best (American) football columnist in the history of the game is retiring, and his farewell column is absolutely epic. Peter King has handled Sports Illustrated's football column for 21 years and anchored its Monday Morning Quarterback (MMQB) site since 2013. If you, like us, are quiet fans of American football (as distinct from football football), it's a massive must-read peppered with anecdotes, stats and quotes. It's so long it's never-ending. Until it does. We'll miss you, Mr. King.
Random distraction: Play Pac-Man in your browser: Google "Pac-Man 30th anniversary" on the computing device of your choice (mobile included) to play one of our all-time favourite video games. Yesterday was the 38th anniversary of the iconic 8-bit game.
If you, like us, are still mopey that the third season of Stranger Things seems unlikely to debut until 2019, go have a look at Variety's coverage of an appearance by director Shawn Levy and two of the show's stars at a Netflix event.
Your Ramadan rundown for today:
Bank hours run 09:30 am to 01:30 pm for customers and from 09:00 am to 02:00 pm for employees, CBE announced.
The EGX is running shorter trading hours. The trading session kicks off at 10:00 am, but closes at 1:30 pm. Tap or click here for the full schedule.
It's going to be hot all week: The ongoing heatwave is continuing through Thursday, with forecasts for a daytime high of 42°C today. Respite comes on Sunday (yeah, Sunday, not Saturday, according to the updated forecast), when you can expect a string of days at 33°C running through the end of next week.
So, when do we eat? For those of us, Maghrib is at 6:46 pm CLT today. You'll have until 3:15 am tomorrow to finish your sohour.