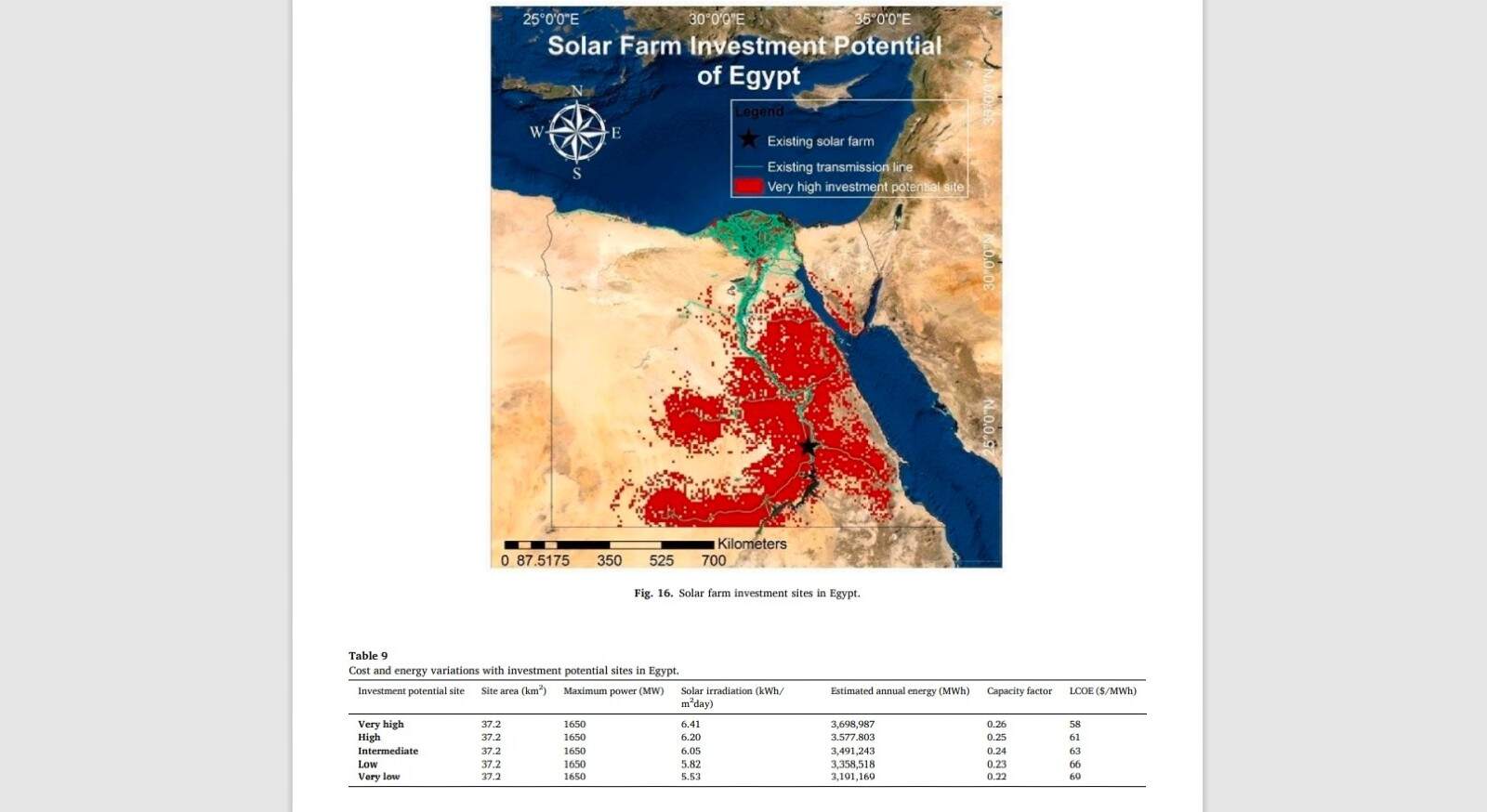 Strategic investment in Egypt's solar energy is among the most effective ways to decarbonize, says new Africa-wide study: Investors wanting to make substantial climate-related impact in Africa should be channeling their USD into particular strategic investments — with solar farm construction in Egypt being one of the most effective, according to a new continent-wide study (pdf) conducted by Oxford University's Environmental Change Institute, published last month. The study used multiple factors to identify sites where solar and wind farm investments would pack the most punch in decarbonizing the energy sector.
Solar plant construction in strategic locations in Egypt should be an investment priority, if the goal is a rapid shift away from our current fossil fuel reliance, the study concludes. It would also bring clear financial benefits, it adds.
The bottom line for Egypt: the electricity sector could save much by constructing solar farms, rather than fossil fuel alternatives, the new report tells us. The levelized cost of electricity (LCOE) in constructing solar farms in optimum zones in Egypt is 29.7% lower than investing in combined-gas turbines, and 37% lower than investing in diesel generators, says the study. LCOE "represents the full life-cycle of electricity generation technologies per MWh of electricity produced," enabling comparison between the generation costs of different technologies, it adds.
And avoid potential carbon lock-ins — where planners effectively commit to a certain amount of greenhouse gas emissions because they've invested in expensive infrastructure in heavily-emitting industries. A gas-fired power plant has an estimated life-cycle of 30 years, while the life-cycle of a cement plant is around 40 years.
This is especially relevant when considering how existing fossil fuel plants had set a ceiling for renewables growth, industry insiders told us a few years back. Egypt has faced an electricity supply glut — seeing us able to generate around 60 GW but with a peak demand of only around 30 GW — which has hurt the growth of solar and utility-scale renewables in the country.
Egypt's "current heavy electricity dependence on fossil fuels means there's great potential for emissions reduction from the power sector," the Oxford report notes. Some 165.7 bn kWh of Egypt's electricity is produced by fossil fuels, it estimates. As recently as 2019, natural gas made up an estimated 77% of Egypt's electricity mix, according to data that originally came from the BP Statistical Review of World Energy. And though solar saw notable growth in our power generation mix between 2019 and 2020, natgas still occupies far and away the biggest share, according to the Apicorp MENA Energy Outlook 2021-25 (pdf).
Meanwhile, our renewables are primed for substantial growth: Egypt's installed renewable capacity is set to rise by 68% or 4 GW in the coming five years, according to IEA estimates. This would bring our total capacity to around 10.1 GW by 2026, up from 6.1 GW currently — and up from 3.8 GW in 2017-18 — according to the New and Renewable Energy Authority (NREA) data. Egypt has "213 MW of solar PV IPP projects under construction, one 250 MW wind IPP project under construction, and 120 MW of wind capacity," which the NREA is building, according to the Apicorp report. Another 2 GW of wind and 1 GW of solar PV projects are set to be added to our capacity further down the road, it adds. Egypt — along with Jordan and Morocco — is on track to meeting its renewables targets (albeit "to a lesser extent" than our two regional peers), Apicorp adds.
Reducing our dependence on fossil fuels isn't just about emissions reduction — it's also important for energy security, the Oxford report argues: Diversifying Egypt's energy mix away from fossil fuels by channeling investments towards utility-scale solar farm constructions would improve Egypt's energy security and boost its decarbonization strategy all at once, it adds. Why is this? Although natural gas may be Egypt's electricity generation powerhouse, plans to export it and put it in our cars could hit supply, says the Oxford report.
Meanwhile, our ballooning population will also massively increase energy demand, the Oxford report anticipates. "With a projected population increase of 69.5 mn by 2050, the country needs a major power sector reform to meet its energy demand while complying with the obligations set out in the Paris Agreement," it says.
So why solar in particular? It isn't just our sunshine, it's also our stability: Egypt's high yearly average insolation (or exposure to the sun's rays) is a key factor explored by the study. But it also takes into account legal, political, environmental, socio-economic and investment risk factors. Key criteria Oxford looked at for solar and wind power placement include proximity to grid lines, road networks and settlement areas, says the report. Investors also want political stability, robust supply chains and "attractive policy landscapes," it adds.
Where is it suggesting we build utility-scale solar? There's so much more than Benban: Very high potential solar investment sites in Egypt are often found in the south and east of the country, the report indicates. These sites hit the sweet spot of high insolation, along with "suitable temperatures [and] adequate land characteristics, while being close to settlement areas, grid and road networks."
---
Your top climate stories for the week: